Cinnamon Honey Butter turns an ordinary slice of bread into sweet buttery heaven. All you need are four minutes and four ingredients to make this easy delicious spread. It's the perfect butter to put on my Texas Roadhouse Rolls!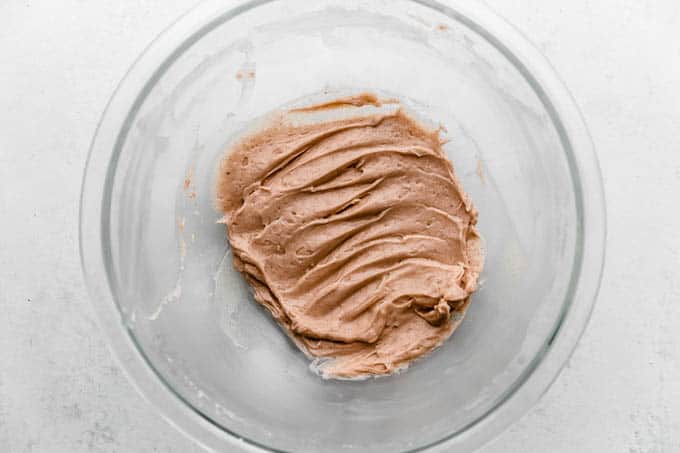 Have you ever been to a Texas Roadhouse? It's a chain restaurant that's probably best known for the fluffy yeast rolls they bring you with your meal. 
I've written about those them before because they really are worth all the hype they get.  But you wanna know  what really elevates them to "unforgettable" status?  It's the sweet cinnamon honey butter that comes with them. 
I'm a sucker for any kind of butter but those fancy flavored butters you get at restaurants are one of my weaknesses. The first time I bit into a warm yeast roll spread with cinnamon honey butter, I think my eyes rolled back in my head a little. It was one of those tastes that makes you want to just close your eyes and savor each and every bite. 
I knew it couldn't be too difficult to make cinnamon honey butter at home. Before I even made the honey butter for the first time I was already dreaming of spreading it over fresh slices of Grandma's Italian Bread  or dabbing it on top of Pumpkin Muffins.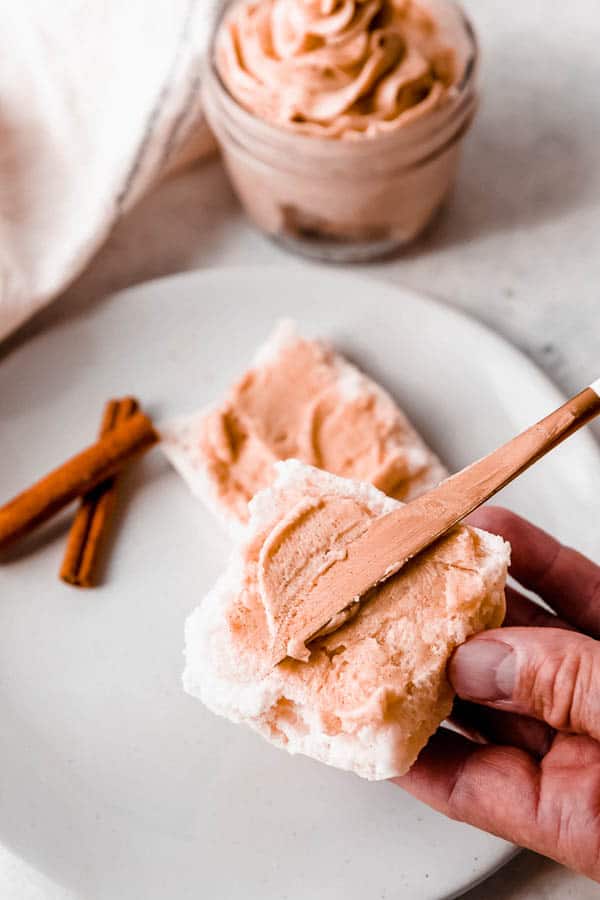 It turned out that homemade honey butter was not only easy to make it was even more delicious than the restaurant stuff! It's high time I dedicate a whole post to this amazing spread. 
Just be warned. Once you know how to make cinnamon honey butter, you'll want to make it ALL. THE. TIME. 
You'll be topping your Baked Apple Cinnamon Pancake with honey butter, your Cinnamon Streusel Muffins with honey butter and I can't forget about  Pumpkin Biscuits. It'll be cinnamon honey butter EVERYWHERE. 
Actually, that sounds like a pretty sweet life to me! Go right ahead and make this cinnamon honey butter and spread it on whatever your heart desires. 
How do I make this Butter Recipe?
This honey butter recipe is incredibly easy. It requires just four ingredients and about four minutes: 
Cinnamon
Honey
Butter
Powdered sugar 
All you do is whip the ingredients together for a few minutes with an electric mixer until you achieve light fluffy buttery perfection. Put it in a serving dish to serve right away or plop it into a Tupperware container to keep. Bam! Almost instant honey butter.
The stand mixer fitted with the whisk attachment made this recipe extra easy and quick. A handheld electric mixer will work just as well!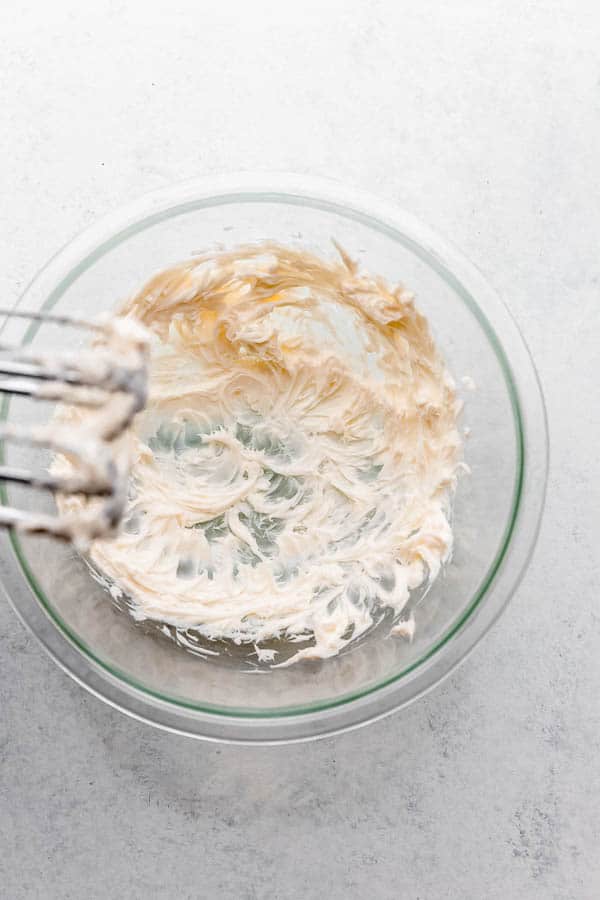 I think the powdered sugar is what helps gives this honey butter recipe its perfect texture. Other honey butter recipes tend to be too liquidy and not fluffy enough for my liking.
This one is nicely whipped and just sweet enough with the confectioner's sugar and honey. And the cinnamon? Oh, the cinnamon is what really shines.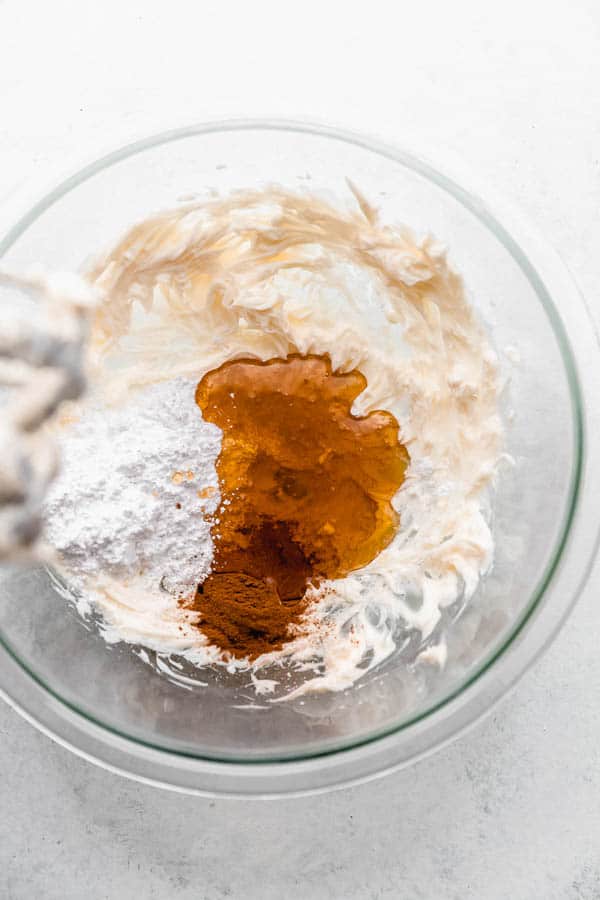 There's only a teaspoon of cinnamon in the recipe so it's far from in-your-face overwhelming. But that little touch of sweet spice makes this honey butter extra special. 
Salted or Unsalted Butter? 
I use salted butter in my recipe to keep things as simple as possible. If you only have unsalted butter, you can use that, too. Just add a pinch of salt to the butter before whipping. 
SAVE THIS EASY CINNAMON HONEY BUTTER RECIPE TO YOUR FAVORITE PINTEREST BOARD!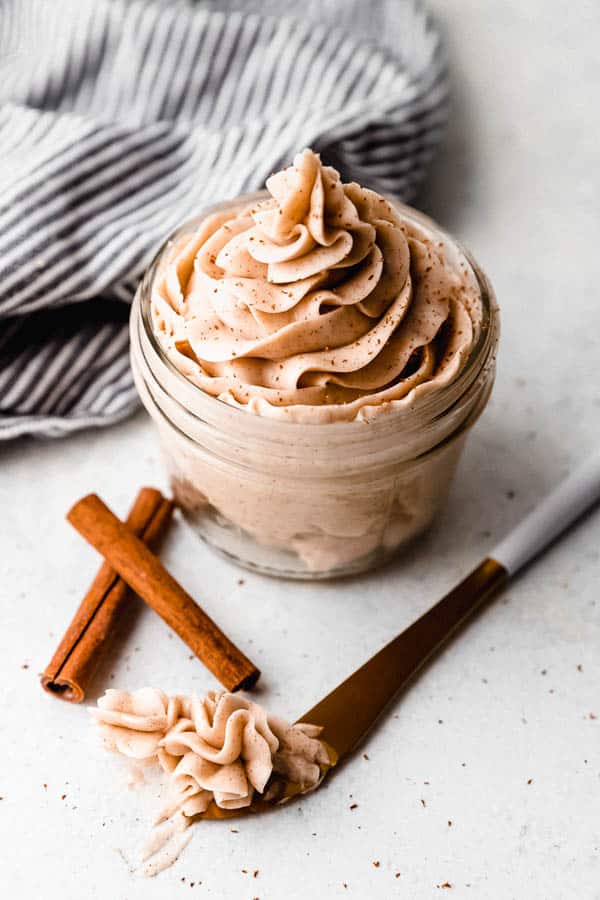 This recipe makes a spread that's just like the one you'll find at the Texas Roadhouse. Only it's even better because you didn't have to leave home! Anytime I can enjoy my favorite restaurant dishes without having to get out of my pajamas is a good time.
How do I store this Easy Cinnamon Honey Butter Recipe?
This recipe makes about a cup of honey butter and can be stored in an airtight container in the fridge for up to a month or at room temperature for a couple of days.
If you refrigerate the butter, bring it to room temperature before serving so its soft and spreadable.
Cinnamon honey butter incredible on homemade baked goods of all kinds but can also instantly make a store bought roll more special!  Everyone is impressed when I serve it at a dinner party. I love when people dig into the butter dish expecting plain ol' butter, spread it on a roll, and instantly look at me with wide happy eyes.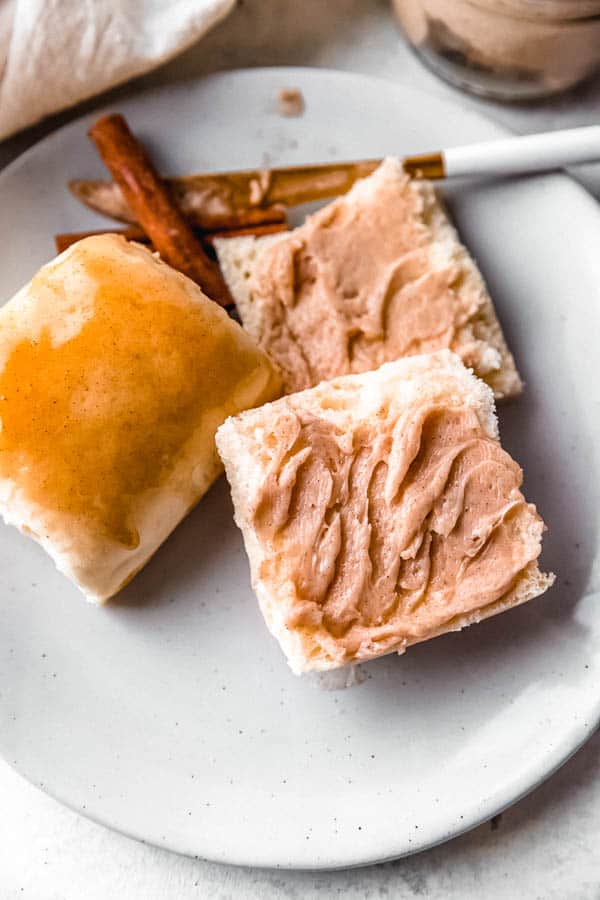 "What IS that?" they ask.
They're always surprised to learn that this butter is homemade and doesn't take any special ingredients or fancy equipment. I'm so excited for you to try it too! you've made your cinnamon honey butter, there's no shortage of ways you can serve it. My first recommendation would be to get in the kitchen and make a batch of my copycat Texas Roadhouse Rolls. This butter and those rolls are a match made in bread-lover's heaven.
Cinnamon honey butter is delicious on English Muffin Bread with a steaming cup of coffee first thing in the morning. It's also mind blowingly good on sweet quick breads like Quinoa Banana Bread, Chai Banana Bread and Chocolate Chunk Pumpkin Bread. 
Anytime I bake muffins, I like to cut them in half while they're still fresh from the oven and spread the insides with soft butter. When I have cinnamon honey butter around you can bet it's my go-to spread for Cinnamon Streusel Muffins and Cinnamon Roll Muffins.
What sounds better for a big family breakfast than a stack of Zucchini Pancakes or Whole Wheat Pumpkin Pancakes with a dollop of warm cinnamon honey butter melting down it? This honey butter is also phenomenal on waffles, alone or with a heaping helping of real maple syrup. 
Is your mouth watering yet? 
Cinnamon Honey Butter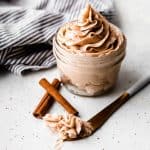 This Easy Cinnamon Honey Butter Recipe is delicious on a slice of bread or on my Copycat Texas Roadhouse Rolls recipe. It'll be your new favorite butter!
1/2 cup salted butter (room temperature)
1/4 cup confectioners' sugar
1/4 cup honey
1 teaspoon cinnamon
Place the butter into a medium bowl and beat with an electric mixer for about 30 seconds until it is lightly whipped.

Add the sugar, honey and cinnamon and beat until smooth and combined.

Continue beating on medium-high for an additional 2-3 minutes, until light and fluffy, while occasionally scraping down the sides of the bowl.
More Delicious Spreadable Butter Recipes
Are you looking for more homemade spreads for your favorite rolls, breads and muffins? 
The post Easy Cinnamon Honey Butter appeared first on 365 Days of Baking.