These Meal Prep Chicken & Butternut Squash Harvest Bowls with brussels sprouts, sage & wild rice are a delicious lunch or dinner idea cooked on a sheet pan and filled with fall flavours! Jump to Recipe
Ingredients in harvest bowls
Oh hi there fall lunches.
These Meal Prep Chicken & Butternut Squash Harvest Bowls are basically my favourite season made all in one on a sheet pan. It's lunch, it's dinner – really, whatever you decide. And the trick? Lots of garlic and sage! Aka my two favourite fall flavours.
Okay, scratch that. Garlic is a favourite seasoning of mine year round. But especially during the fall months. I think it just makes everything better – when in doubt, just add more garlic! (and maybe make sure you don't have a date or important engagement immediately after…?)
FREE MEAL PREP CHALLENGE!
Subscribe for my free 5-day meal prep challenge complete with printable PDF resources!
Your name:
Your email:
How to make sheet pan chicken
I don't know if you've noticed but I've been on a real squash and sweet potato kick lately. They're basically my go-to starches when the weather gets colder, and it helps that they're in season and super cheap at the grocery store. Now I've gotta confess, but these Meal Prep Chicken & Butternut Squash Harvest Bowls are very similar to this Sheet Pan Honey Dijon Chicken.
It's got a similar marinade AND butternut squash, but I promise these bowls are very different in the remaining seasonings. And you know that that's what makes a great recipe right? The ability to make different variations of it over time? I think the fact that it's still in my recipe rotation speaks wonders considering how many different things I end up making on a regular basis.
How to cook wild rice
Ingredient substitutions
I also included some wild rice in these bowls just to keep it all fall-like, but you could do whatever grain you're feeling. I know wild rice tends to take extra time to cook and it'll actually take longer than the veggies and chicken itself so you may want to sub in some quinoa or just add some extra butternut squash or even sweet potatoes to the sheet pan as opposed to doing the extra grain on the side.
I've actually found myself eating a lot less grains and way more veggies these days – I just get too full with too many carbs and I'm able to retain more energy throughout the day with just protein, fruits and veggies alone so you may want to follow in my footsteps and do the same here to save time.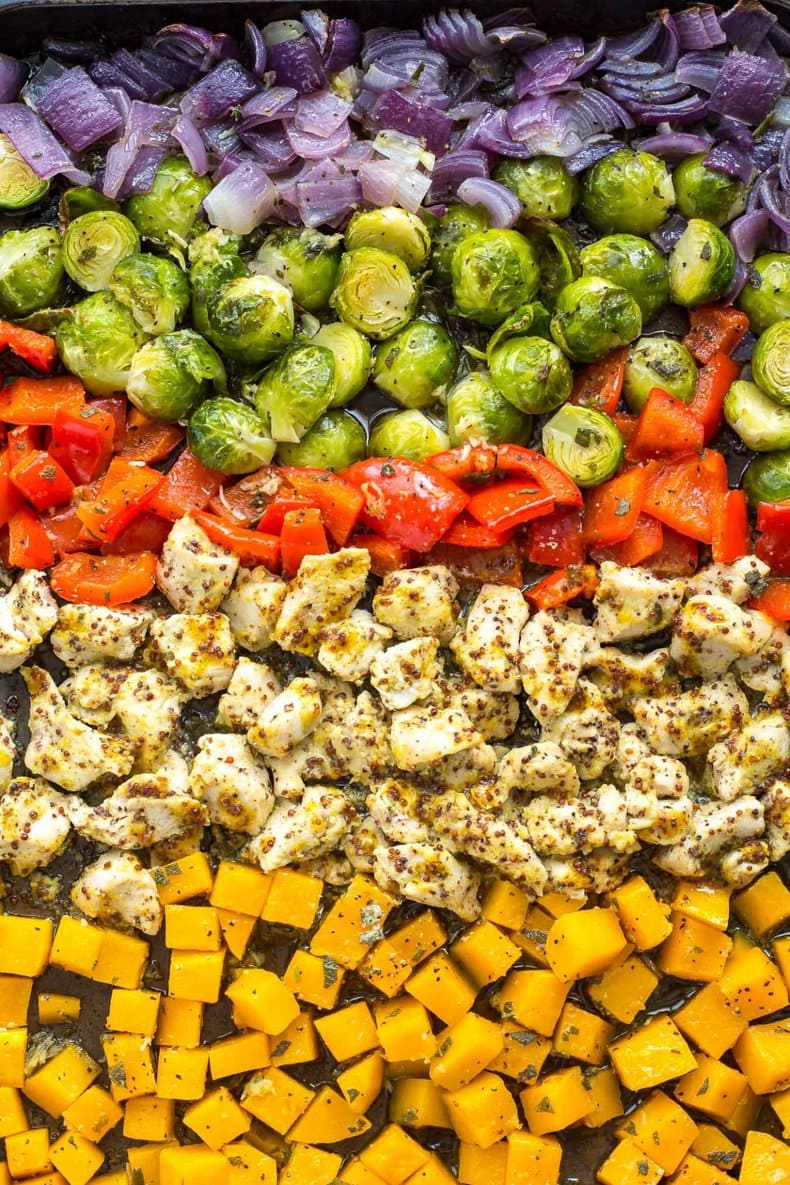 Storing and reheating
Freezing the chicken and rice
However, if you really do want the rice, I would highly suggest buying a rice cooker! And no, I'm not going to sell you on one in particular because I haven't quite gotten that far in my research, I'm just recommending it solely on the fact that it makes a lot of my meal prep easier when I am adding grains to things.
Rice cookers can cook quinoa, couscous and other grains so all you really need to do is add the correct ratio of grains to water and the rice cooker intuitively cooks until finished. I can't tell you how many times I made rice on the stovetop only to find it sticking to the bottom or that I wasn't cooking it enough. Such a simple thing is much harder than it looks, I swear LOL. With my rice cooker I just set it and forget it, no draining, no under-doneness, nothing. Like I've said time and time again, meal prep is all about making your life easier and there's no way I'm giving myself extra clean up.
Sheet pan chicken marinade
Speaking of too little time, that's why you need to start prepping more sheet pan meals that turn into meal prep bowls for the week. Meal prep is fun because you can literally take any type of cuisine and turn it into your lunches for the week. Obviously these Meal Prep Chicken & Butternut Squash Harvest Bowls have a fall theme and are kind of a spin in buddha bowls, but they're also great because you can use up any veggies you have on hand in the fridge, as is the case with most of my recipes.
Even if you don't have fresh sage, any combo of herbs and spices will work as long as you add salt, pepper and garlic. And my secret weapon that brightens up just about any sheet pan meal?
Lemon juice! Adding a little bit of acid in there with the other herbs and spices can brighten up a meal like no other, and it's a low-calorie way to add a tiny bit more flavour without resorting to processed sauces, etc.
More sheet pan chicken recipes
Meal prep tools for this recipe
Meal prep challenge
If you'd like some more help with meal planning, then you'll love my free 5-day meal prep challenge! It's basically a free course that will teach you how to meal prep and cook healthy meals at home with some PDF bonus materials. Sign up for free below:
FREE MEAL PREP CHALLENGE!
Subscribe for my free 5-day meal prep challenge complete with printable PDF resources!
Your name:
Your email:
Chicken & Butternut Squash Buddha Meal Prep Bowls
These Meal Prep Chicken & Butternut Squash Harvest Bowls with brussels sprouts, sage & wild rice are a delicious lunch or dinner idea cooked on a sheet pan and filled with fall flavours! 
1 tbsp olive oil
1 lb chicken breasts (diced)
1/4 cup honey mustard
1 cup butternut squash, diced
1 cup brussels sprouts, sliced in half
1 red pepper, chopped
1 small red onion, chopped
4 cloves garlic minced
12 fresh sage leaves, finely chopped (alternative: 1 tsp dried)
1 tsp salt
1/2 tsp pepper
Wild rice
1 cup wild rice
1 3/4 cups water
1 tsp butter
Preheat oven to 450 F. Cook wild rice according to package directions on stove top or in a rice cooker (highly recommend a rice cooker so you can set it and forget it!)

Toss chicken with honey mustard. Add all veggies to baking sheet, tossing with olive oil, garlic, sage and salt & pepper. Add chicken and cook in oven for 20-25 minutes until chicken is cooked through.

Evenly divide all ingredients among four meal prep bowls. Serve and enjoy – leftovers last in fridge up to 5 days.
The post Chicken & Butternut Squash Harvest Bowls appeared first on The Girl on Bloor.