Rosemary Roasted Hasselback Korean Pears is a jaw-dropping, over-the-top delicious dessert. Its brilliant for the holidays or any dinner party. Asian pear recipes are a beautiful treat during the fall and winter months.
Idaho potatoes have inspired many recipes for me, but this is the first one that doesnt include potatoes.
Have you ever had a Hasselback Potato?
Korean Pears, also called Asian Pears or Apple Pears, lend themselves to this pretty technique.
Who knew a potato would inspire one of my Asian pear recipes!?
What does Hasselback mean?
Hasselback refers to a classic preparation of a potato, not the variety.
Developed in the 18th century in Stockholm, Sweden, they were first made at a restaurant called Hasselbacken, which is how they were named.
(Heres an example of a beautiful Hasselback Potato and how to make them.)
Enough about potatoes! What I really want to talk about are gorgeous, juicy and crisp Korean pears.
What are Korean Pears?
Often referred to as Asian Pears or Apple Pears, theyre grown with extreme care. The result is a very clean, blemish-free fruit.

Unlike Western pears, Korean Pears are round and large in size.

The skin of the pear is light, brownish-yellow and the flesh is white.
What do they taste like?
Korean Pears are crisp, crunchy, juicy and sweet. They have a subtle honey flavor.

When are Korean pears in season?
Korean pears are in season from approximately October through March.
Since they are firm, these delicious pears lend themselves perfectly to the Hasselback preparation.
And all the flavors that are absorbed into the pears are absolutely divine. Anytime you add sweetness to rosemary, you get something very special.
Wouldnt they be lovely for a holiday dessert? They do take some time, but I think its well worth the effort.
You should make them and see if you agree. (I think you will. ;-))
A couple more Asian Pear recipes for you: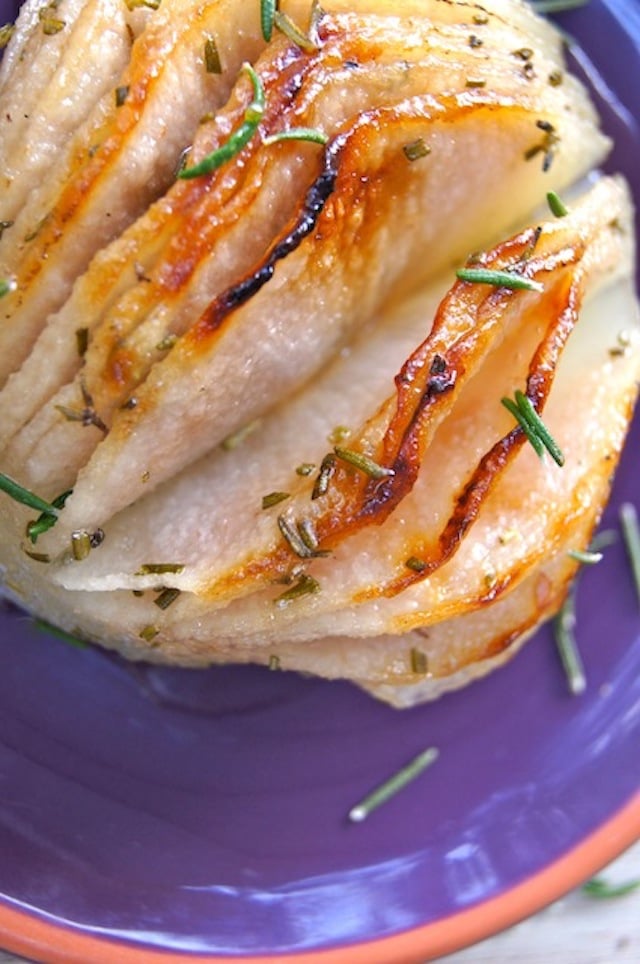 Can you use other pear varieties in Asian Pear recipes?
Yes you can. Of course Im highlighting the Korean pear, but if you cant get your hands on one, a great alternative is a Bosc Pear.
Enjoy!
To learn more about Korean pears, you can read my post, Introducing Korean Pears.
Here are a few more delicious Korean pear recipes:
This is not a sponsored post. Melissas Produce sent me Korean Pears for recipe testing, and as always, all opinions are my own.
Rosemary Roasted Hasselback Korean Pear Recipe
This jaw-dropping, over-the-top delicious dessert, is one of the best Korean pear recipes ever! Its lovely for the holidays or a dinner party!
2 teaspoons unsalted butter, (divided)
1 cup water
1 cup granulated sugar
1 tablespoon fresh grapefruit juice
2 teaspoons fresh rosemary, (finely chopped)
1 teaspoon pure vanilla extract
2 Korean pears
Preheat the oven to 400F, adjust a rack to just above the center of the oven, and use 1 teaspoon of the butter to grease an approximately 8 x 8 x 3-inch baking dish. Set aside.

In a small saucepan, combine the water, sugar, grapefruit juice, rosemary and vanilla. Bring to a boil and then turn off the heat. Stir to ensure all of the sugar has dissolved. Set aside.

Peel the pears and then cut them in half, lengthwise. Use a melon baller to remove the seeds from each half, and then a paring knife to cut out any remaining stem.

With a very sharp paring knife, cut as many slits as you can, and as thinly as you can, horizontally, into the round side of the pear halves. Do not cut all the way through the pear! Your knife should stop about about 1-inch from the bottom.

Place the prepared pear halves, flat side down, in the greased baking dish.
Then pour the rosemary syrup over them. (Do not wash the saucepan youll need it later.) The pears should be well coated you can use the tip of a knife to open each slit slightly to be sure the syrup goes inside. The syrup will only go about 1/4 to 1/2 way up the sides of the pears.

Place the pears in the preheated 400F oven and set the timer for 15 minutes. Use a small ladle or a soup spoon, to baste the pears, again getting the syrup into the slits. (The slits will become more open as they roast, and it will therefore become easier to do this.) Continue to set the timer and baste every 15 minutes, until you've reached 1-1/2 hours. Then add about 1/4 teaspoon of the remaining teaspoon of butter, to the top of each pear. Place them back in the oven for a few more minutes. If they are not golden on top, place them under the broiler for about 30 seconds. (Watch them carefully in the broiler!)

Gently remove the pears with a flat-bottomed spatula, and place them on a plate. Set aside.

Pour all of the syrup from the baking dish back into the saucepan, and bring to a boil. Then turn the heat to low and simmer until it's reduced by about half, and has thickened. Now strain the syrup into a small bowl or serving pitcher.

Serve the pears warm, drizzled with a bit of the syrup.
Cooking On The Weekends is a participant in the Amazon Services LLC Associates Program, an affiliate advertising program designed to provide a means for sites to earn advertising fees by advertising and linking toAmazon.com.


The post Rosemary Roasted Hasselback Korean Pears appeared first on Cooking On The Weekends.