This Oatmeal Apple Crisp is all kinds of easy so easy that youll find yourself making it again and again this fall season! Its fantastic on its own but even better served on top of creamy vanilla ice cream.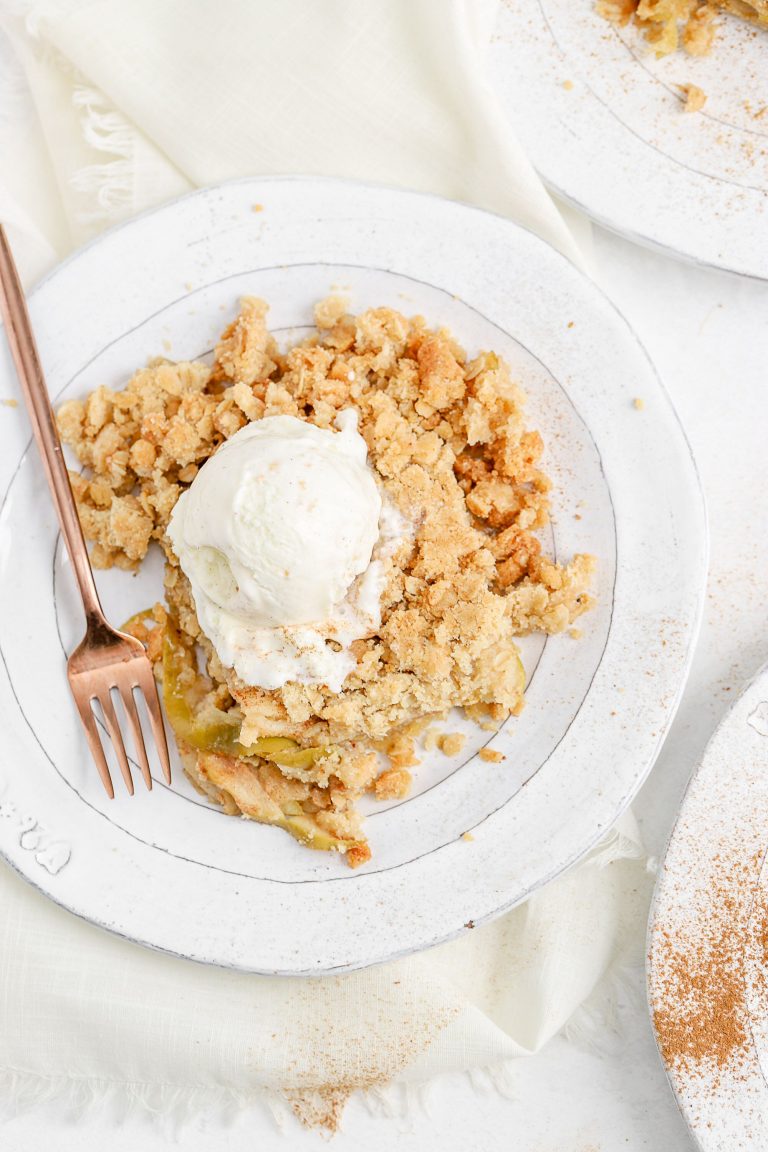 You guys know by now that I am an ice cream lover through and through. Its my favorite dessert without a doubt and while Id like to think theres nothing better than a simple bowl of ice cream I know for a fact that there is: Ice cream topped with a warm, freshly-baked treat > Plain ice cream.
What do you think is better? A plain bowl of vanilla ice cream or a bowl of vanilla ice cream topped with a warm chocolate chip cookie, a gooey brownie fresh out of the oven or a crumbly apple crisp? See what Im sayin? Theres something about the contrast of a cold, creamy dessert with a hot sweet treat that lights my taste buds on fire.
If you happen to be the same way, please add todays recipe for Oatmeal Apple Crisp to your must-make list this fall. Its inspired by Tinas moms recipe which is SO darn easy to make but I revamped a bit because I was raised on apple crisp with oatmeal incorporated in the mix and love the chewiness the oats give this rendition. Plus, I added a little brown sugar to the mix in place of all-white sugar because brown sugar in apple crisp somehow feels right. More caramelized? Im not sure but its fabulous!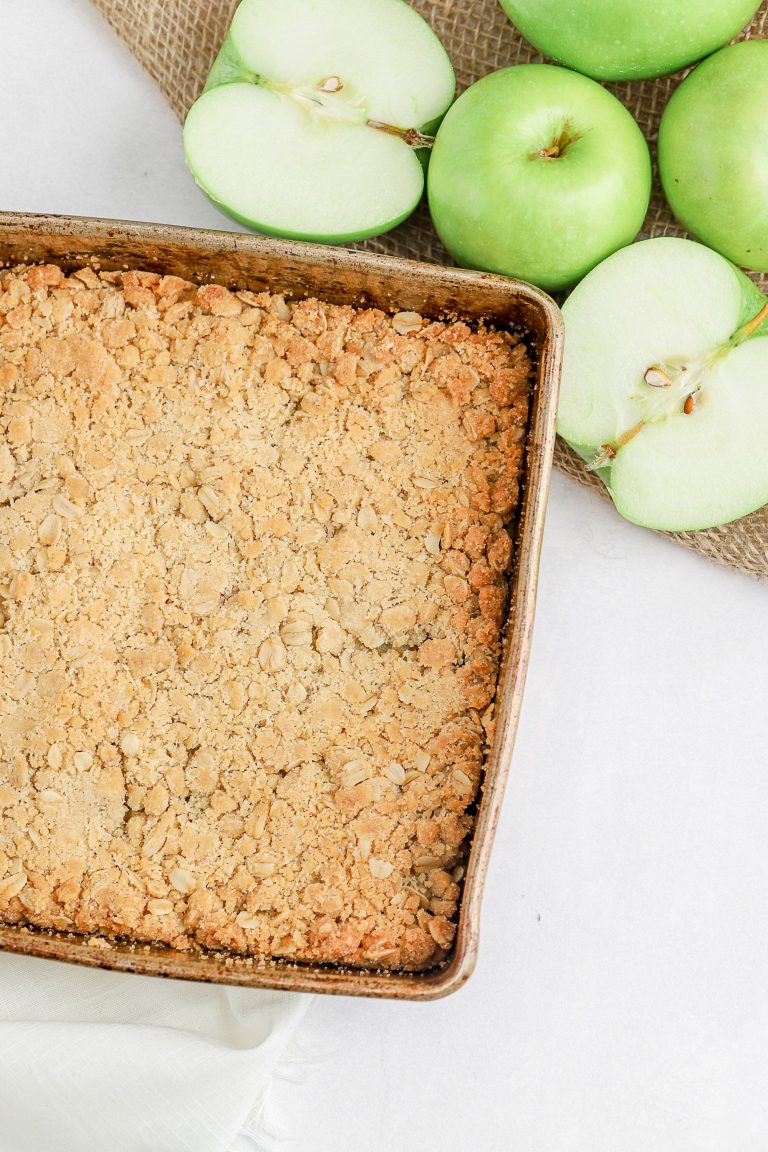 Heres what you need:
Apples (peeled or not totally your preference but I always leave the peels on because Im lazy)
Butter
Flour (all purpose is my jam but whole wheat will also work well)
Oats (for chewiness and texture)
Sugar + Brown Sugar (two sugars = twice the fun)
Cinnamon (key for making your kitchen smell ah-maz-ing)
Salt (to help bring out the flavors of the oatmeal apple crisp)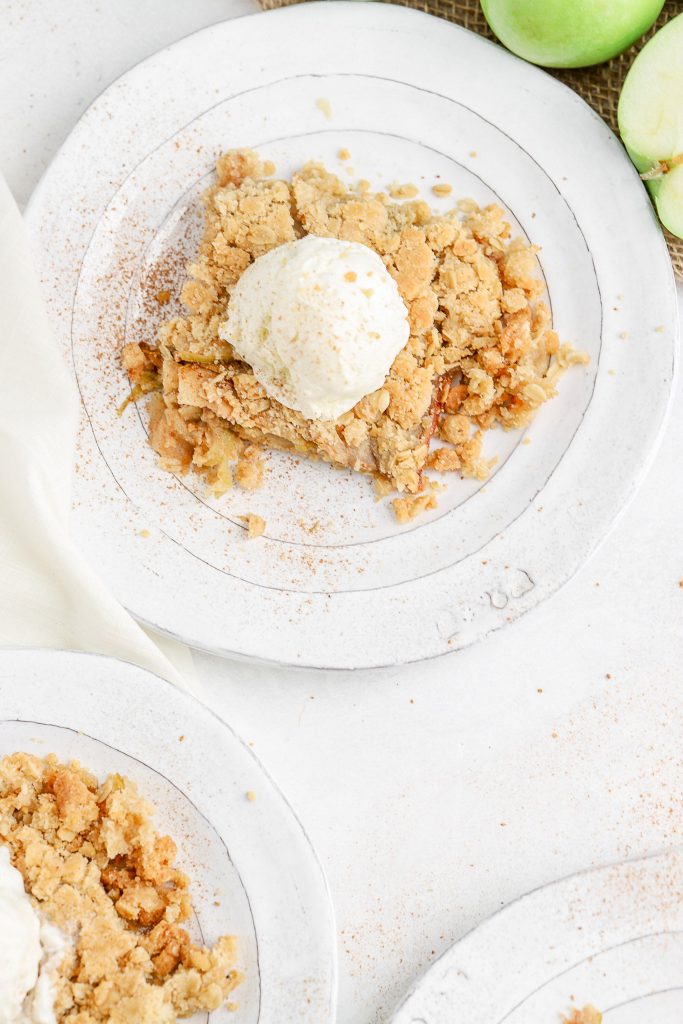 Im guessing you already have a lot of those ingredients in your pantry which makes this recipe a great one to have in your back pocket when you want to throw together a quick dessert on a chilly night. Oh and just because its easy to make doesnt mean its not worth of a special occasion. You better believe this recipe will be front-and-center on our Thanksgiving table this year! Move over apple pie, oatmeal apple crisp is in town!
Oatmeal Apple Crisp
Print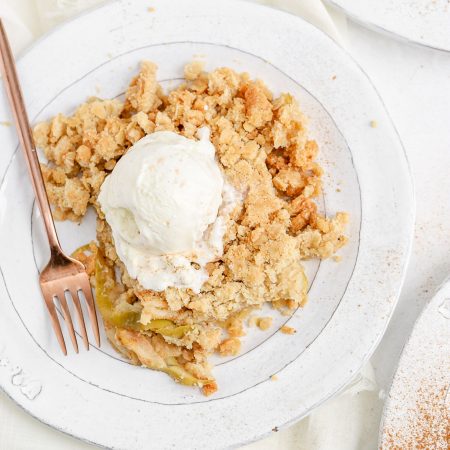 ---
Description
So easy but SO delicious! The perfect oatmeal apple crisp to make for a holiday treat or a cozy night at home. Fantastic on top of vanilla ice cream.
---
Ingredients
4-5 medium-size apples, sliced thin (you may remove the peel or leave it on, though I prefer to leave it on because its easier!)
1/2 cup butter, softened
3/4 cup flour
3/4 cup old fashioned oats
1/2 cup sugar
1/2 cup brown sugar
1/4 teaspoon salt
2 teaspoons cinnamon
---
Instructions
Preheat oven to 350 degrees. Spray an 88 baking dish with cooking spray or lightly coat with butter.
Combine butter, flour, oats, sugars and salt in a large bowl using a fork to mash the butter. Continue to combine ingredients until you have a crumbly mixture. (You may want to use your hands to make sure everything is adequately mixed.)
Pour 1/3 of the crumb mixture in the bottom of the baking dish. Top with apples. Sprinkle cinnamon on top of the apples and toss to coat.
Top with the additional 2/3 of the crumb mixture and bake for 40-45 minutes. Allow apple crisp to rest for 5 minutes before digging in. Enjoy alone or on top of vanilla ice cream (my preferred way)!
---
Notes
If you would like to add chopped nuts to this recipe I prefer adding them with the apples rather than the crumb mixture since the crumb mixture already has a lot of texture. This recipe is wonderful with 1/2 cup chopped pecans added to the apples before tossing the apples with cinnamon (step 3 above).
You may use all brown sugar or all white sugar in this recipe. Both work well but I love a mix!
Keywords: oatmeal apple crisp, apple crisp, apple oatmeal crisp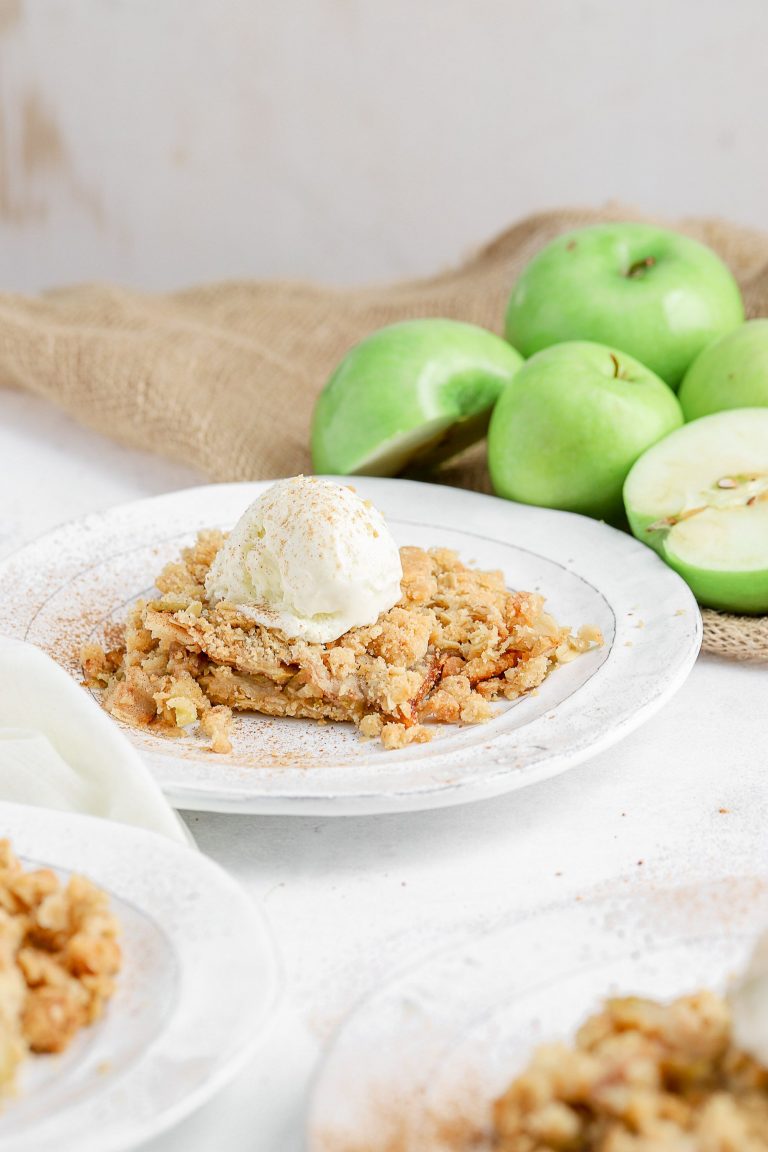 Friendsgiving Virtual Potluck
Im sharing todays Oatmeal Apple Crisp recipe as part of a biiiig Friendsgiving Virtual Potluck!Im joining a bunch of blogger friends to share the love and bring Friendsgiving/Thanksgiving recipes and craft ideas your way. I hope some of the recipes and crafts shared below pop out at you and become new favorites this holiday season!
APPETIZERS
Baked Brie with Honey & Walnuts from Kelley of Mountain Mama Cooks
Bacon Ranch Cheese Ball Bites from Nicole of I am a Honey Bee
Reindeer Bacon Cheddar Cheese Ball from Julie of Julie Blanner
SALADS
Sauteed Kale and Brussels Sprout Salad with Cranberries and Walnuts from Shashi of Savory Spin
Creamy Brussels Sprouts Salad from Faith of An Edible Mosaic
MAIN DISHES
Savory Vegetable Crisp from Bree of Baked Bree
Rosemary Lamb Steaks from Danyelle of The Cubicle Chick
Turkey Pot Pie from Kelly of Eat Picks
SIDE DISHES
Fried Brussels Sprouts from Erin of The Almond Eater
Cheesy Horseradish Mashed Potato Casserole from Renee of Kudos Kitchen by Renee
Cranberry Cream Cheese Dip from April of April Golightly
Sauteed Garlic-Butter Mushrooms from Linda of Simply Healthyish Recipes
Easy Cheesy Hash Brown Casserole Recipe from Mel of Adventures of Mel
Cornbread Stuffing with Chorizo from Isabel of Isabel Eats
Bacon Brussels Sprouts from Kara of Kara J. Miller
Crockpot Sweet Potato Casserole from Jennifer of Show Me the Yummy
Amazing Gluten Free Thanksgiving Stuffing from Sommer of A Spicy Perspective
Pumpkin Caramelized Onion Gratin from Denise of Chez Us
Crockpot Mac & Cheese from Leanette Fernandez of Funtastic Life
Cheesy Brussels Sprouts au Gratin from Rachel Gurk of Rachel Cooks
DRINKS
Spiced Pumpkin Margarita from Sharon of Cupcakes and Cutlery
BREADS
Sourdough Pull Apart Rolls from Erica of Buttered Side Up
How to Make Homemade Butterhorn Rolls from Mel of Flour on My Fingers
Sweet Dinner Rolls from Jocelyn of Grandbaby Cakes
Parker House Rolls from Irvin of Eat the Love
DESSERTS
Sugar Pie from Julie of The Little Kitchen
Oatmeal Apple Crisp from Julie of Peanut Butter Fingers
Pumpkin Pie Milkshake from Eden of Sugar and Charm
Strudel Pastry from Justine of The Typical Mom
Tahini Hawaii Pumpkin Pie from Amy of What Jew Wanna Eat
Mini Apple Pie Bites from Lynsey of MoscatoMom
Kabocha Squash Pie from Hilah of Hilah Cooking
Pecan Pie Cupcakes from Courtney of Pizzazzerie
Coconut Cream Pie from Schnelle of Brooklyn Active Mama
Chocolate Chip Cheesecake from Jeannette of Hispana Global
Chocolate Pecan Pie from Kate of I Heart Eating
Mini Pumpkin Cheesecakes from Chelsea of Someday Ill Learn
Cinnamon Apple Crisp from Erica of The Crumby Kitchen
Turkey Donut Race Cars For Thanksgiving Treats from Theresa of Chewable Structures
CRAFTS AND CENTERPIECES
Cinnamon Stick Holiday Candle Place Setting from Alli of Made with HAPPY
Metallic Pumpkin Luminaries from Amy of As The Bunny Hops
Easy Centerpiece + Party Favor from Noelle of Oh Happy Play
The post Oatmeal Apple Crisp appeared first on Peanut Butter Fingers.