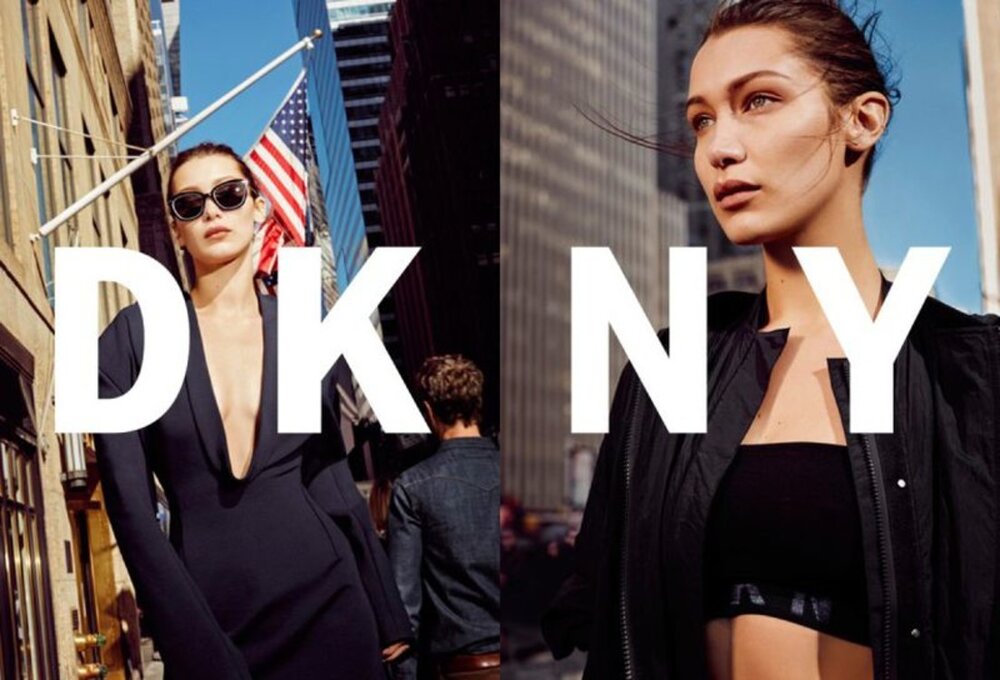 image: DKNY
Thanks to the filing of a new lawsuit, supermodel sisters Gigi Hadid and Bella Hadid are both in the throes of copyright infringement litigation. On the heels of Gigi Hadid being named in three separate infringement lawsuits over the past few years (two of which have either settled or been dismissed), younger sister Bella is being accused of blatantly ripping off five imagesand posting them to her Instagram account, thereby, running afoul of federal copyright law.
According to a complaint filed in a California federal court over the weekend, model, businesswoman, and entrepreneur Bella Hadid or someone acting on her behalf took five images owned by Xposure Photo Agency Inc. and posted them to the highly-followed models Instagram account on various dates between September 6, 2016 and June 17, 2018, thereby engaging in systemic piracy that harm the existing and future market for the original photographs.
On the heels of Hadid posting three of Xposures images including ones of her attending the GQ Men of the Year Awards in 2016, and others of her at a Tommy Hilfiger fitting in 2017, and another of her out in London in 2017 to her Instagram account (without licensing them from Xposure or otherwise getting the agencys consent), the well-known photo agency claims that it alerted Hadid and her reps of its rights in the images by way of a cease and desist letter in November 2017, only to have the supermodel post more images over the next year.
Xposure which maintains a business of licensing photographs to leading magazines, newspapers, and editorial clients, throughout the world, including in the United States asserts that despite being put on notice of such alleged infringement, Hadid went on to post two more photos for which it holds the copyright, including photos of her in Milan in 2018.
The photo agency claims that the copyright-protected images at issue are highly creative, distinctive, and valuable, and because of Hadids celebrity status, as well as the photos quality and visual appeal, Xposure (and the photographer it represents) stood to gain licensing revenue from licensing them to news outlets in exchange for a fee. The photo agency states that its business is predicated on licensing the use of work [to] multiple outlets, each of which pays a fee to publish, something that Hadid impaired by posting the photos on her Instagram, where she maintains a following of over 21 million.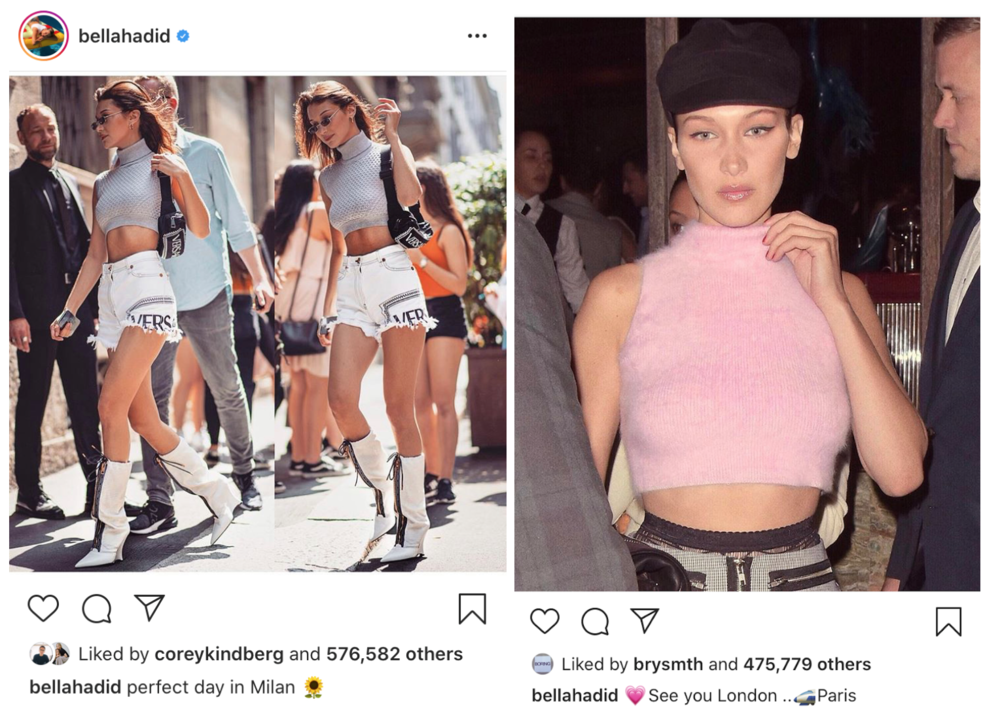 Some of the images at issue
Beyond merely robbing Xposure of the ability to license the images to media outlets, which it claims are less likely to pay to post the photos if they are already readily available on social media, Xposure claims that Hadid is willfully, intentionally, and maliciously operating in violation of the law due to the nature of her use of the photos.
Instead of merely posting images of herself to her personal Instagram account, Xposure claims that her conduct goes further and becomes commercial in nature (and thus, less likely to be protected by the fair use defense to copyright infringement) since Hadid uses her Instagram feed for the purposes of promotionspecifically, to promote her own business interests, products, and ventures; to promote and sell the products and services of others; to maintain and increase her visibility and desirability as an endorser, actress, model; and to promote her persona itself, since Hadids celebrity status and popularity is central to her ability to sell appearances in fashion shows and both television and print advertisements.
In short, Xposure claims that every one of Hadids Instagram posts is fundamentally promoting something to her 21 million followers.
The lawsuit at hand in which Xposure sets forth claims of copyright infringement and is seeking statutory damages of up to $150,000 per infringement or actual damages [it suffered] and [Hadids] profits attributable to the infringement, whichever is greater closely mirrors the suits previously filed against sister Gigi and an array of other famous figures, all of which have taken to posting imagery of themselves but owned by others, namely, the photographers who took the photos and/or photo agencies that the photographers assigned their rights to.
Despite the ethical issues at play (i.e., those that call into question the ability of photographers to claim ownership over and monetize images of others, while simultaneously filing suit when the subjects use the images, themselves), this growing string of paparazzi copyright cases fits neatly within the confines of copyright law. As the individuals behind the creation of the photos at issue, the paparazzi photographers (or their employers) are the exclusive holders of the copyrights in the photos, regardless of whether the subjects consent to such images or not. (Copyright law does not care about consent of the photos subject). When another individual or entity regardless of who they are makes unauthorized use of those photos, that gives rise to a claim of infringement.
While these cases are relatively straightforward from a legal, they prove compelling due (partially) to the questions and commentary that comes in response to litigation that centers on individuals posting photos of themselves that were taken in at least some cases without their explicit consent. Such arguments against the ability of paparazzi photographers to take copyright infringement action commonly come hand-in-hand with the assertion that this is not the type of infringement that the drafters of the Copyright Act could have predicted.
More than that, issues of co-authorship (and thus, co-ownership), which have been raised in this context, are interesting. Counsel for Gigi Hadid raised this defense in one of the suits filed against her, asserting that the model was responsible for the creative elements in the photo namely,her pose, expression, or clothing.
Counsel for the plaintiff in that case which was actually Xclusive slammed the co-authorship argument, claiming that themodel is as much a joint copyright holder in the photograph as the subject of a biography is joint copyright holder to the words used by the author to describe her life.The court never provided guidance on the co-authorship argument, as it was revealed that Xclusive had failed to register the image at issue (which is a pre-requisite to filing suit), and thus, the case was dismissed.
*The case isXposure Photo Agency Inc. v. Isabella Khiar Hadid p/k/a Bella Hadid, 2:19-cv-10587 (C.D.Cal).