Little things mean a lot. Consider the power of a new toilet paper holder, especially when this is one of the last features to be upgraded during bathroom DIY projects. If you've replaced the cabinet knobs and towel racks, it's time to turn your attention to where you display the bath tissue. Believe it or not, top brands and design studios have given the toilet paper holder their detailed attention, offering a range of possibilities crafted from materials such as wood, metal, ceramic and acrylic. Say goodbye to the holder that was there when you moved in and put an artistic stamp on a functional item with the power to make a big statement! [toilet paper holder below by Rinnai Style]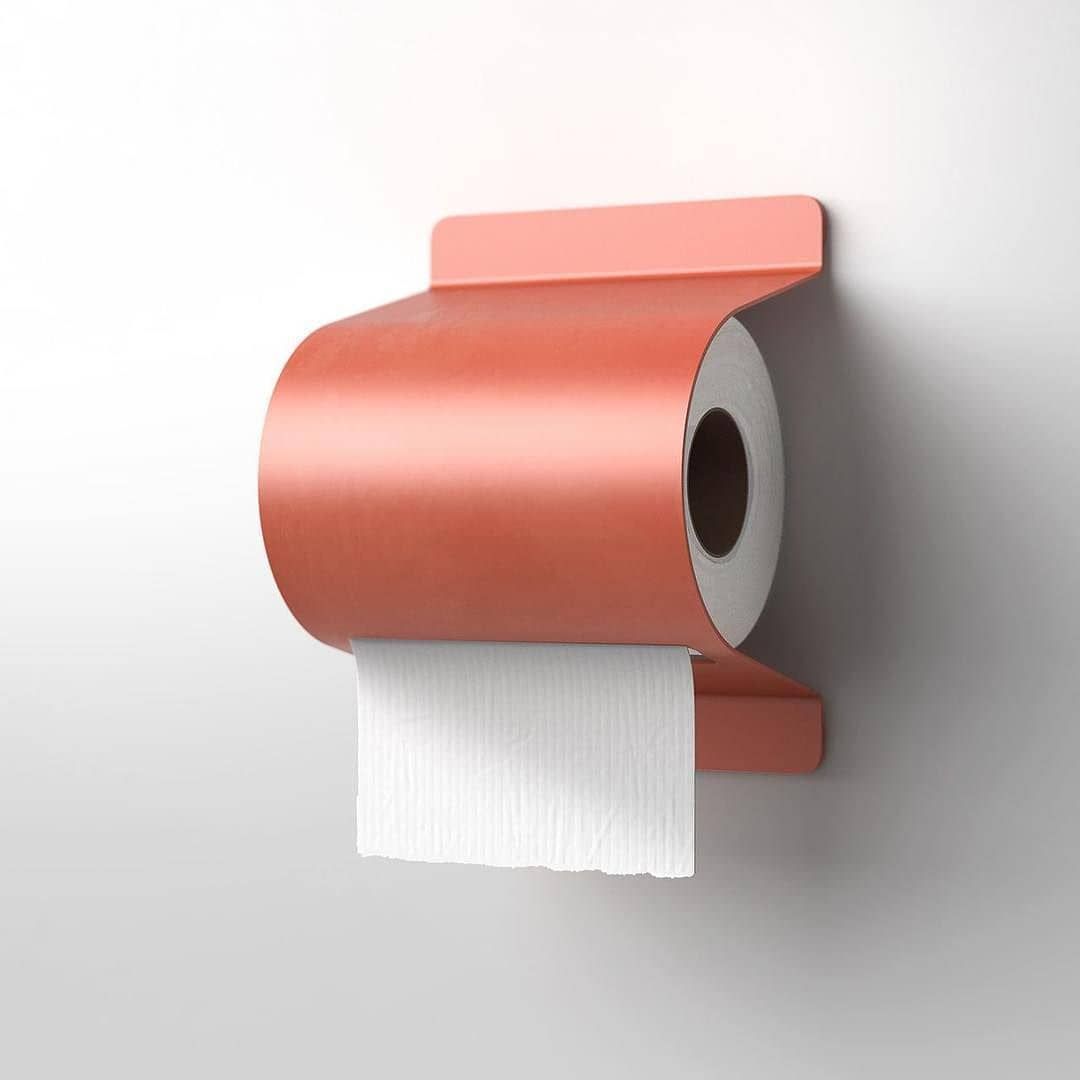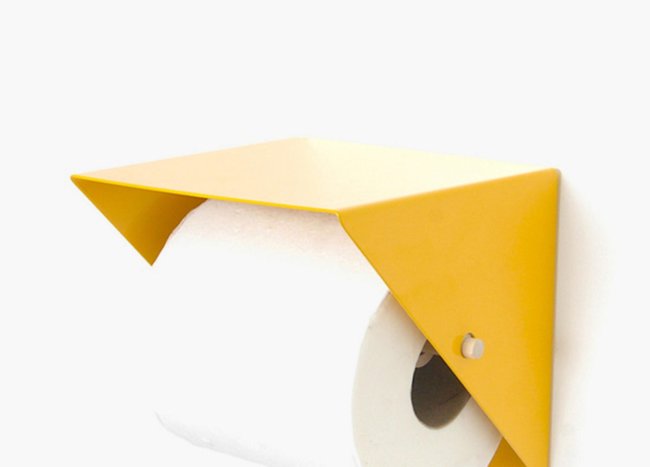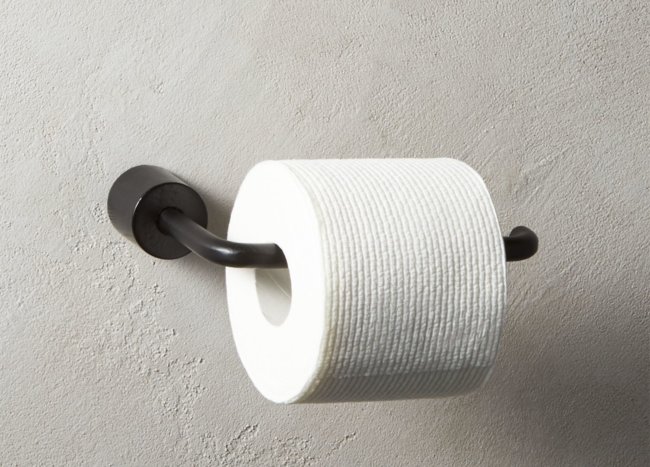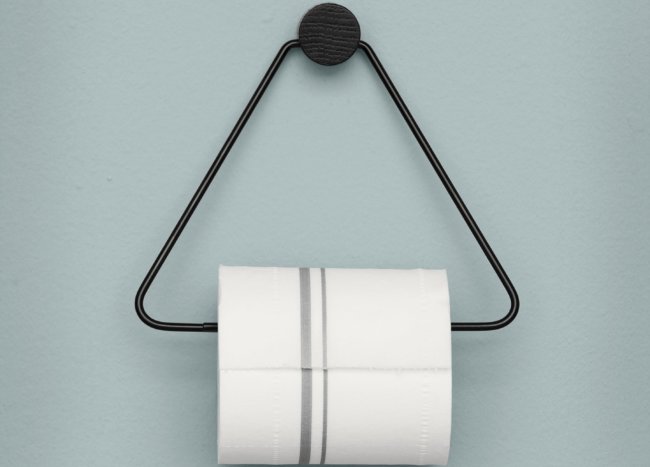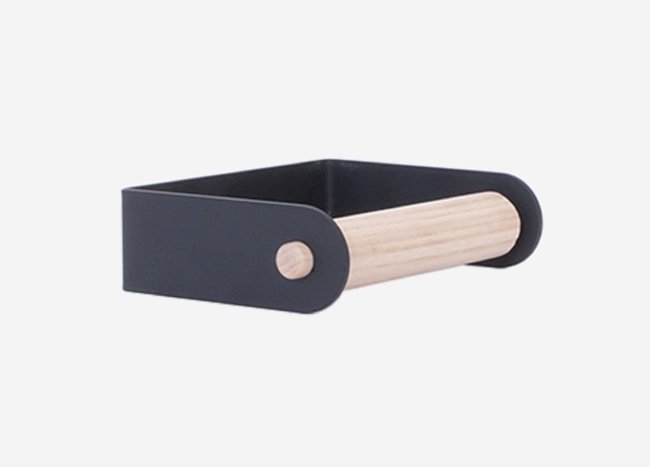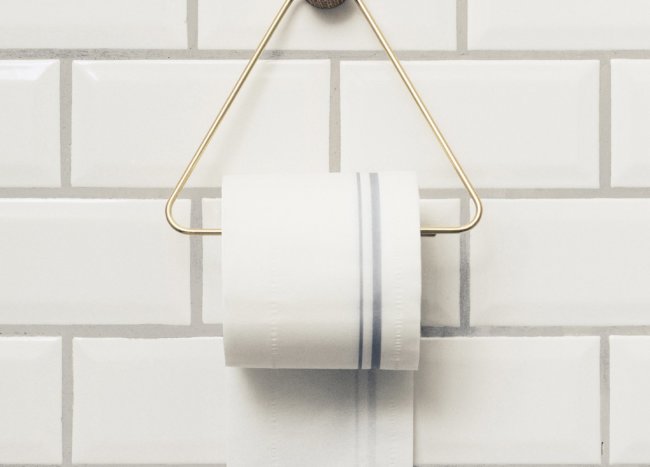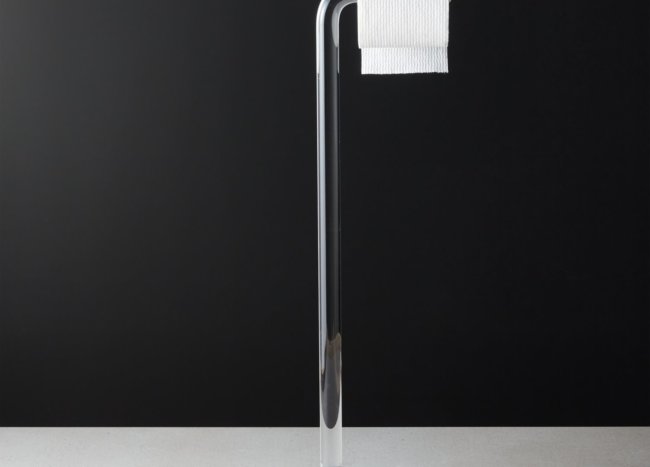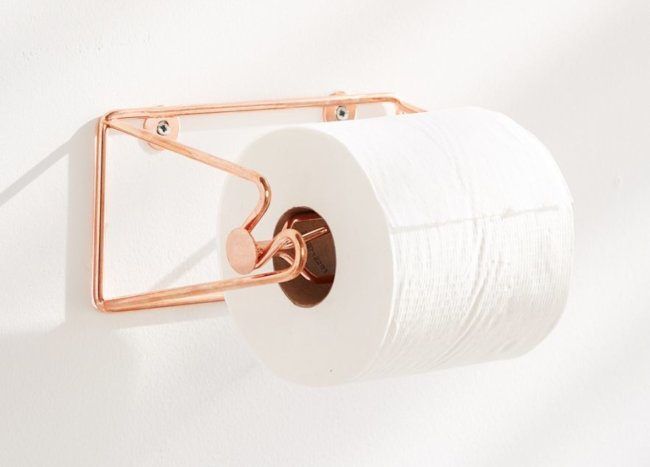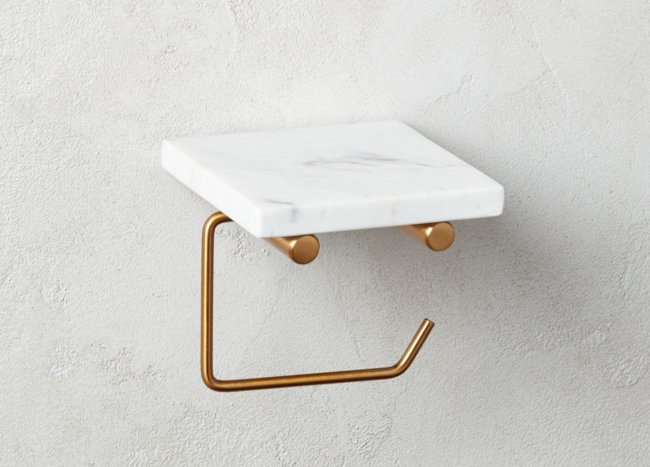 Mixed Materials
We begin with toilet paper holders that channel a "mixed materials" look, thanks to the use of two or more supplies. ferm LIVING has created a triangular design that celebrates modern Scandinavian style. The black version (shown below) utilizes metal and stained oak: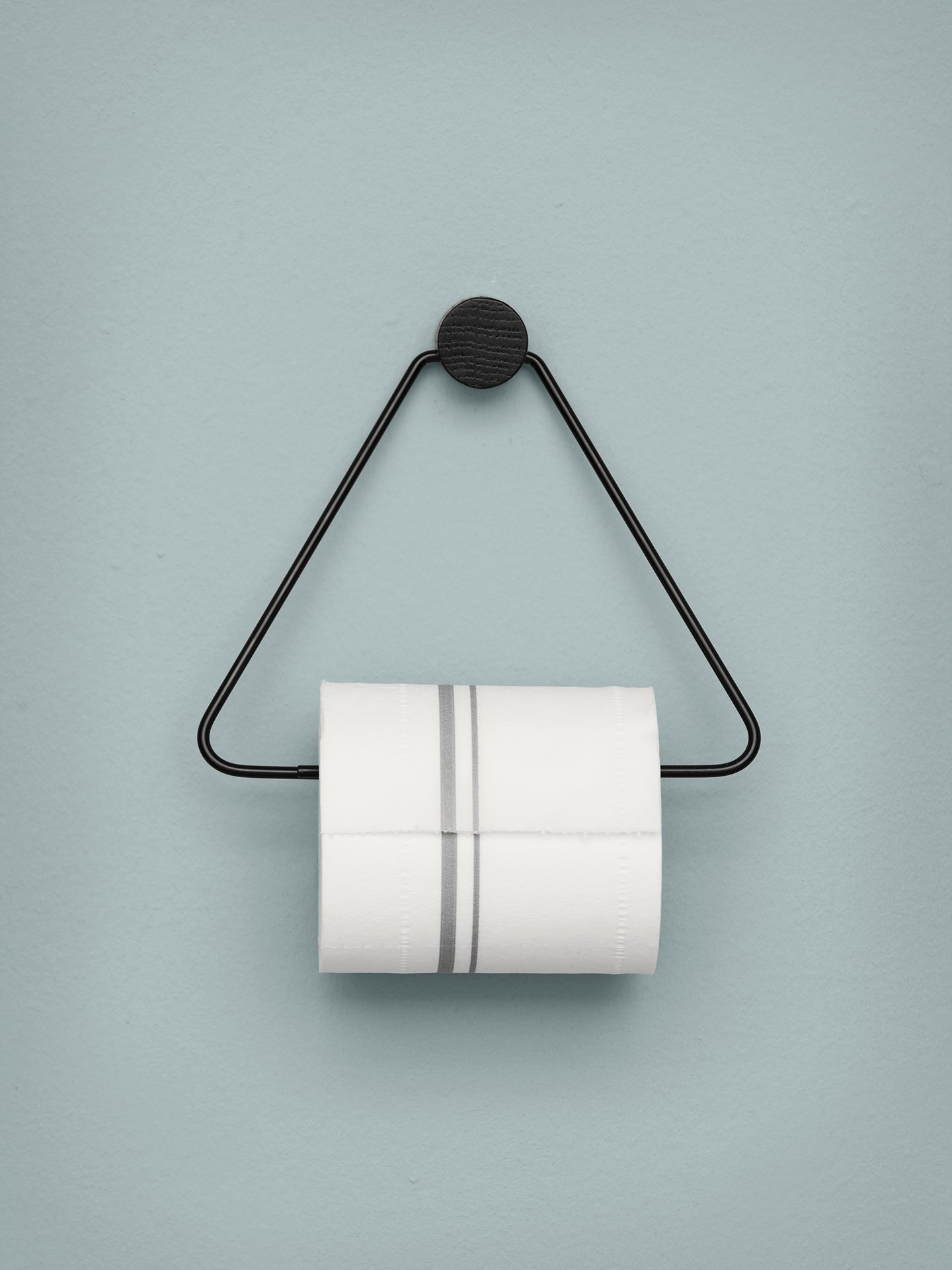 From a monochromatic look to a contrast between shiny metal and natural wood, the chrome version is a mix of finishes and tones. The grain of the wooden hook stands out from the smooth shine of the triangular form, strategically calling attention to both carefully crafted pieces.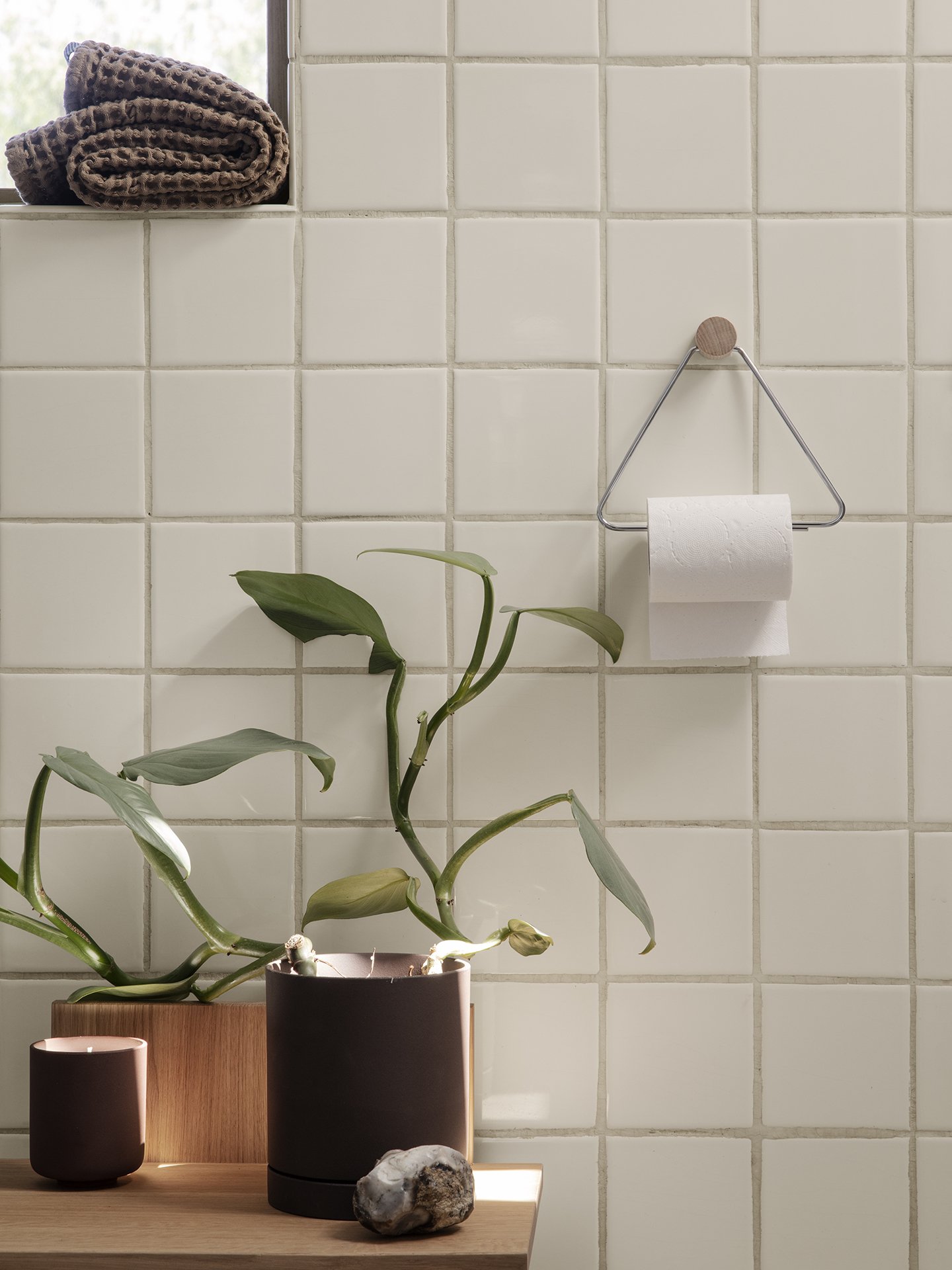 Last but not least, a dash of refined glamour is on display with the brass take on the design, a mix of gleaming gold and dark oak. The result is elegant and modern. One item, three looks. Which one is your favorite?!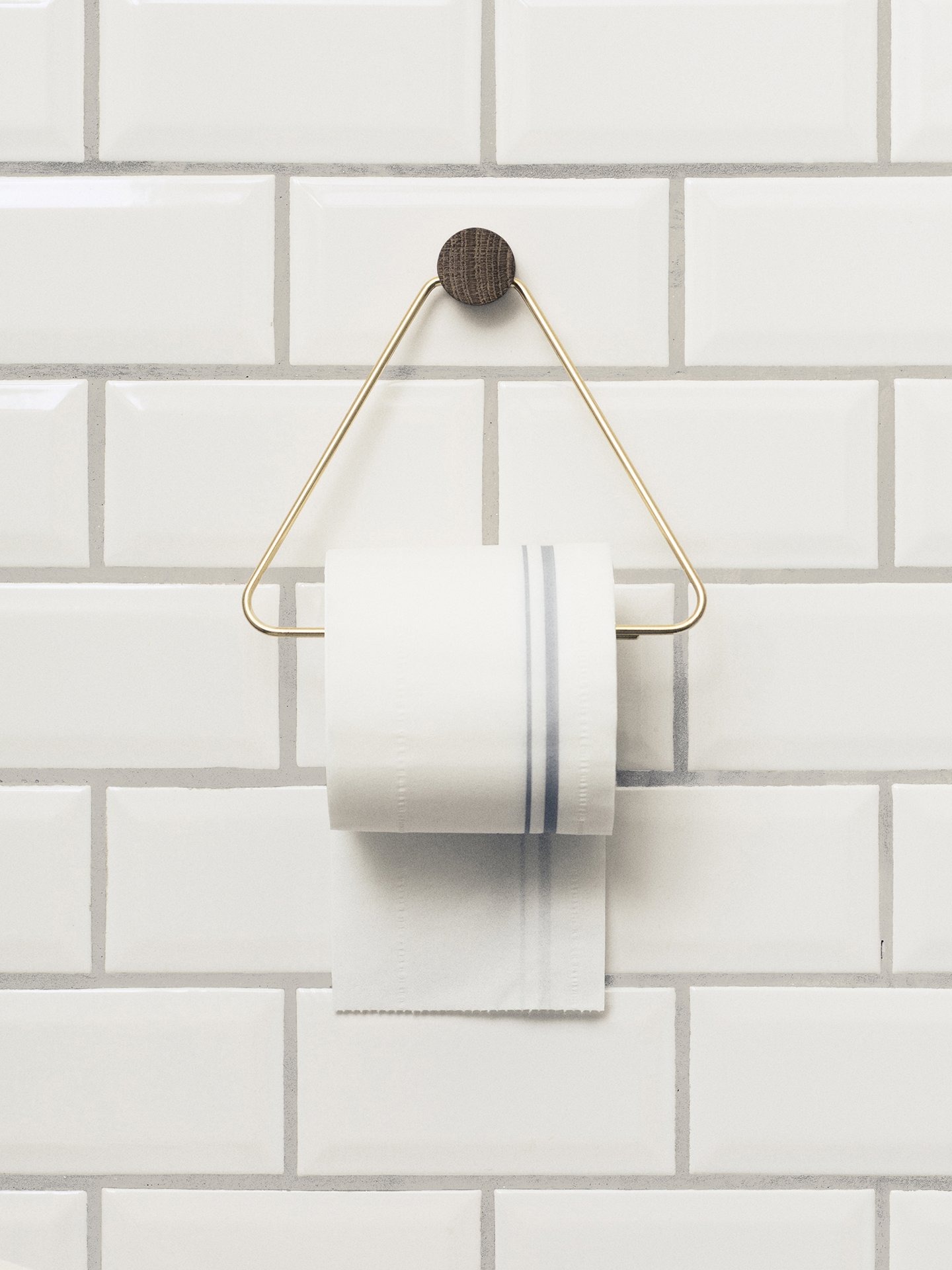 We now welcome marble into the mix, thanks to CB2's wall-mounted toilet paper holder with shelf, which creates a vintage feel using Carrara marble and antiqued brass. The handy shelf is perfect for stashing an extra roll of bath tissue or holding your phone: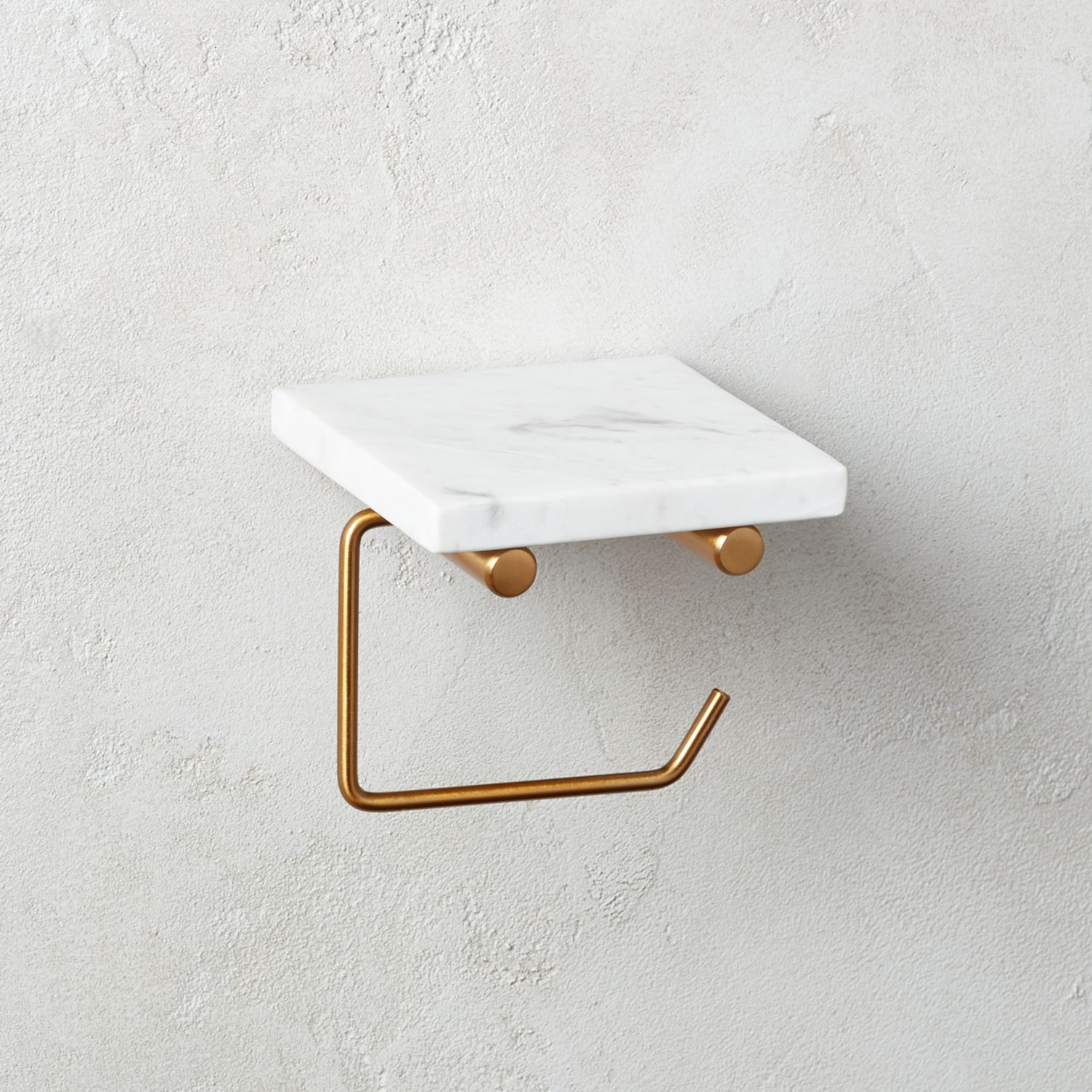 For a shelf that's wood instead of marble, check out Etsy shop Vera Decor's modern toilet tissue holder. Once again, a functional platform helps solve the dilemma of where to set your phone and other pocket items. Choose from black walnut and beech wood (shown below) for the shelving material: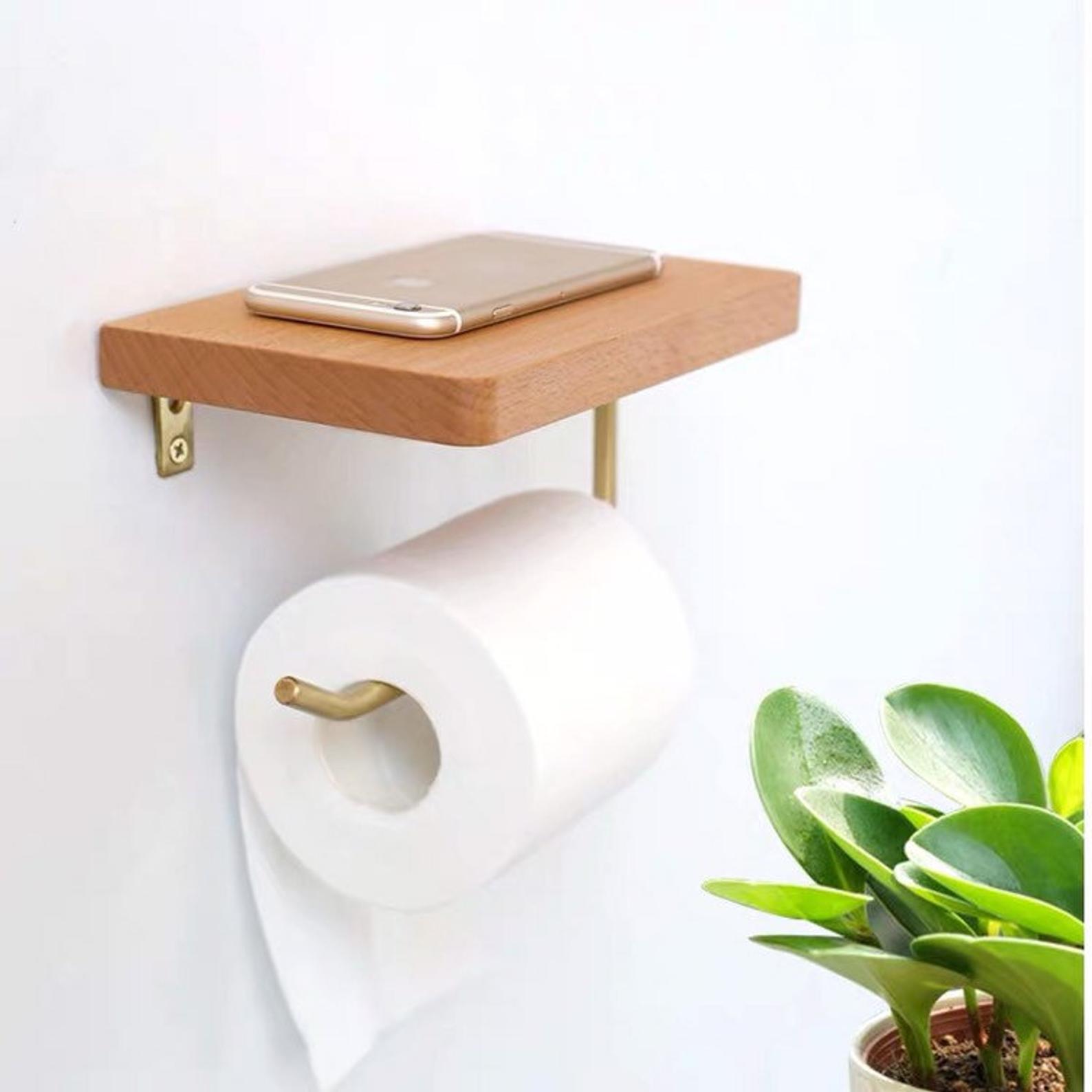 Simple and Modern
Mixed materials are once again on display in several of the designs below, but we now turn our attention to forms that are beautifully simple and sleek. Etsy shop Kroft offers a modern toilet paper holder that features a bent metal casing and a solid wooden rod that's easily removed when it's time to change the roll. The contrast between black metal and light wood is quite striking: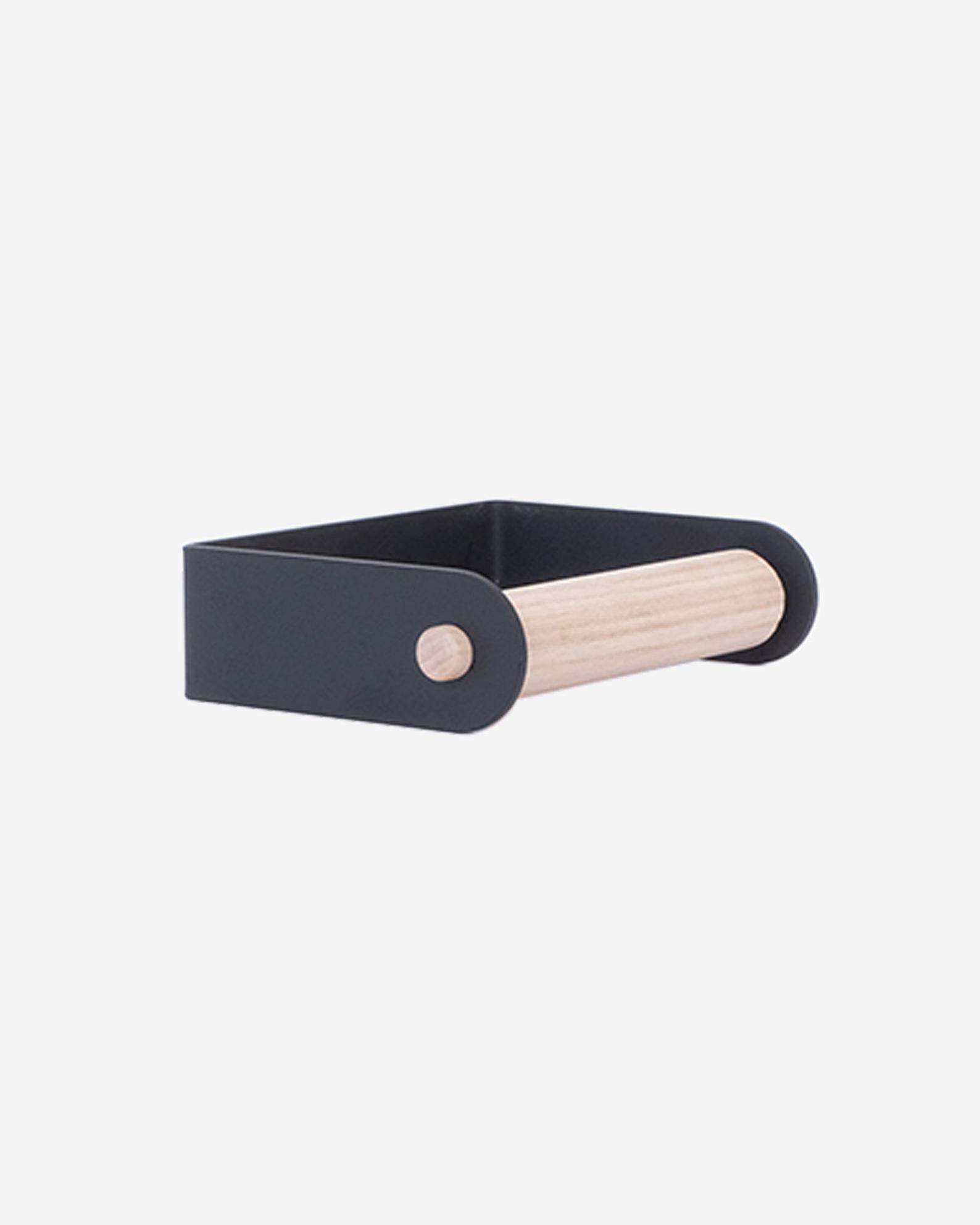 The Corin Toilet Paper Holder from Urban Outfitters is a speckled ceramic creation that showcases a wooden dowel. Indentions in the ceramic add a light touch of softness to the design. Subtle, compact and unforgettable: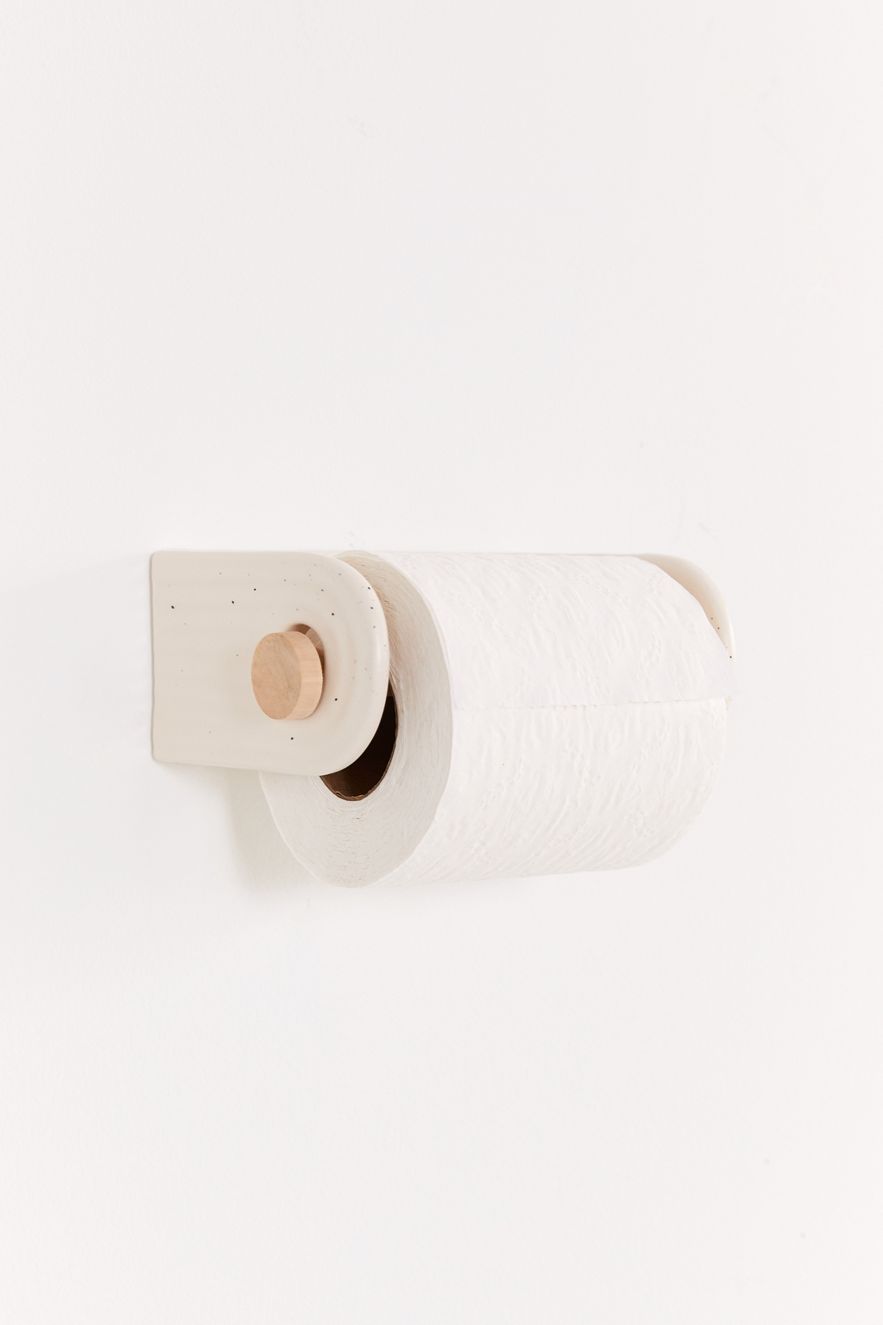 The item is also available in mint, shown below. Note the way the photo illustrates how beautifully a toilet paper holder can be coordinated with other powder room items, such as a soap dispenser and canister.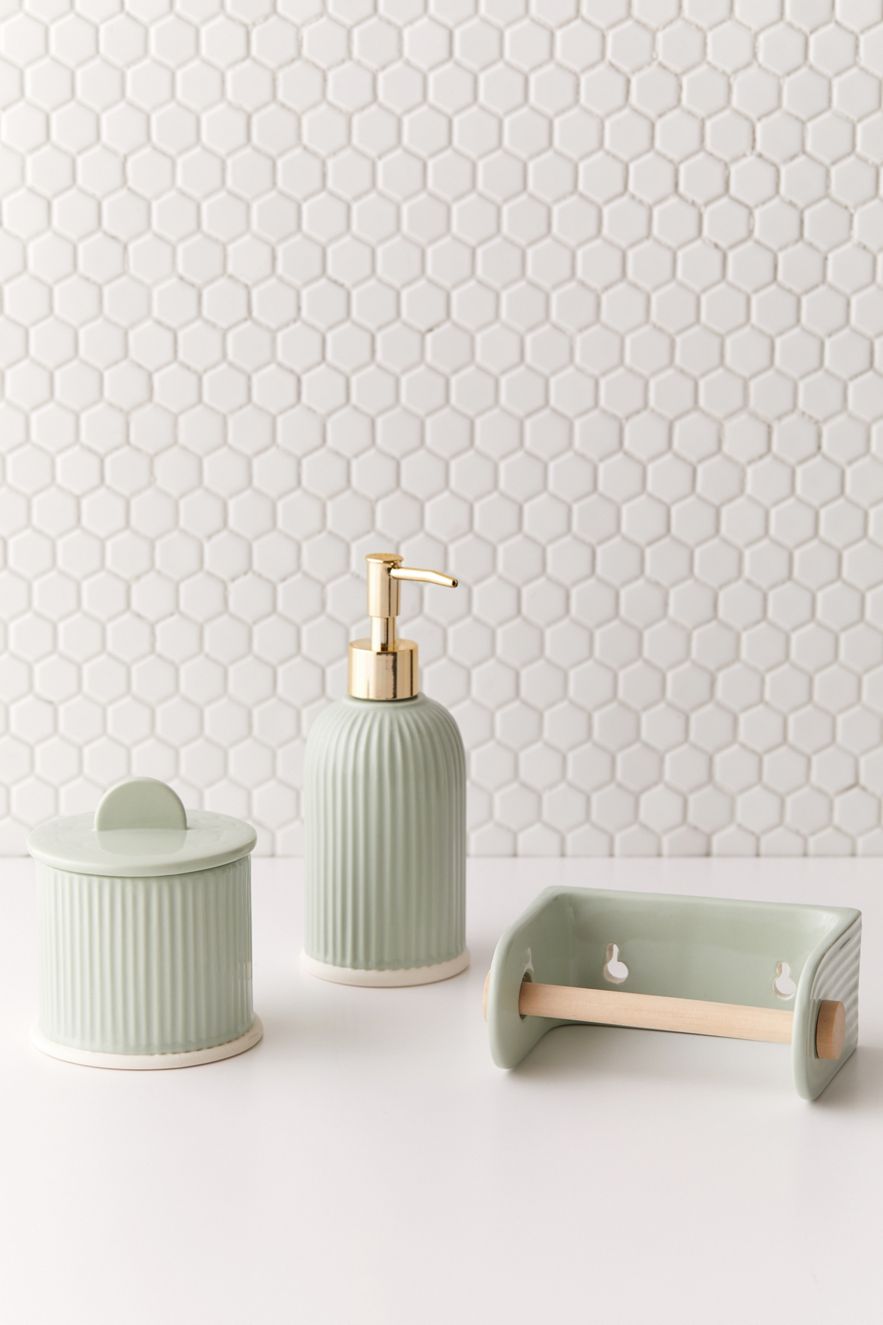 For an even simpler take on bath tissue product design, check out Urban Outfitters' Tulum Ceramic Toilet Paper Holder. Subdued Southwestern style is on full display, thanks to a pared-down rustic approach that also blends well with a boho look. Stoneware and rubberwood are the materials of choice, and the piece's terracotta coloring is perfectly on-trend: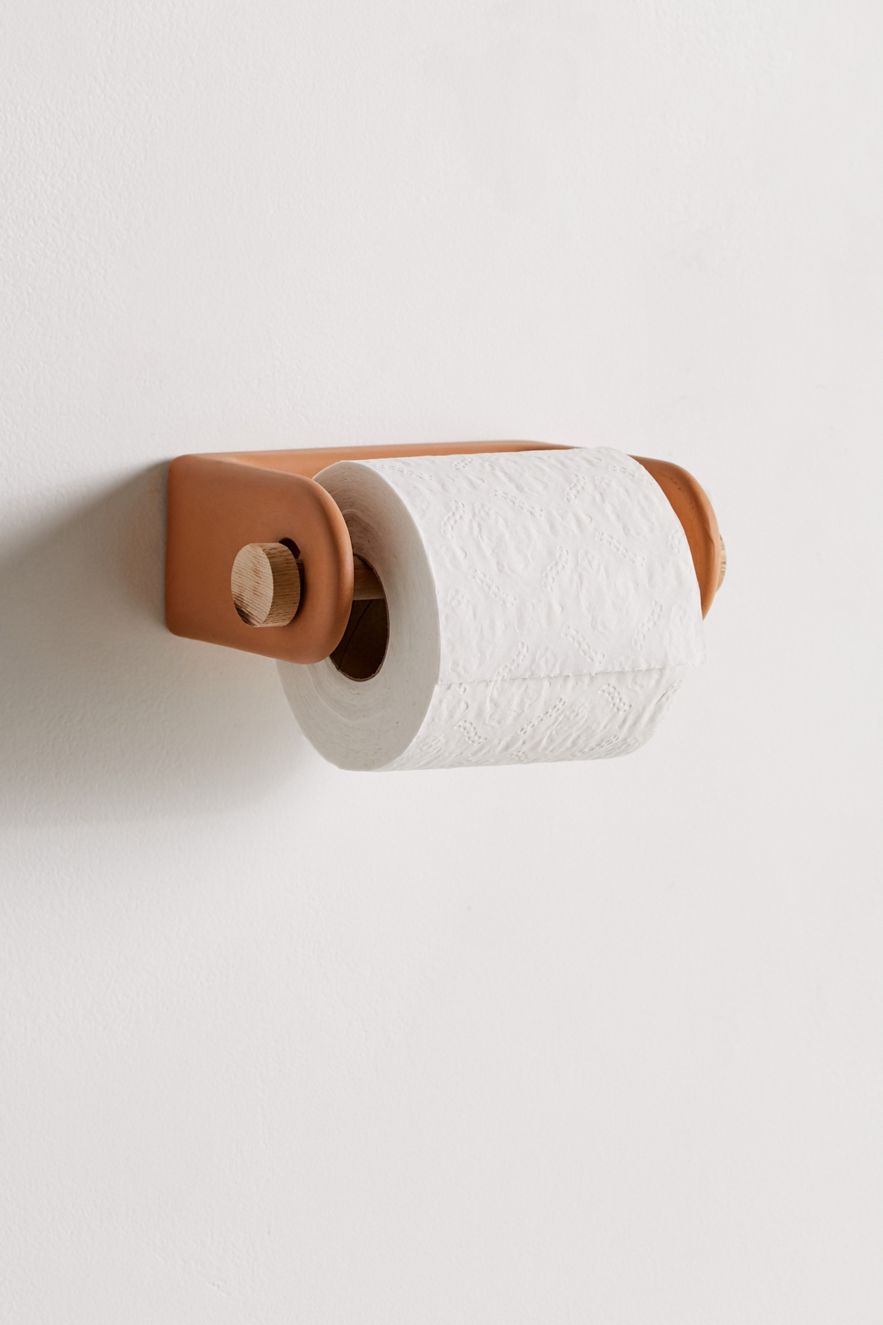 Less is more with CB2's Rough Cast Black Toilet Paper Holder. Black aluminum makes a bold statement, and the striking, sleek design proves that simple curves and rounded forms are as eye-catching as ornate details: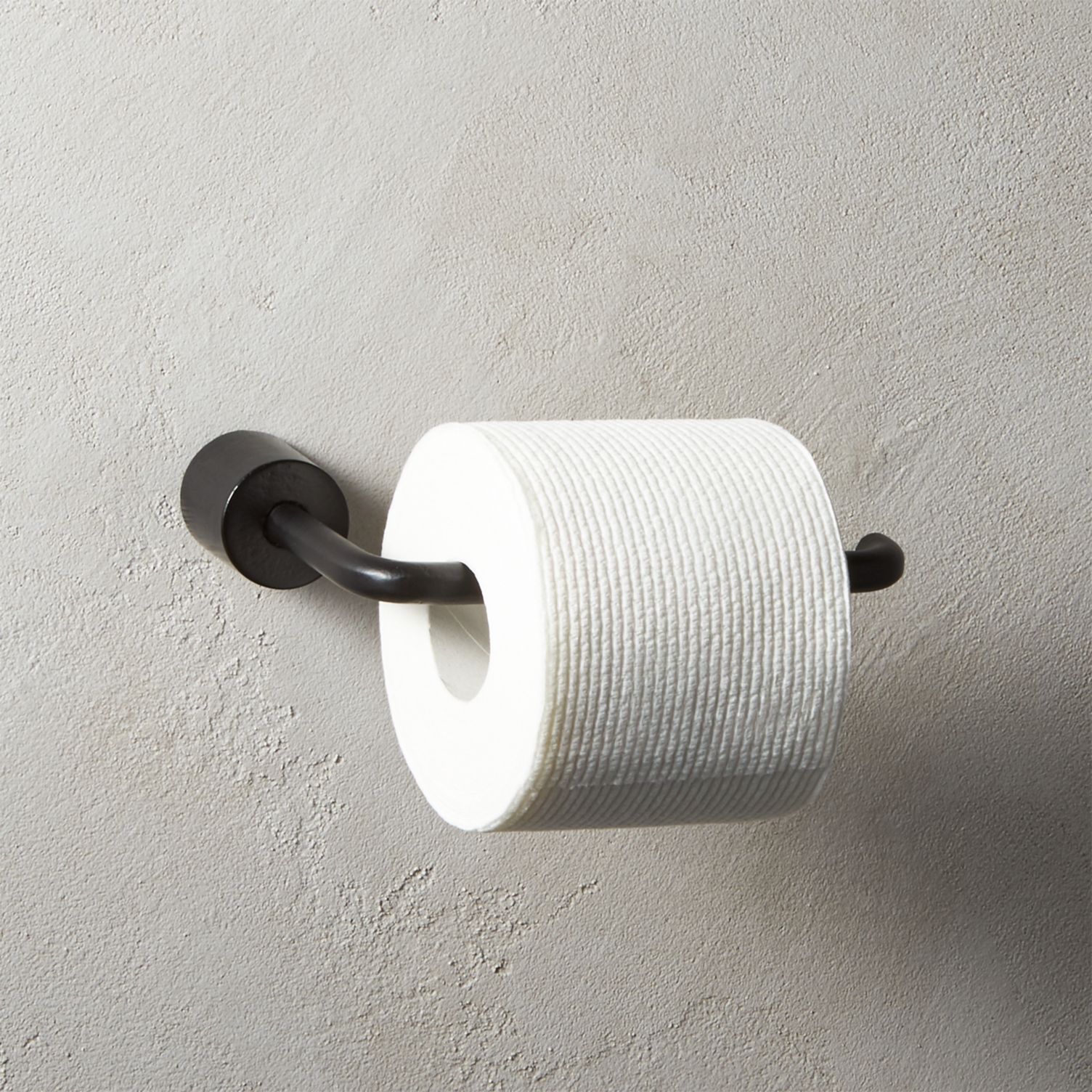 Then again, details can elevate the design of a product. Also from CB2, the Sprocket Toilet Paper Holder in brass brings modern style to life with a ridged design that adds visual interest. Designed by Caleb Zipperer, this item is also available in black: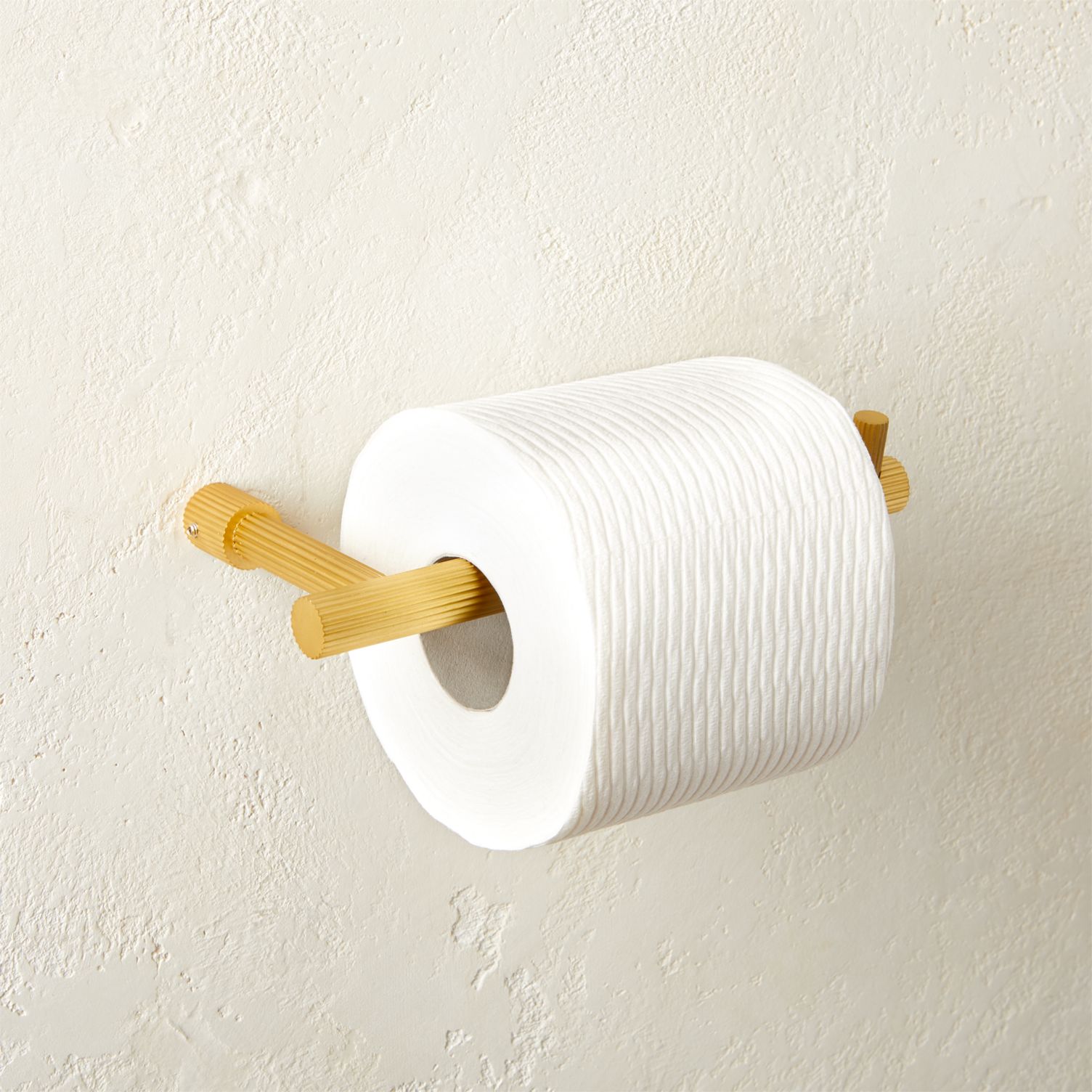 Statement Pieces
If you need proof that a small, functional item can make a truly big statement, you'll love checking out the featured products below, each of which boasts a truly unique design. For starters, the NEWMADE LA Toilet Paper Holder from Madewell is the creation of LA-based designer Simon St. James LeComte. Crafted from powder-coated steel, the piece has a vintage-modern look. It's also available in black and white, but we're partial to the vivid yellow: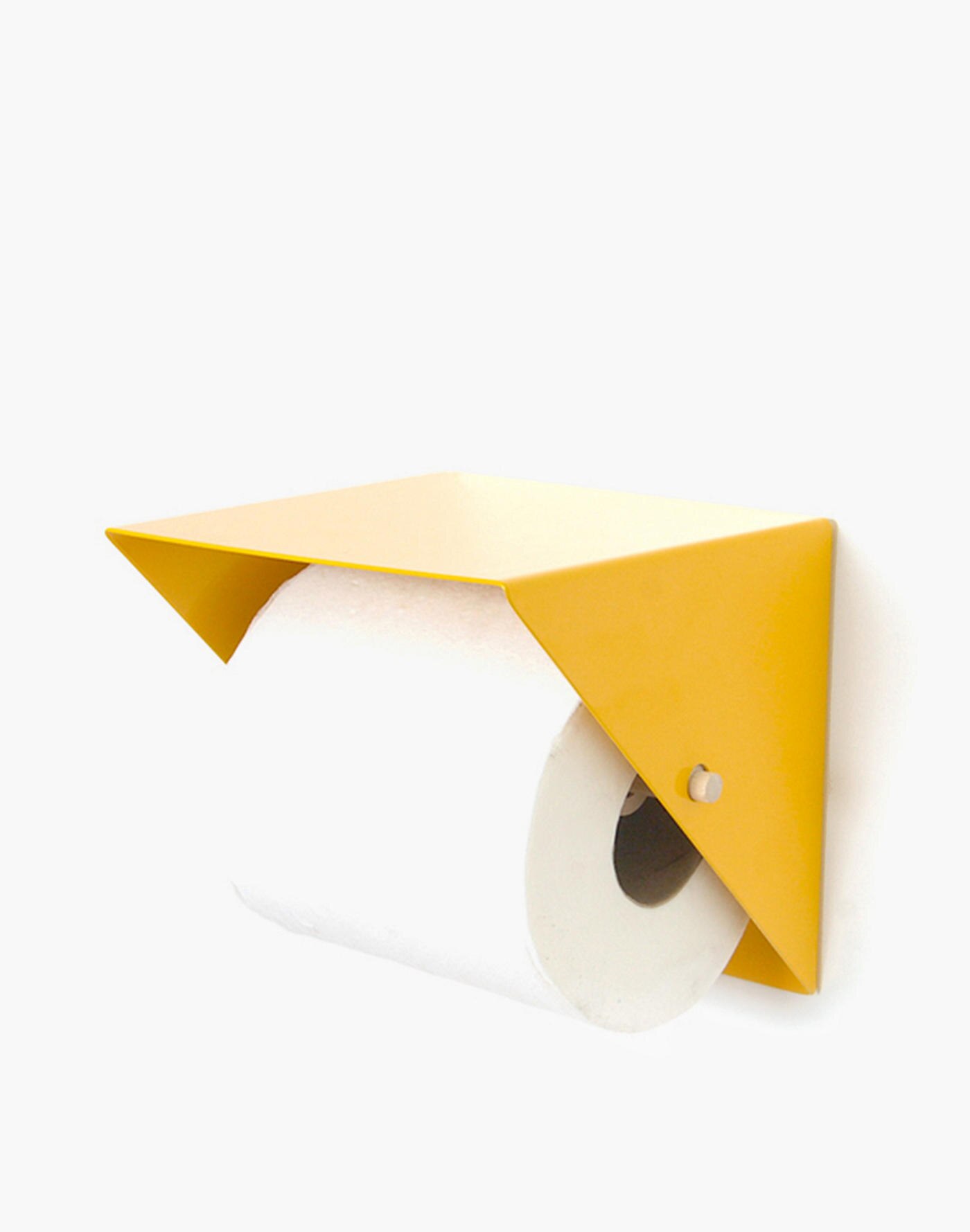 Speaking of pieces that evoke the past, Urban Outfitters' Ria Rattan Toilet Paper Holder channels a tropical retro look that also blends well with today's modern design trends. Bring on the diagonal lines!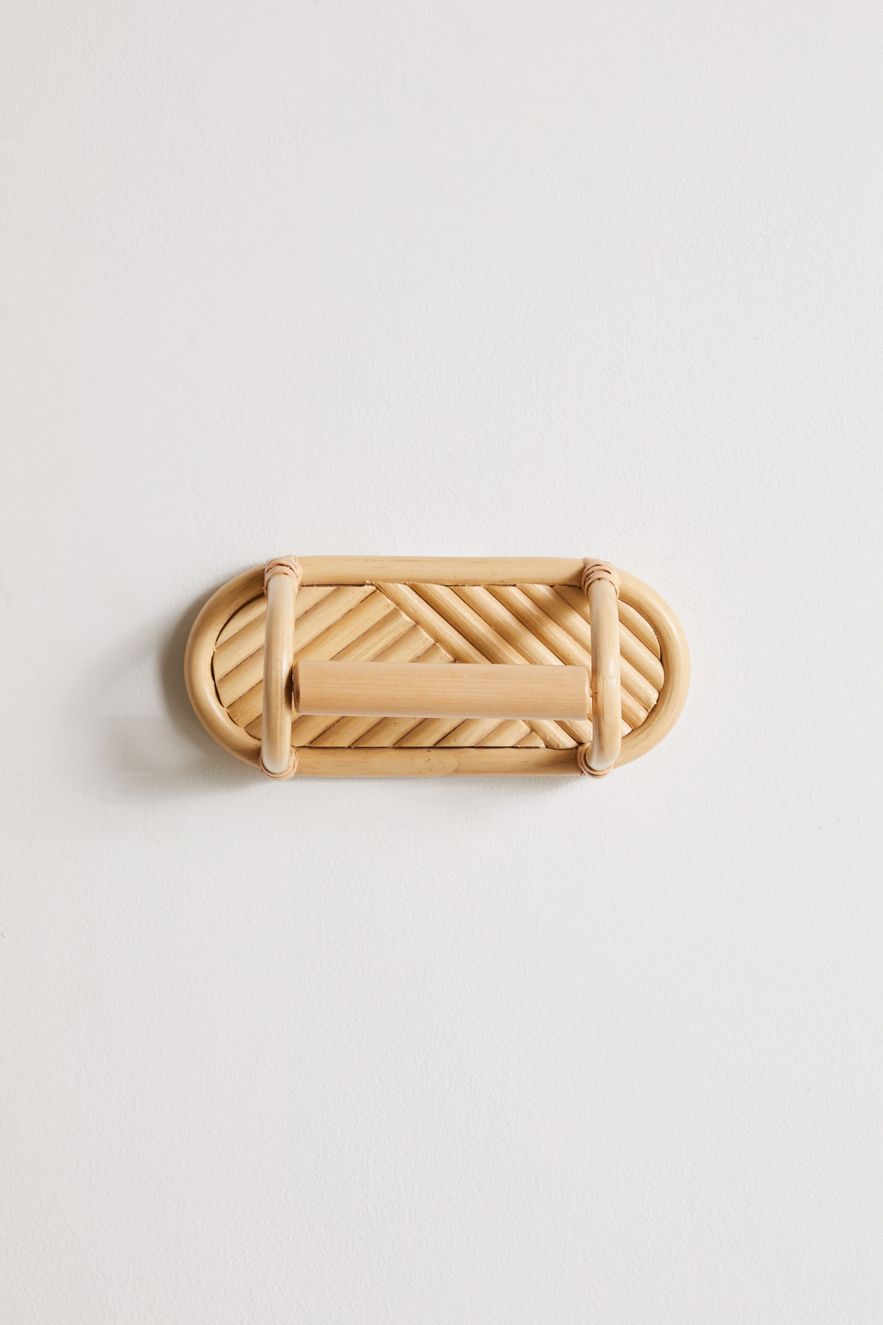 Another UO find, the Minimal Rose Gold Toilet Paper Holder is a vision in copper-toned metal. A wire design gives the piece its signature look, and an easily removable bar makes it a snap to change the roll.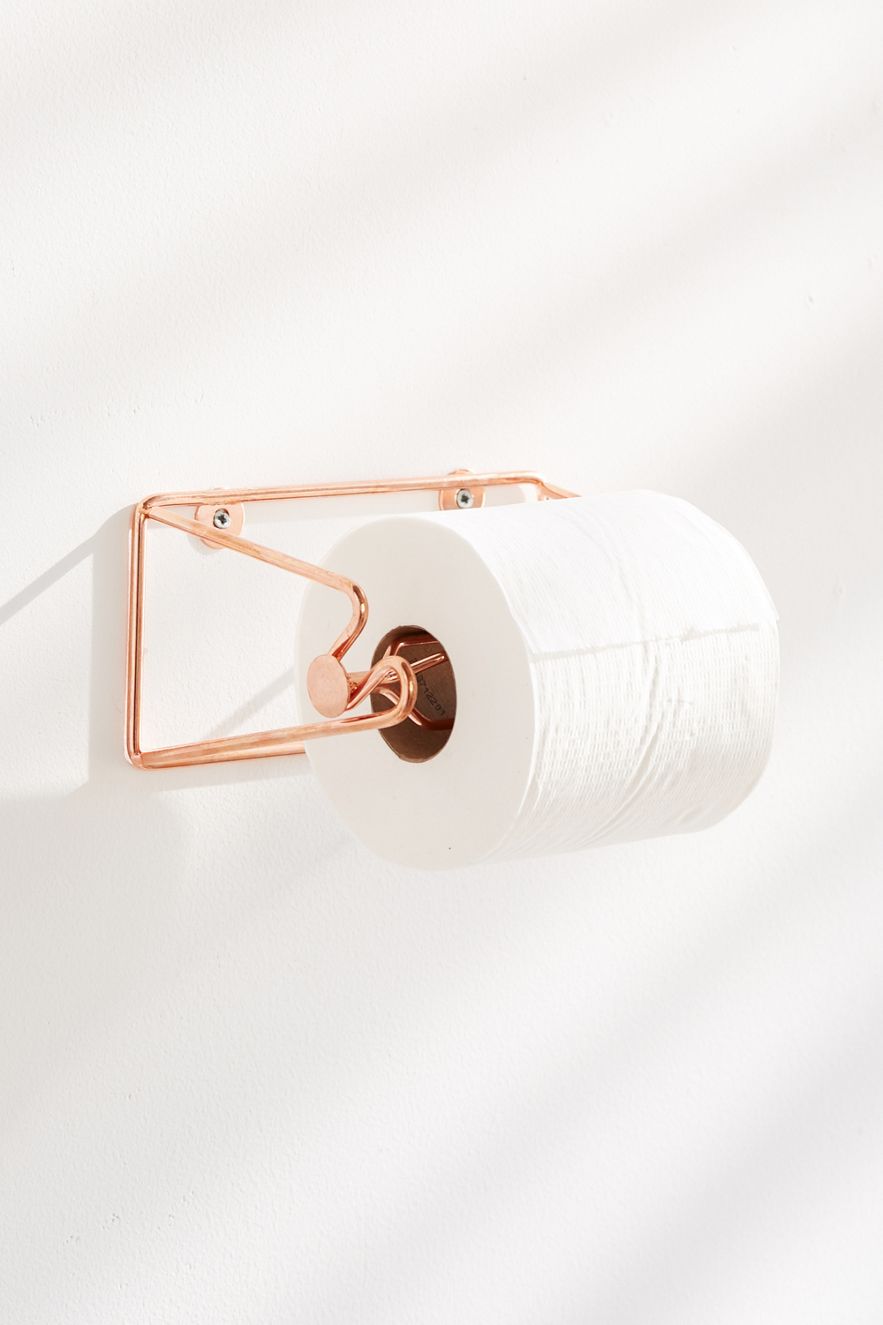 Let It Stand
We end today's post with a collection of standing paper towel holders that bring an element of height to your powder room. The Acrylic and Polished Nickel Free Standing Toilet Paper Holder from CB2 gets its form from a curved acrylic bar. A nickel endcap holds everything in place.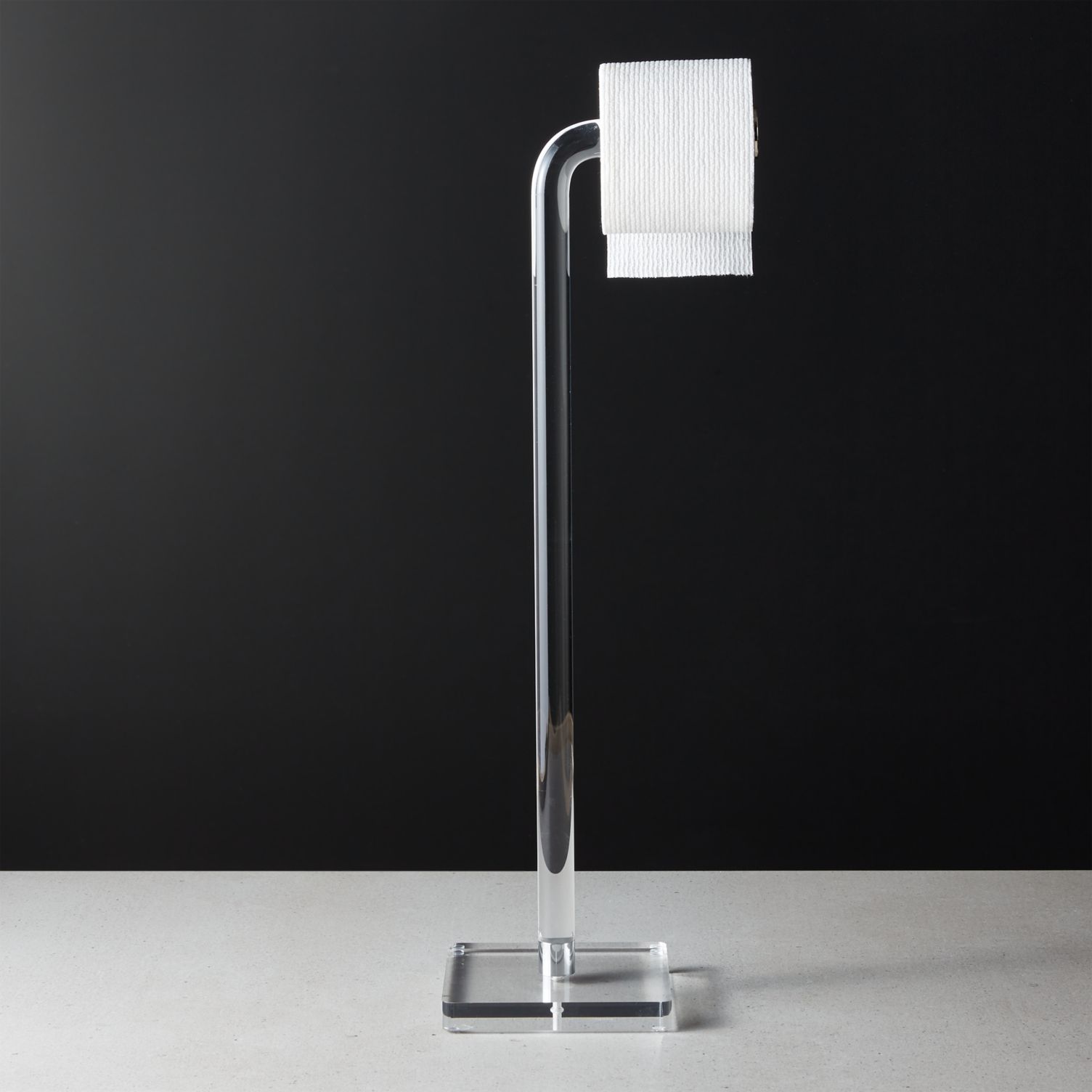 Another CB2 find, the Rough Cast Black Standing Toilet Paper Holder is a darker take on the item above. A chunkier base creates a distinct look: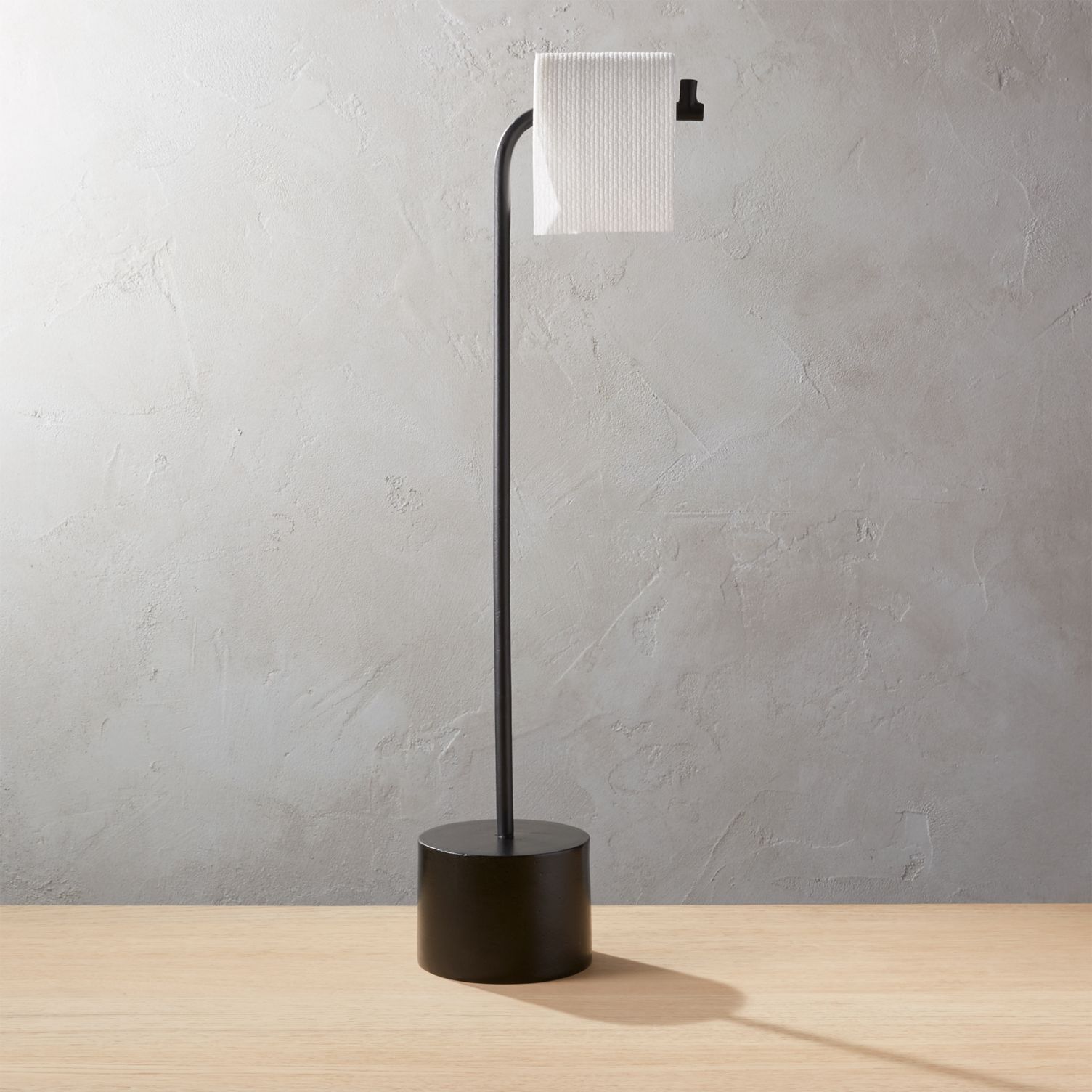 Target's Hearth & Hand with Magnolia Toilet Paper Stand is more angled than curvy, but the look is just as slick. Additional rolls can be stored along the vertical rod: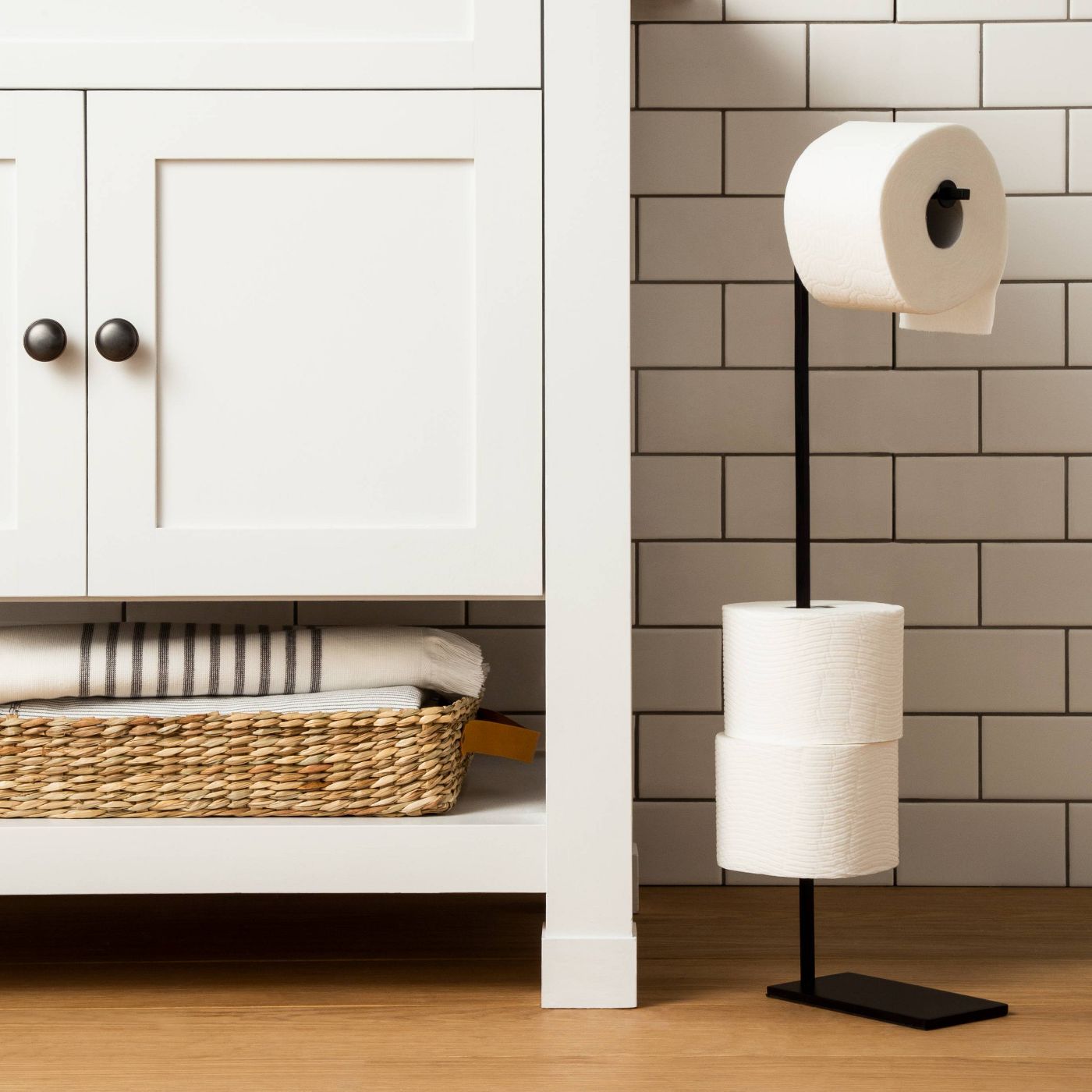 Anthropologie's Kelly Standing Toilet Paper Holder uses vertical lines to its advantage. Extra storage is a bonus, along with the bronze tone of the finish: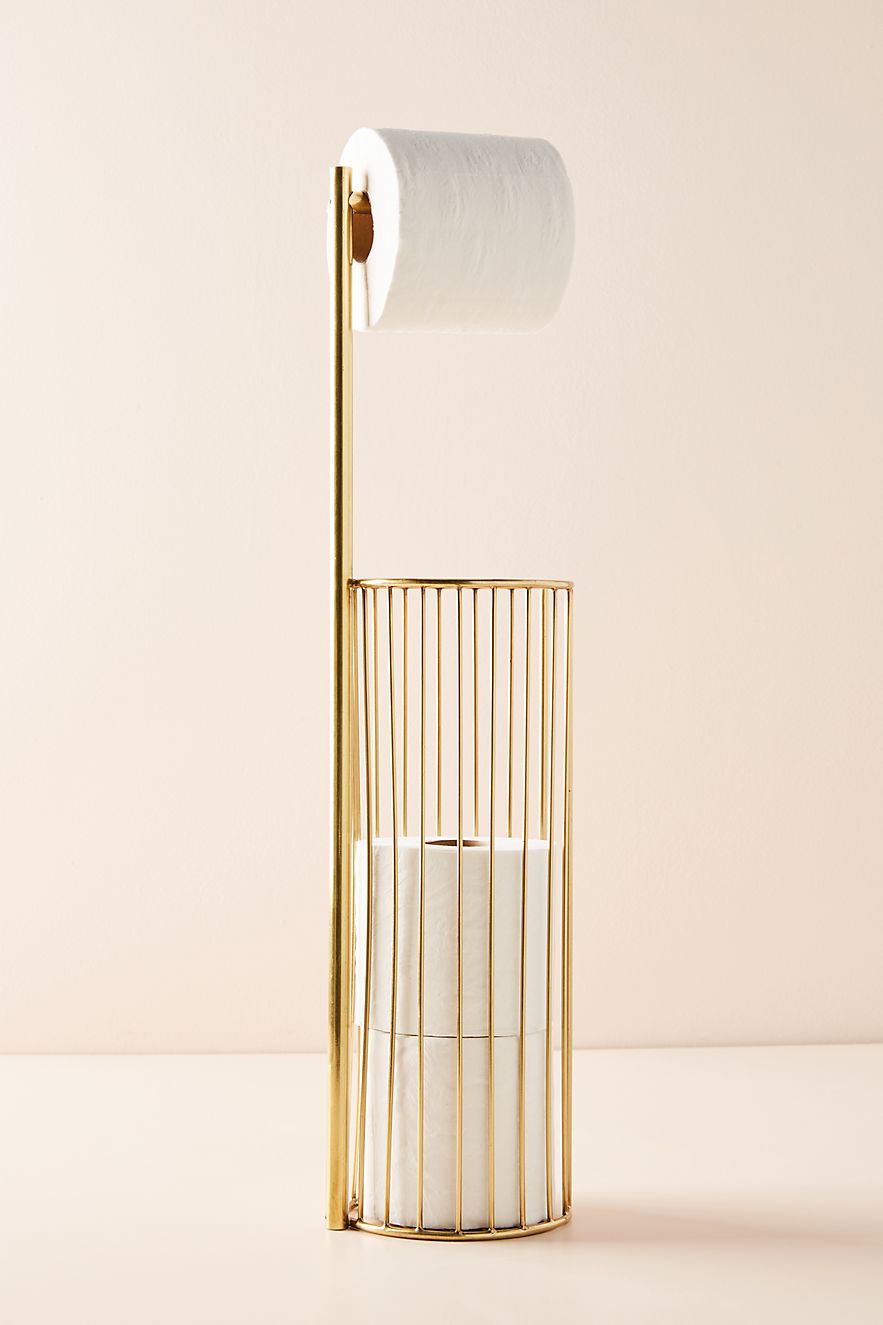 Available in black or white, Yamakazi Home's Modern Toilet Paper Stand holds up to three rolls of bath tissue and provides a shelf for setting small items. Available via Food52.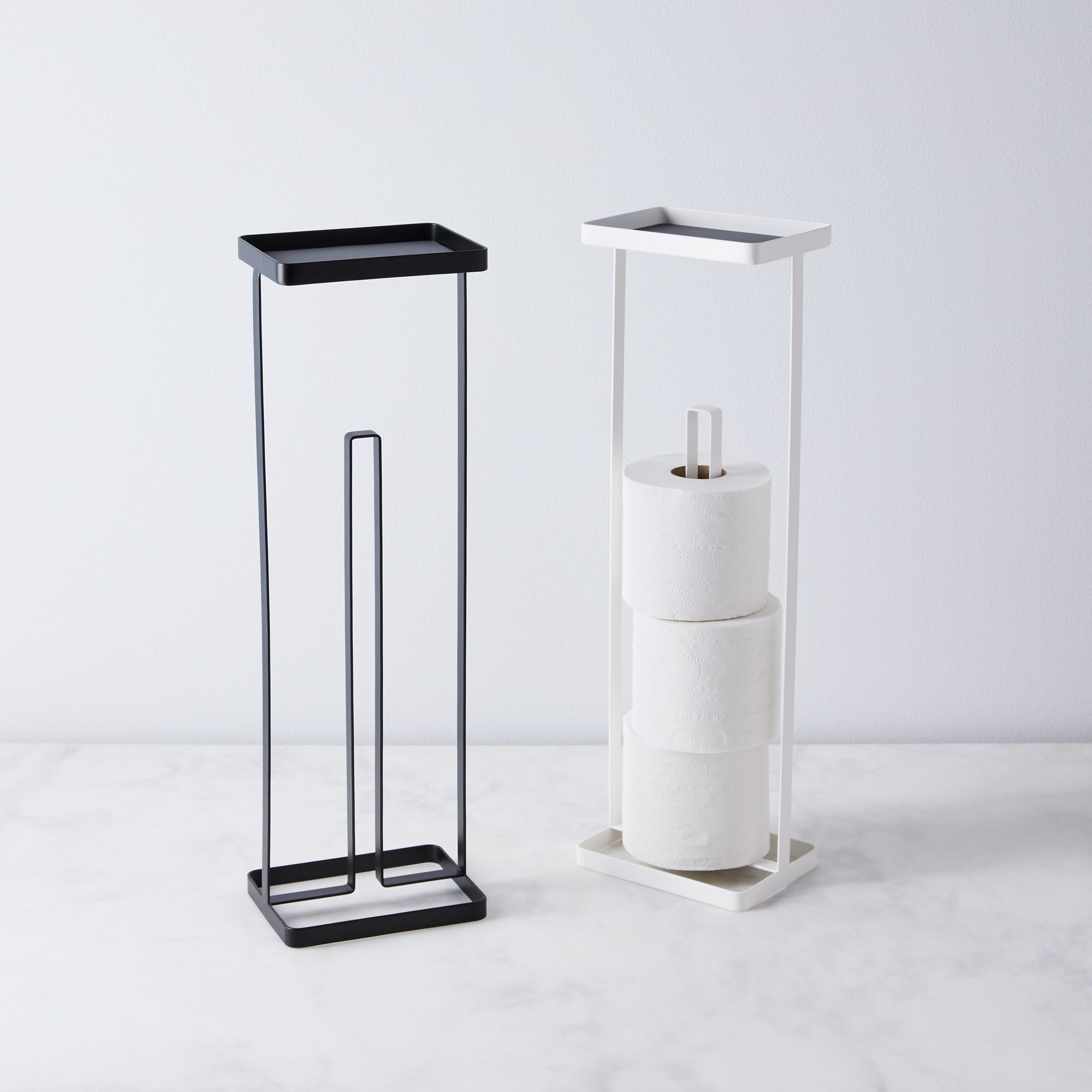 We hope you've enjoyed today's roundup of beautifully designed bathroom accessories. If you're feeling crafty, check out this quartet of DIY toilet paper holders from Design Love Fest (they're absolutely amazing), and our bathroom decor post will show you other easy ways to get an instant powder room upgrade. Focusing on the design of something small like a toilet paper holder is a great reminder that big changes can come from small tweaks. Not to mention, little additions are budget-friendly, and it doesn't take a lot to make a space feel refreshed. Thanks for reading, and happy decorating!
You're reading Upgrade Your Bathroom with a New Toilet Paper Holder, originally posted on Decoist. If you enjoyed this post, be sure to follow Decoist on Twitter, Facebook and Pinterest.