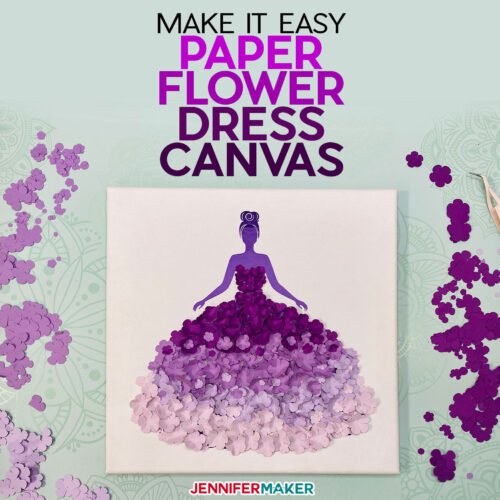 Learn how to make a super easy paper flower dress canvas to "dress up" your wall! This pretty wall art makes lovely home decor or a special gift.
One year ago I made a paper butterfly heart canvas that I just ADORE! I keep it out in my craft room year-round and it always makes me smile. So many of you liked it and made it that I thought it would be fun to do another canvas like this with simple paper shapes … this time with flowers! And this time around I've made a design that goes on your canvas in vinyl first to make it a little easier for you. This pretty paper flower dress canvas is surprisingly easy to make, too! The wall art is part of our MAKE IT EASY Craftalong Challenge, filled with fun and EASY daily themed projects!
Here's what the easy paper flower dress canvas looks like before you add the flowers — you are welcome to keep it just like this!
But I think it looks REALLY amazing once you add the simple paper flowers to it in various shades:
Here's a closer look at those pretty little paper flowers on her dress:
The great thing about this paper flower dress canvas is how it is so much easier than it looks. All you really need is one or two sheets of permanent vinyl for your flower girl design, along with a way to transfer it (like a sheet of transfer tape).
In addition to that, you'll want about four sheets of cardstock — I'm using several sheets of paper from a solid core pack I got at Michaels. I cut out my paper flowers — there are about 250–300 of them — using my Cricut cutting machine, but you could also use scissors of course (though it might take a while). There are actually four different sizes of paper flowers in this dress. All of the flower designs are free on my blog for you to use!
You'll also need a canvas, board, or sign to which to attach your flower girl and paper flowers. I'm using a 16″ x 20″ stretched canvas. You'll also want to seal it with something before you attach your vinyl — you can use paint, Mod Podge, or spray adhesive. Just be sure to let it dry before you apply your vinyl.
And finally you'll need a way to attach your paper flowers to your canvas. You all had several different ideas on how you might attach them, so I experimented with three different methods — hot glue, raised zots, and tacky glue. I'll show you which method turned out to be both the fastest and most reliable in this tutorial!
Isn't this paper flower dress just SO PRETTY? Let me show you how to make this! This post contains some affiliate links for your convenience (which means if you make a purchase after clicking a link I will earn a small commission but it won't cost you a penny more)! Read my full disclosure policy.
Materials to Make an Easy Paper Flower Dress Canvas
Easy Paper Flower Dress Canvas
Total Time:
1 hour
30 minutes
Step-by-step directions to make the easy paper flower dress canvas wall art!
Instructions
Step 1: Get my free Flower Girl & Simple Paper Flowers Design
My free flower girl outline and simpler paper flowers for this project. You can get them either as a printable PDF or as an SVG cut file to use in a cutting machine like a Cricut. The pattern file contains the design to make a pretty paper flower dress canvas. Download the Paper Flower Dress design from my free resource library (get the password to the library in the form at the bottom of this post).
Here's what the uploaded SVG cut file will look like once uploaded to Cricut Design Space: 
Tip: If you're not sure how to upload an SVG cut file to Cricut Design Space, watch this helpful video training series I made. If you're on an iPhone or iPad, here's how to download and upload SVG files to the Cricut Design Space app.
Step 2: Cut out your flower girl vinyl and paper flowers
Coming soon.
Step 3: Put it all together
Coming soon.
Step 4: Show it off!
Coming soon.
Need more projects for today's craft challenge theme?
Today's MAKE IT EASY Craftalong Challenge is "CAN DO" by making something with a can of paint, an easy desk organizer,  or something with a "can" (I went with a CANvas). If you are looking for other ideas, we have you covered!
We'd love to see YOUR paper flower dress canvases! Please share a photo in our Facebook group or tag me on social media with #jennifermaker.
This project is a part of our MAKE IT EASY Craftalong Challenge with fun and EASY projects you can do to learn how to use your Cricut! You can share your photos in our daily challenge theme thread here!
Love,
The post Paper Flower Dress Canvas Wall Art appeared first on Jennifer Maker.