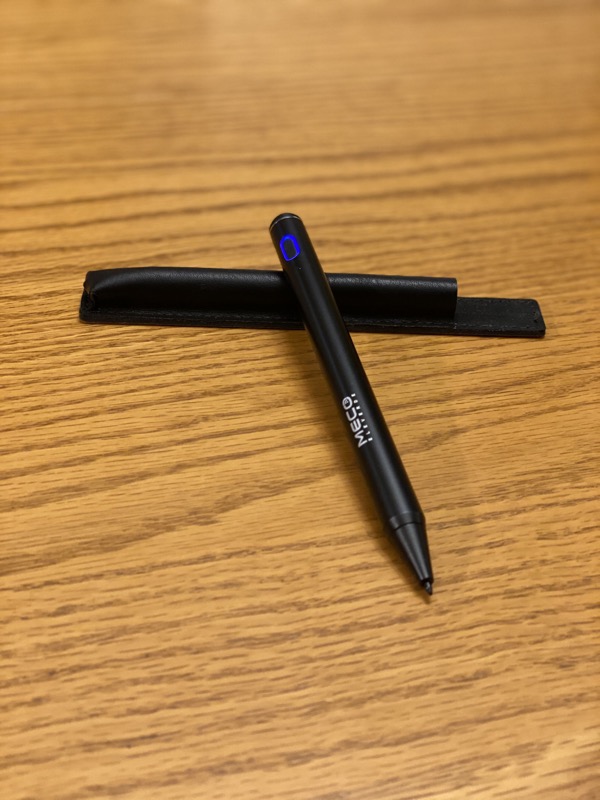 REVIEW – I'm just going to start this review by saying I really like this stylus. I'm not an artist but having a pen-like pointing device and writing instrument has been pretty convenient for some of the work I do on my iPad. I have fairly large hands and sometimes when I select text or try to move item around in on screen my fingers get in the way. Having a more precise pointing device has been helpful. I'm using a 2020 iPad Pro 11" and I've never used the Apple Pencil, so I can't compare them directly, but I can point out some differences between the two styli that I've noticed.
What is it?
MECO Stylus is, simply put, an alternative to the Apple Pencil for recent model iPads. It is compatible with iPad 6th generation or newer, iPad Air 3, iPad Pro 11" (1st & 2nd Generation), and iPad Pro 12.9" (3rd & 4th Generation). iOS 12.1.4 or newer is required.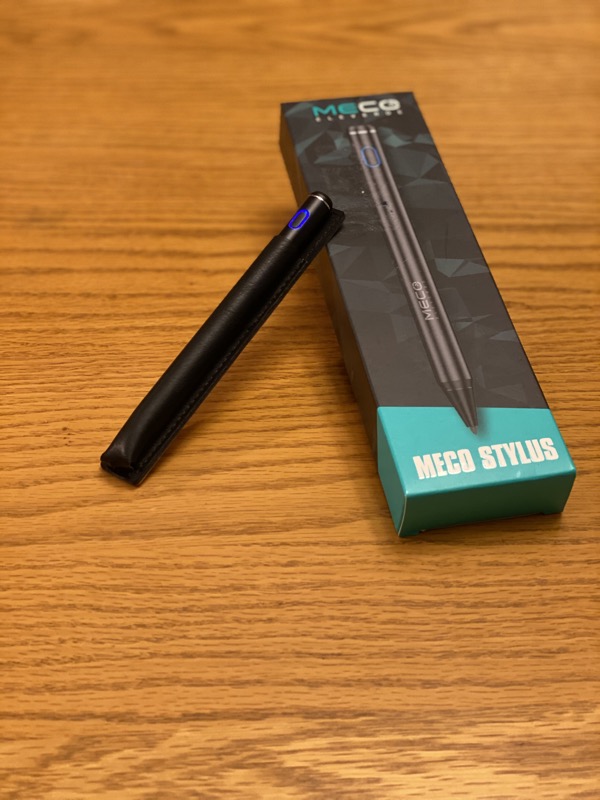 It's not a 100% replacement for everything an Apple Pencil can do – there's no tilt or pressure sensitivity, and no double-tap gesture on the side of the stylus to switch tools, but if you just need a simple drawing/pointing device, or you want to see if pen-based computing with your iPad is for you, this is an affordable way to get started.
MECO Stylus is also about 1.5" shorter than Apple Pencil 2, which feels great in my hand. In all the photos I've seen of the Apple Pencil I've always thought it seemed too long, much longer than a typical pen, but MECO Stylus feels just right to me.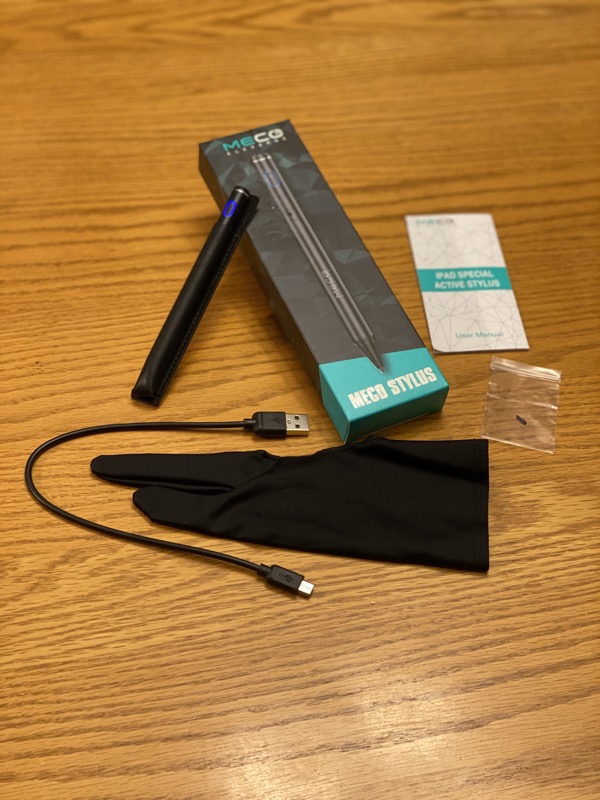 What's in the box?
MECO Stylus

Pen Case

Anti-friction, Sweatproof Glove

USB-A to micro-USB Cable

Extra Nib

User Manual
Hardware specs
Material: Aluminum alloy

Nib material: ABS

Nib size: 1.0mm

Nib Response time: 0.01s

Size: 5.5 x .42 x .03 in. (14 x 1.07 x 0.1 cm)
Design and features
MECO Stylus comes in a black aluminum finish with a silver accent ring near the top. It is completely round, unlike Apple Pencil 2, which has a flat side to prevent it from rolling off a desk. It feels really solid in the hand. There is no cover over the charging port so be careful where you store this to ensure dust and moisture don't get in. The manual shows a dust cap but it did not come with one and is obviously not designed to accept one so it must have been redesigned after the manual was written.
Installation and setup
There is nothing to install or set up other than making sure it's charged and turned on. There is an indented power button near the top; pressing it turns on the blue power light and the stylus pairs with the iPad instantly.
The pen holder comes with an adhesive strip at the back for attaching it to a flat surface. I haven't found a spot to put mine yet because I don't want it on the outside of my iPad case since I like it to sit flat. If you have a desk area where you always keep your stylus you could put it there but it's just as easy to keep it in your bag or backpack instead of using the adhesive to stick it to something.
This doesn't replicate every function you can do with your fingers. For example, you can't do any of the gestures for swiping between apps, swiping up from the bottom of the screen to go back to the home screen, or swiping down from the top of the screen to reveal Control Center or Notification Center. I'm not sure if this is a limitation of the stylus itself or something Apple just doesn't allow. Because of this it can't be a complete replacement for using your fingers with the iPad.
Battery life has been excellent. In about three weeks of using it off and on I haven't yet had to charge the battery, and that's from the charge level it came with; I didn't even top off the charge before starting this review. Battery life is helped by the fact that the stylus turns off after 5 minutes if it's not being used. The battery is rated at 20 hours between charges. Recharging is supposed to take 1.5 hours but I never had to recharge it myself so I can't confirm that number.
What I like
I like having a pen to draw with, move objects around screen with, and for moving around the iPad interface. I was not able to notice any latency; tapping or drawing with the pen seems as instant as can be with no noticeable delay. The tip of the pen is made of ABS plastic; I think that will help it last but it does feel a little weird when tapping on the screen. It almost feels like it's tapping too hard; I don't feel like it's going to damage the screen but hearing the hard tapping is a little unnerving at first. This only really matters if you're double-tapping on something on screen; in general use, I don't typically tap that hard.
As I mentioned earlier, I'm not an artist. My daughter is much more artistic than I am so I asked her to come up with something. She decided to draw a sketch from a photo of herself and a friend eating ice cream. I think it turned out pretty well!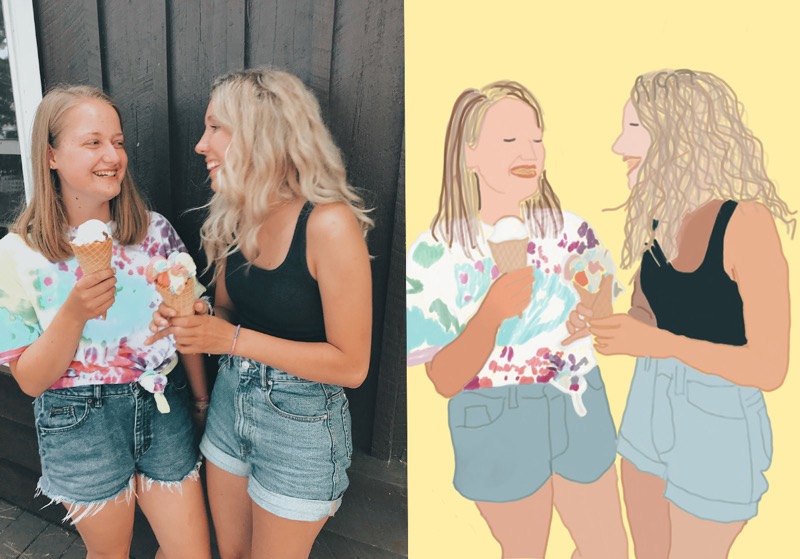 What I'd change
I would love for this to be somehow compatible with my iPhone. I think that would make a pretty convenient note-taking device, or be useful for drawing based games, but I know that's not MECO's fault, the iPhone just doesn't support this. Maybe someday.  I would also like the ability to switch to an eraser or other tool by double-tapping it or pressing another button or something. Lastly, I think it would be great if I could wirelessly charge this by attaching it to the iPad like Apple does with the Pencil 2, but for the price, I think this is a pretty neat device as it is.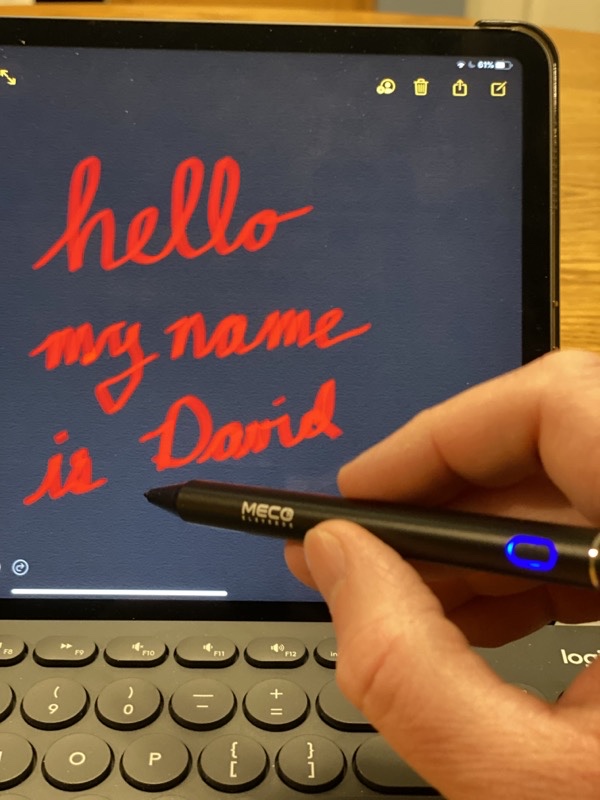 Final thoughts
If you're looking for a simple drawing or diagramming tool to use with your iPad, definitely give this stylus a try. Even with its limitations it is a convenient tool for working with an iPad and being more precise than you can be with only your fingers.
Price: $40.99
Where to buy: www.meco-ele.com and Amazon
Source: The sample for this review was provided by MECO. For more info visit www.meco-ele.com
Filed in categories: Reviews
Tagged: Styluses
MECO Stylus review originally appeared on The Gadgeteer on May 21, 2020 at 8:00 am.
Note: If you are subscribed to this feed through FeedBurner, please switch to our native feed URL http://the-gadgeteer.com/feed/ in order to ensure continuous delivery.