Editor's note: This story has been updated with new information. 
---
Happy National Wine Day!
Today, May 25, there are many ways to celebrate your favorite red, white or rosé of choice.
Holding the right travel rewards credit card can unlock numerous valuable perks. Naturally, these benefits tend to revolve around travel, including things such as lounge access. However, there are also several more obscure benefits to holding certain cards — and one is the potential to save on wine purchases and winery experiences.
Let's take a look at some of the ways your credit card could give you access to special discounts and invite-only events to celebrate National Wine Day.
Wine-related Amex Offers
If you're an Amex cardholder, you may be able to save on your vino through Amex Offers.
For those unfamiliar with the program, it provides limited-time offers with various merchants across American Express cards. These offers are targeted and don't always appear on every card (or even for every holder of a specific card).
The type and value of offers run the gamut, ranging from earning an additional Membership Rewards point per dollar spent at J. Crew to earning 6,000 bonus Membership Rewards points when you spend $350 at certain Hilton hotels in Puerto Rico to getting $15 back after spending $50 at 1800Flowers.com.
Oftentimes, you'll find wine companies and subscription services included in Amex Offers. Eligibility for these offers is limited. Enrollment is required in the Amex Offers section of your account before redeeming.
Because these offers are targeted, the only way to check your eligibility is through your account. Here's how you do that:
Log in to your account at 

AmericanExpress.com

Select the card you want to view
Scroll down to the "Amex Offers and Benefits" section (below your recent activity)
Read through the offers on the card, clicking "Load More" if necessary
My American Express cards currently has quite a few offers available to me:

Beringer Vineyards – Spend $200 or more, get $60 back (expires 6/1/21)
Vinesse Wines – Spend $50 or more, get $15 back (expires 6/4/21)
Beaulieu Vineyard – Spend $300 or more, get $90 back (expires 7/22/21)
Newton Vineyard – Spend $150 or more, get $50 back (expires 7/23/21)
Stags' Leap Winery – Spend $300 or more, get $90 back (expires 7/28/21)
Parcellewine.com – Spend $75 or more, get $20 back (expires 8/19/21)
Some TPG staffers have reported up to 9x Membership Rewards points for certain wine purchases.
Visa Signature benefits
If you have a Visa Signature or Visa Infinite credit card, you can get exclusive benefits and offers at participating wineries and vineyards in Sonoma County, Calif.
Visa Signature and Visa Infinite cardholders receive the following perks at more than 50 Visa Signature wineries:
Buy one standard wine tasting using your eligible card, receive a complimentary tasting of equal or lesser value
Preferred pricing on applicable non-wine purchases over $50
Savings on same-day wine purchases in the Tasting Room
Savings on Reserve tastings or special wine and food pairings
You can check out the full list of participating wineries on Visa's website, including which wineries also offer these benefits to Canada-issued Visa Infinite and Visa Infinite Privilege cardholders. To redeem the benefits, show your eligible card at the participating winery. Visa does encourage cardholders to contact the winery ahead of time to confirm the offers.
So, what cards are eligible? All Visa Signature and Visa Infinite cards will have that status noted on the bottom corner of your physical card right below the Visa logo. Examples of popular Visa Signature Cards are the Chase Sapphire Preferred Card, Capital One Venture Rewards Credit Card, and Chase Ink Business credit cards. The Chase Sapphire Reserve is the most common Visa Infinite card.
Special events and experiences
Some issuers offer exclusive events and experiences to cardholders. Occasionally, you'll get targeted offers and invites mailed or emailed to you, but your issuer may have virtual resources for looking up cardholder events and experiences throughout the year. These curated packages typically cost a pretty penny, but they can be part of once-in-a-lifetime trips and unforgettable experiences; plus, many of them are impossible to recreate outside of these cardholder offers.
For example, Citi is offering cardholders a Virtual Wine Tasting with Halleck Vineyard. You can request a booking now through Aug. 1, 2021. There are three different packages you can buy, ranging from $199 to $499. Here's a look at what's included in all packages:
Teleconference with Ross Halleck (Halleck Vineyard vintner) or Stephanie Culen (Halleck Vineyard educator and certified sommelier) in a live and fully interactive virtual experience.
Citi cardmembers will receive a branded Halleck Vineyard apron at no charge.
Each package comes with an assortment of wines and additional accessories.
Potential bonus category earnings
Yet another way to take advantage of your rewards credit cards to maximize wine-related purchases is by earning bonus rewards. While there isn't a credit card that explicitly lists vineyards or wineries as a bonus category, there are still ways that your wine purchases could earn bonus points.
Grocery stores and supermarkets often carry select wines, depending on what state you live in. I use my Amex Gold to earn 4x on wine when I shop at Harris Teeter, for example (the 4x points at U.S. supermarkets on the Amex Gold is limited to the first $25,000 spent in purchases each calendar year, then 1x point). The Capital One Savor Cash Rewards Credit Card also earns 3% at grocery stores (excluding superstores like Walmart and Target) and some specialty markets (though it's no guarantee that a wine store would code as such).
The information for the Capital One Savor Cash Rewards Credit Card has been collected independently by The Points Guy. The card details on this page have not been reviewed or provided by the card issuer.
In addition, you may find that some wineries are classified as "Entertainment" under their merchant category codes, allowing you to earn 4% back on the Capital One Savor. Of course, the only way to really know what will code as entertainment versus another category is to test it out and see for future purchases.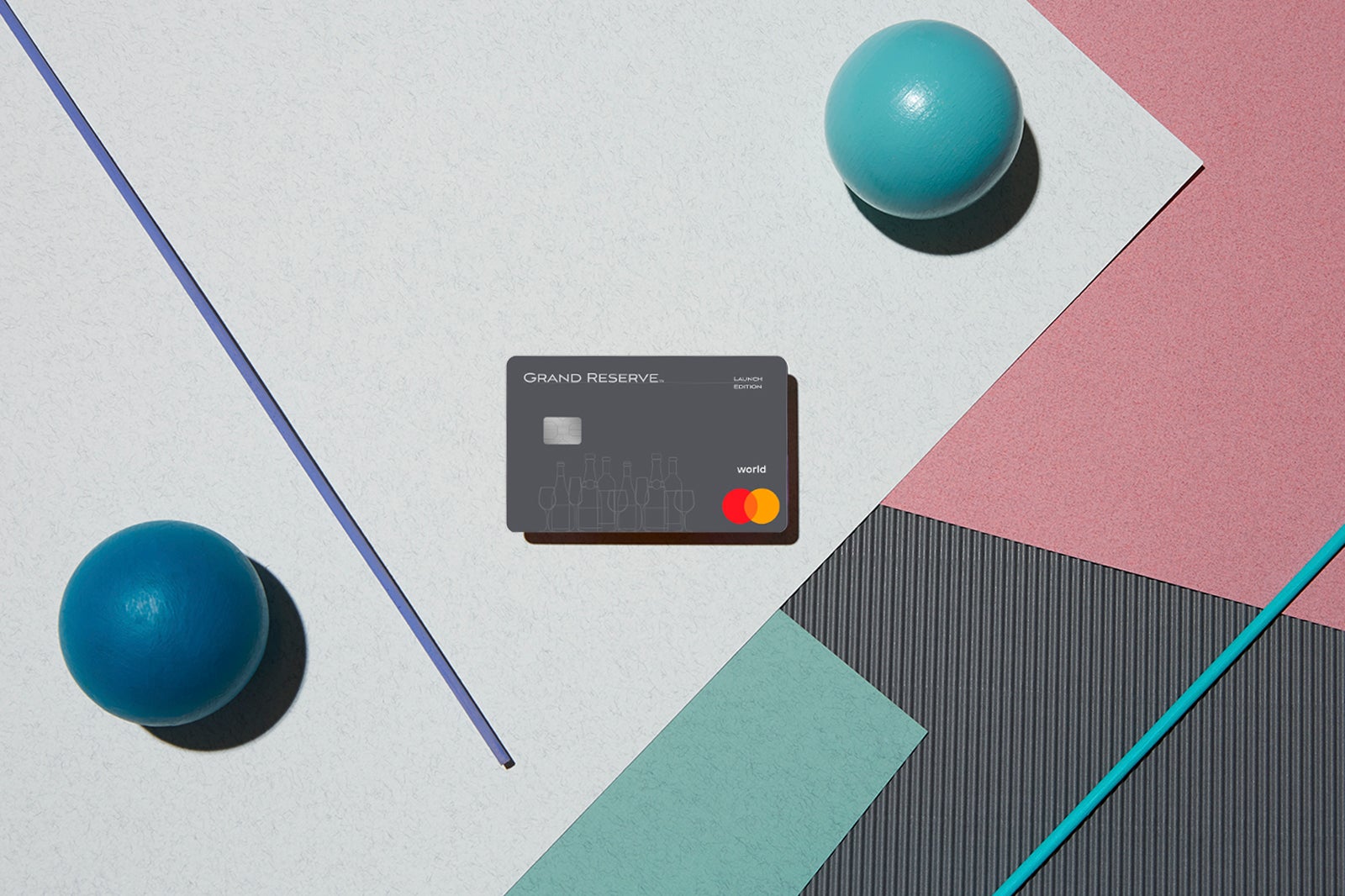 The Grand Reserve World Mastercard is a credit card with an earning rate that rewards the biggest of wine enthusiasts. You'll earn up to 7x on wine purchases, with the card's Top Wine Merchant Bonus, 5x at nearly 500 wineries, wine clubs and other Grand Reserve Partners, 3x at any other winery, wine store, liquor store, restaurant or bar, 2x per dollar on purchases from your top wine merchant (where you spend the most) each month and 2x everywhere else.
The points you earn with the Grand Reserve card can be redeemed for wine, wine experiences or wine accessories. Cardholders also have access to exclusive events and gifts. Keep in mind that it comes with a $149 annual fee, so only the most loyal wine fans will find maximum value from this card.
The information for the Grand Reserve card has been collected independently by The Points Guy. The card details on this page have not been reviewed or provided by the card issuer.
You can also always use a flat-rate card such as the Chase Freedom Unlimited to ensure you're at least getting something back on your wine-related expenses.
Finally, be sure to click through an online shopping portal in addition to using a rewarding credit card if you're making online wine purchases. I typically check CashBackMonitor.com to compare the different portals and decide on the best-earning rate.
Alaska's Fly Wine For Free Deal
Though not specifically a credit card perk, I still feel like the Wine Flies Free on Alaska Airlines benefit is worth mentioning here. Mileage Plan members can bring home an entire case of wine with no baggage fees when you fly to one of Alaska Airlines' 15 Wine Flies Free destinations along the U.S. West Coast.
All you have to do is book a domestic flight to one of the 15 eligible destinations (including Sonoma and Monterey, Calif. and more), add your Mileage Plan number to your reservation and check your properly packed case of wine in with an Alaska Airlines customer service representative at the ticketing counter on your way home.
One case of wine will fit 12 bottles, and the cost of shipping the bottles home from your trip could be quite expensive without this deal.
You can check out the Alaska Airlines website for more details on properly packing wine to fly and which Alaska Airlines destinations qualify for this offer.
Bottom line
Whether you're a true wine connoisseur or just someone who enjoys a casual glass with dinner, your credit card could unlock major savings and unforgettable experiences. If you can't celebrate National Wine Day today (but shouldn't every day be National Wine Day?), make sure to check your Citi, Amex and Chase account for special offers to take advantage of later.
Of course, you probably shouldn't choose a credit card based purely on the wine perks it gives. It's better to pick a card that fits your spending and travel habits overall. But there are plenty of top cards (such as The Platinum Card® from American Express) that give you the best of both worlds.
Additional reporting by Stella Shon and Nick Ewen.
Featured photo by FreezeFrames/Shutterstock