The Half Dome hike is one of THE best hikes in Yosemite National Park, which is why getting Half Dome permits can be so tricky! Everyone wants to hike it (and for a good reason!)
We have a complete guide dedicated to the Half Dome Hike, with all kinds of trail details, specifics, training tips, and more. This post here will help you figure out all the nitty-gritty details involved with snagging a coveted Half Dome Permit.
For a very brief overview, the Half Dome hike is roughly a 14-mile hike with roughly 5,300 feet of elevation gain that offers incredible views of Yosemite Valley from the summit. However, to get to the summit you'll have to make it up the "Half Dome cables", a feat that not all hikers can stomach (especially if you're afraid of heights, so keep this in mind before attempting Half Dome). The cables are put up during the main hiking season to help hikers reach the top of Half Dome safely.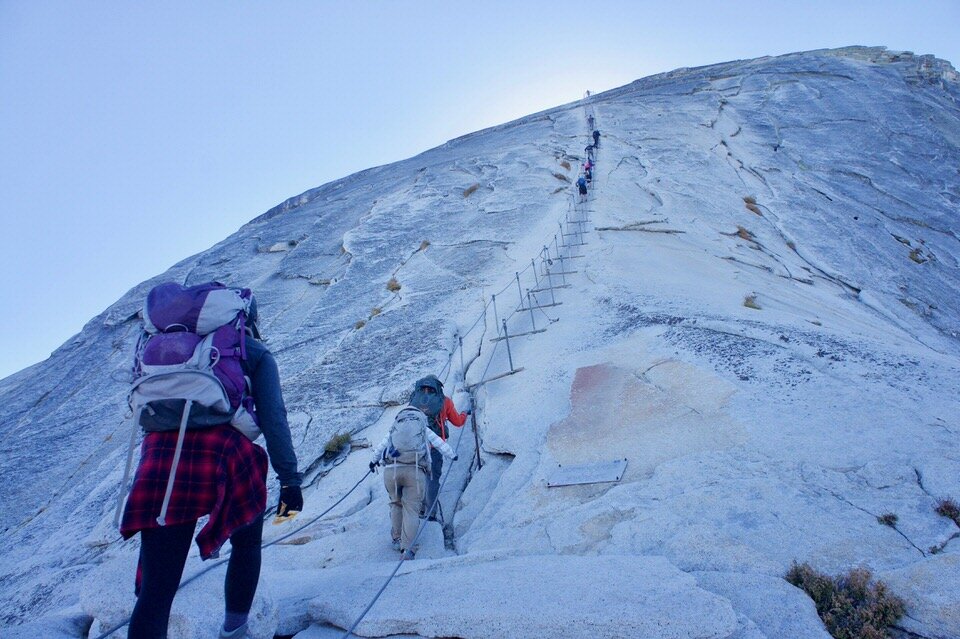 Because of the popularity and the precarious nature of climbing the cables to reach the summit, especially when it is crowded, a permit is required to hike Half Dome during the season when the cables are up. This helps keep the summit from becoming a crazy house.
You can grab one of these permits through the pre-season lottery or during the individual daily lottery, OR as an add on to your Yosemite Wilderness Permit.
All in all, hiking Half Dome is an amazing and challenging experience, and this guide was created to help you understand the permit process and increase your chances of winning the lottery so you can get the chance to take on this once-in-a-lifetime hike to the top of Half Dome, arguably the crown jewel of Yosemite Valley.
---
GRAB MY [FREE] OUTDOOR ADVENTURE STARTER KIT:
This Starter Kit is filled with some actionable steps, checklist, and outdoor empowerment awesomeness to get you kick-started on an amazing outdoor-centered future.
---
There are 2 primary ways you can grab permits for Half Dome, and we will discuss both here in this guide:
Day Hiking Permits (lottery system)

Yosemite Wilderness Permits (backpacking/also an application/lottery system)
A maximum of 300 hikers each day during the cable season (which includes about 225 day-hikers and 75 backpackers) are allowed past the base of the Subdome on the Half Dome trail to attempt the summit. The cables are usually up from the Friday before Memorial Day through Columbus Day, but these dates are subject to change based on conditions.
Then once we discuss the "how" part of grabbing a Half Dome permit, I'll also touch on a few more items like:
The fine print behind your permit for Half Dome (Things to Consider)

Tips for increasing your chances of getting a Half Dome Permit

What to do if you don't win the lottery for Half Dome

Yosemite & Other Half Dome Hiking Resources
First, let's touch base on the day hiking permit system.
PERMIT PROCESS FOR HIKING HALF DOME IN A DAY:
Hiking Half Dome in a day is an epic adventure. Here's what you need to know about getting a day-hiking permit. Note: You can hike up to SubDome without a permit, but if you want to go up the cables you MUST have a permit.
WHEN TO APPLY:
Half Dome day hike permits are only available through a lottery system, which includes a large pre-season lottery and a smaller daily lottery system once the season starts.
Pre-season lottery applications begin March 1 and run through March 31. You can submit your permit application any time during that period, and you will be notified about the status of your application and whether you won the lottery by mid-April.
If you don't win a permit during the pre-season lottery (or don't know the dates you want to hike ahead of time), you can enter the daily lottery that takes place during the hiking season. Roughly 50 permits (depending on known cancellations) per day are available in this daily lottery system. You must apply for these 2 days (from midnight to 1PM) before the day you want to hike. You will be notified later that night whether or not you got permits.
Here's a look at some key permit deadlines from the Recreation.gov website for 2020:
WHERE TO APPLY FOR HALF DOME PERMITS:
You can apply for Half Dome day-hiking permits for both the pre-season and daily lottery through Recreation.gov or by calling 877-444-6777.
Online applications can be made any time during the lottery period, and phone applications can be made between 7 am to 9 pm Pacific Time during the lottery period.
HOW TO APPLY FOR HALF DOME PERMITS:
To break down this process I'm going to show you a quick step-by-step of how this permit lottery process looks:
Pre-Season Lottery Process:
Step 1: Go to Recreation.gov
Step 2: When the lottery is open (March 1 - March 31), there will be a button that you can click to "Register for Lottery".
Step 3: You'll be taken to a page where you can fill out all your lottery details. Start with your permit holder information.
You can also select up to one more person to act as an alternate permit holder for your trip.
Step 4: Next you select your lottery "date" choices. You can choose several different choices and the order matters. Soo be sure to buy your choices in the order of your preference.  You can apply up to 7 choices. The more dates you choose, the better your odds. Max group size is 6 (but keep in mind, a smaller group size will likely give you better lottery odds as well)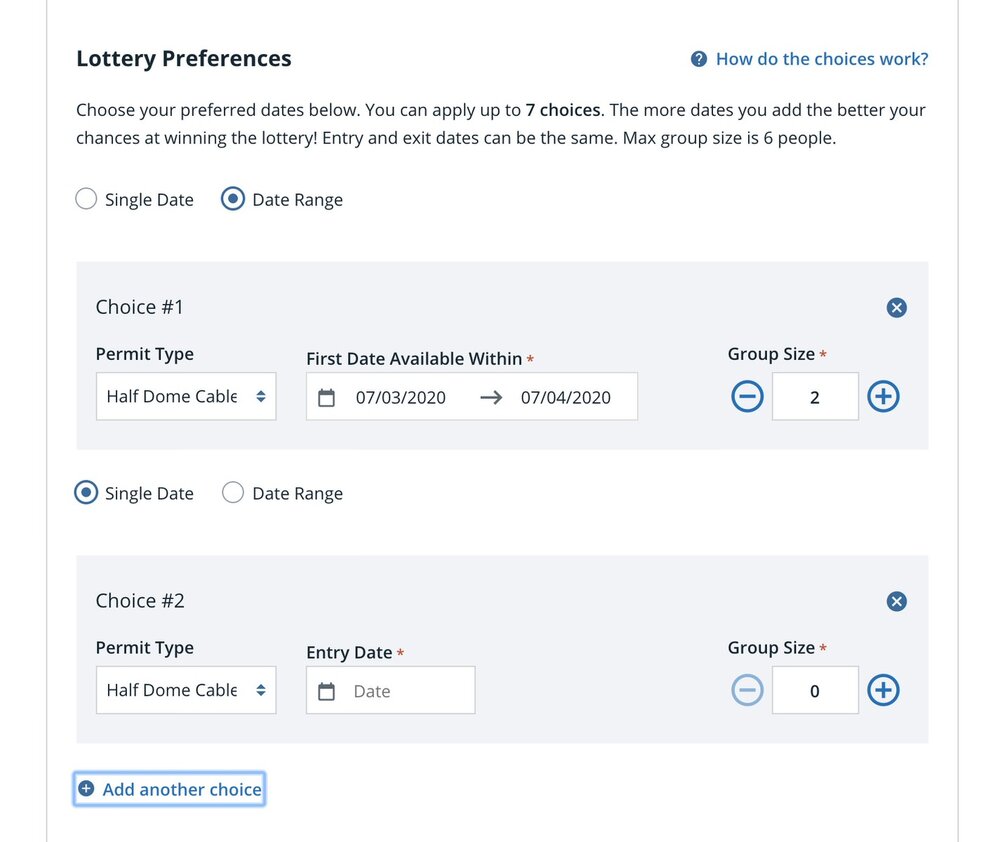 Step 5: At the end of the application you'll need to read and agree to the "Need to Know" Information box, and then proceed to Checkout.
Step 6: Review your Shopping Cart and click "Proceed to Payment."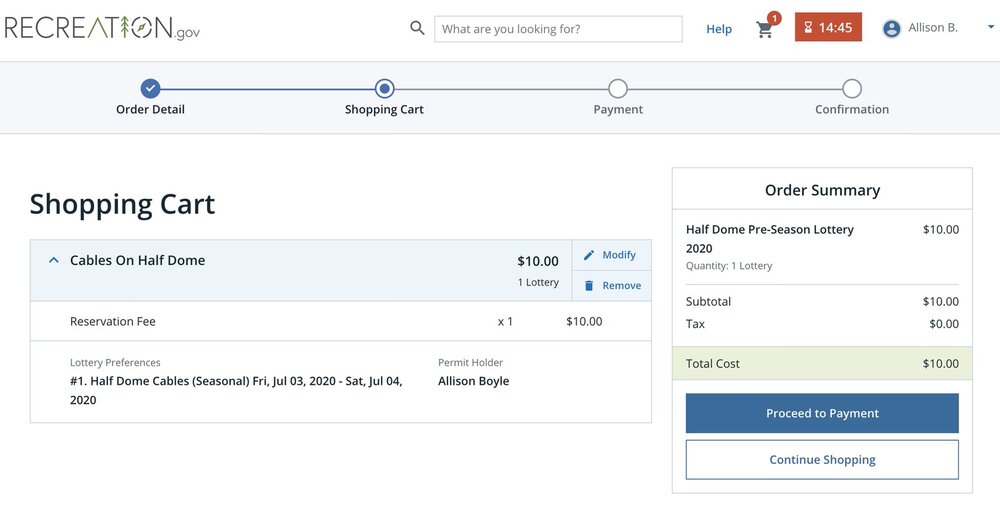 Step 7: Enter your payment information and submit your application.
Step 8: Once you've finished your lottery application, you then will need to wait till mid-April to find out if you've won a permit. If you DO win a permit, then you must confirm and purchase your permit by the preseason lottery acceptance date (see table in the "When" section above).
Other Notes to Consider When Applying for Day Hiking Half Dome Permits:
You may only apply once during the lottery season as either the trip leader or alternate, and if you are listed as a trip leader or alternate on more than one application, all of your applications will be canceled. However, other people in your group are allowed to apply as trip leaders for different dates to increase your chances of winning the lottery and getting a permit.

Keep in mind that either the trip leader or alternate on the permit must be with the group during the hike, and permits are only valid if they are there when the rangers check the permits at the sub dome.

Also, the names of the trip leader and the alternate cannot be changed after the permit application is submitted.
HOW MUCH DOES IT COST:
You should expect to pay 2 separate fees for your Half Dome permits. First, you will have to pay a non-refundable application fee (per application, not per person) of $10. This covers the cost of processing your application, and it is not refundable, even if you do not receive a permit through the lottery.
If you are lucky enough to receive a permit, you will then be charged an additional $10 per person. This additional permit fee is refundable should you choose to cancel your reservation up until 9 pm the day before your hike. This fee is also refundable if the cables are not up on the day of your permit due to weather conditions. 
PERMIT PROCESS FOR BACKPACKING HALF DOME - AKA GETTING A YOSEMITE WILDERNESS PERMIT
When you want to go backpacking in Yosemite/Tuolumne you will need to grab a Yosemite Wilderness Permit, and during your application process, you can "add on" an application for Half Dome. It's not guaranteed you'll get the Half Dome permits, but it's an additional opportunity.
WHEN TO APPLY:
Yosemite Wilderness Permits can be obtained up to 24 weeks (168 days) in advance. Check out this useful table on the national park service website for when to apply for your permits.
In order to avoid potential snow conditions in the Sierra, the best time to go backpacking in the Yosemite Wilderness is July through September.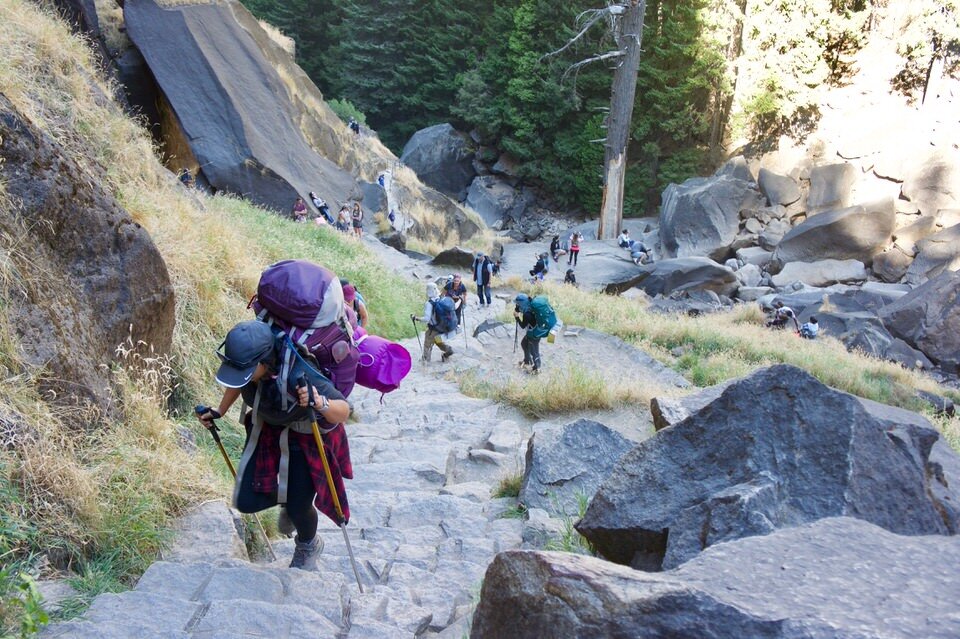 WHERE TO APPLY FOR YOSEMITE WILDERNESS /  HALF DOME PERMITS:
Backpacking permits that include a Half Dome hike permits are available by reservation when you request a wilderness permit. You will need a Yosemite wilderness permit (but not a campground reservation) in order to camp at Little Yosemite Valley if you opt to backpack the route up to Half Dome. Click here to go to the Yosemite Wilderness Permit Request Form. 
The good news is that if you decide to go this route, you can get the Half Dome permit at the same time that you are reserving Yosemite wilderness permits, if Half Dome permits are available. Keep in mind that these permits are not valid for day-hiking Half Dome though, and they can only be used as part of a backpacking trip.
Note: JMT permit lotteries use a different application form. Read more about how to apply for JMT permits here.  
HOW TO APPLY FOR YOSEMITE WILDERNESS / HALF DOME PERMITS:
Before you get started you'll want to know the following information;
Hike start date

Starting trailhead

1st nights Camp location

Group size

Trip leader contact information

Hike end date

Ending trailhead
The Yosemite Wilderness permit system is slightly different, so I'll show you a quick step-by-step of how this permit lottery process looks:
Yosemite Wilderness Permit Process:
Step 1: Go to the Yosemite Wilderness Permit Request Form here. Read the page, mark that you agree to what you've read, and hit next.
Step 2: You'll be asked to enter a lot of different information about your backpacking trip like:
Number of people in your group

Start Date/End Date

Entry trail location/ first night camp

Exit trail location
Step 3 : You'll answer some more questions and eventually you'll be asked if you would like to add on a Half Dome Permit to your trip (if your trip goes through the Half Dome area)
Step 4: Finally you'll enter your trip leader information and payment
Step 5: You will be notified of the results within 1 to 2 full business days. If your reservation is granted, you will get an email and you will have 48 hours to pay for your reservation before it is dropped. Denied reservations requests won't be charged.
Other Notes to Consider When Applying for a Yosemite Wilderness Permit to Hike Half Dome:
If you do not make a reservation ahead of time, you can request a first-come, first-served wilderness permit that includes a Half Dome permit beginning at 11 am the day before you plan to start your backpacking trip.

However, if you begin your backpacking trip outside of Yosemite, you will not receive a Half Dome permit with your wilderness permit, and will instead need to apply through the regular permit lottery.
HOW MUCH DOES IT COST:
Confirmed Yosemite Wilderness Permits cost $5 plus $5 per person (there's no charge for applying if you don't receive a reservation).
THE FINE PRINT BEHIND YOUR PERMIT FOR HALF DOME (THINGS TO CONSIDER):
There are a few things you need to make note of in regards to your Half Dome permits:
Trip leaders must be present. The trip leader (or alternate permit holder) should bring a photo ID and email confirmation of the permit, and they must be present at the base of the sub dome in order to use the permits on the day of the hike.
Permits are not transferrable, and rangers will always be there checking permits. You will absolutely not be permitted past the sub dome without a valid permit.
This hike isn't for everyone. Be aware that hiking up the cables section of Half Dome is extremely steep, and can feel quite scary if you are afraid of heights. I highly recommend that you bring some gloves with you for the cables on this hike, as this will help you feel much more safe and comfortable going up and down the cables. I'm always surprised by the number of people who don't bring gloves! Also, wear shoes that have good traction, as this will again help you feel even more confident on the granite rock up to Half Dome summit. Read more about the Half Dome Hike here.
Also, keep an eye out for the weather on this hike – it is simply not safe to hike the cable portion of the hike if it is raining or has rained recently. Rain makes the route very slippery and is not worth the risk. If your hiking day comes, but its rainy all week, opt to hike to sub dome, but do not attempt the cables. It is NOT safe. Never risk your safety for summit fever.
TIPS FOR INCREASING YOUR CHANCES OF GETTING  A HALF DOME PERMIT:
A maximum of 300 Half Dome permits will be issued per day (usually about 225 for day hikers and 75 for backpackers), yet many more people will apply. In 2017, the odds of winning the preseason lottery were only 19%, while the odds of winning the daily lottery were 25%.
NPS provides detailed statistics for odds of winning the Half Dome permit lottery, which you can find here: https://www.nps.gov/yose/planyourvisit/hdpermitsapps.htm
These statistics can help you figure out the most popular dates for permit applications, which means that if you have a more flexible schedule, you can choose to apply for dates with better odds of winning a permit. You should take into consideration both the day of the week and the time of the season when you are trying to pick the dates with less competition for permits.
Weekends (especially Saturdays) are by far the most popular – in fact, 34% of all Half Dome permit applications are submitted for a Saturday. In 2018, the average success rate for a permit on weekends was 24%, while the success rate nearly doubled to 47% for weekday permit applications. The weekend success rate for the preseason lottery in 2017 was only 2%, and the weekend success rate for the daily lottery was 14%. On the other hand, the success rate for weekdays was 7% for the preseason lottery and 32% for the daily lottery. Therefore, if you can do the hike during the week – especially Tuesday, Wednesday, or Thursday – you will greatly increase your odds of winning a Half Dome permit in the lottery.
You will also have a better chance of winning the permit lottery if you apply for dates later in the season. June tends to be the most popular month for permit applications, while September and October have fewer people vying for the limited spots. The earliest dates in the season in May also usually have fewer lottery applications and slightly less competition.
WHAT TO DO IF YOU DON'T WIN THE LOTTERY FOR HALF DOME:
If you don't win a permit during the preseason lottery for Half Dome permits, you can still apply for the daily lottery during the hiking season.
Depending on cancellations, about 50 permits per day will become available. You need to apply for these 2 days (from midnight to 1 PM Pacific Time) prior to the day you want to hike, once again through Recreation.gov or by calling 877/444-6777. You will be notified the evening of the day you apply whether or not you got permits for the following day.
You can also decide to do the backpacking option instead of day hiking and try for the Yosemite wilderness permit route. If you apply for a Yosemite wilderness permit, and Half Dome permits are available for the date you choose, you will be able to hike Half Dome as part of your backpacking trip (but these permits are not valid for day hikes). A permit of Half Dome still isn't guaranteed, but at least you'll still have a chance to do something in the beautiful Yosemite backcountry.
I once grabbed a wilderness permit to hike from Happy Isle to Tuolumne Meadows, and didn't get approved for the Half Dome permit. However, we stood in line the morning of our hike to try and grab "walk-in" permits, and we were successful! So I guess you could say I'm telling you, there's always a chance!
If you are still unsuccessful with these other strategies to get Half Dome permits, you can find many other ways to enjoy the beauty and grandeur of Yosemite. In fact, I have a whole blog post dedicated to the best hikes in Yosemite. Here are some examples:
Cloud's Rest is an 18-mile hike with 6,300 feet of elevation gain which actually follows the same trail as the Half Dome hike at the start, passing through Vernal Falls, the Mist Trail, and Little Yosemite Valley. At the sub dome, it splits off to a different summit with a spectacular view of Yosemite.
North Dome is another trail option that actually provides a stunning view of Half Dome itself, so even if you can't summit Half Dome, you can see it in all its glory. The North Dome trail is also shorter, at just under 9 miles, so you'll have plenty of time to savor the summit views.
For a different experience, you can also hike to the top of Yosemite Falls without a permit on the Upper Yosemite Falls trail. This trail is just over 7 miles and will take you up to the Yosemite Falls Overlook, a place to take in the very cool view looking down from the top of the waterfall.
So if you've done everything you can to maximize your chances of winning a Half Dome permit and still don't get one, don't let that discourage you from visiting Yosemite and exploring this amazing National Park in other ways. And you can always try again for a Half Dome permit in a future season!
---
FOR MORE YOSEMITE RESOURCES BE SURE TO CHECK OUT THE FOLLOWING:
Cheers,
Allison – She Dreams of Alpine

---
Related Posts: