One of my camping tips that I am most passionate about is cutting the cord.
Camping has the ability to bring a family together as everyone unplugs from their digital devices and connects with each other … we call it a "digital detox" and it is good for the ENTIRE family.
Knowing how to plan a successful camping trip is key.
Here are my best camping ideas and tips for fun camping activities kids will love! 
Psst we're compensated…see our disclosures.
Fun Camping Activities Kids Love
There are soooooo many fun camping games and activities for kids … they might even learn something without knowing it! LOL
---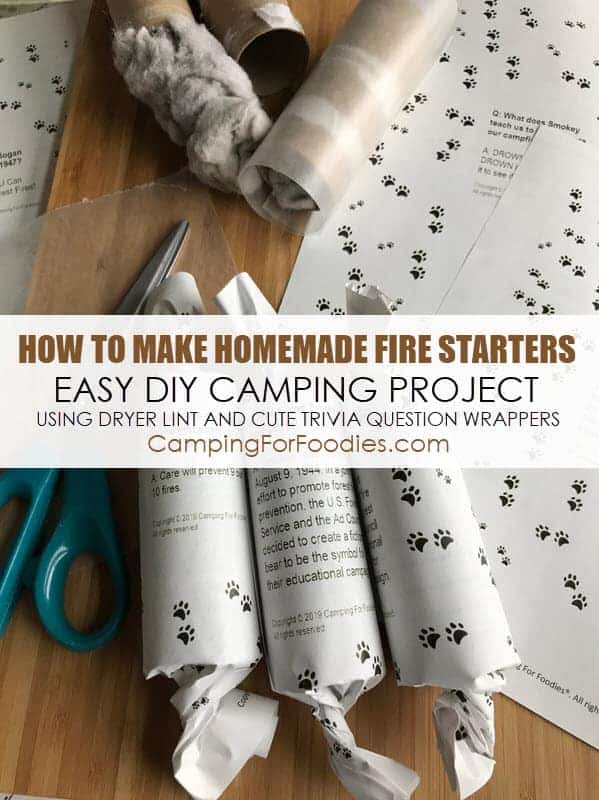 Making DIY dryer lint fire starters is a fun project for kids at the campsite. 
While they make the starters, they can answer the Smokey Bear trivia questions on the paper wrappers.
Then, when they are finished making the starters, they can use them to build a campfire (with adult supervision, of course).
Other fire-related camping activities for kids include gathering kindling and wood for the campfire.
---
Campfire Fun Camping Activities Kids Love
What kids wouldn't want to roast their marshmallows with Telescoping Marshmallow Sticks while trying some fun new smores camping variations?
Telescoping Marshmallow Sticks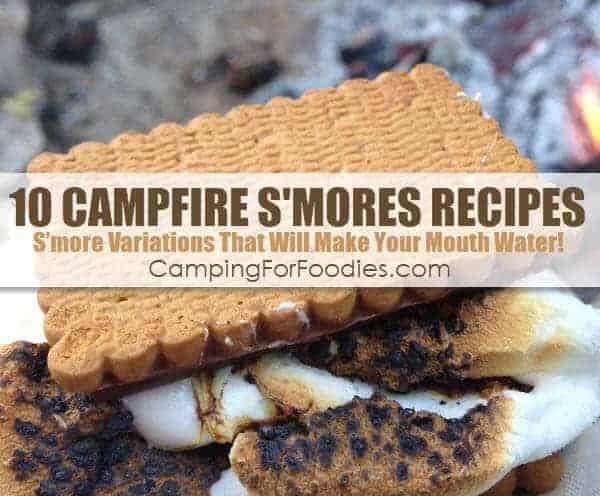 Kids can also pop their own popcorn over the campfire using a Campfire Popcorn Holder while sitting in a totally fun Kids Camp Chair!
Campfire Popcorn Holder
Coleman Kids Camp Chair
&
---
Campfires are such a big part of the camping experience, including activities for meal prep and cooking.  
So, make mealtime part of the fun adventure; let the kids participate in preparing the campsite and food at whatever level is age appropriate.
Kids love my Hobo Stew Recipe For A Campfire That Cooks In Foil Packets.
They can pick and choose what ingredients they want in their meal.
---
Some of the "most favorite kid camping recipes" include cooking with campfire pie irons.
Sure, you can use the regular square or round irons … but … when you use a Heart Shaped Pie Iron, it suddenly becomes one of the most fun camping activities kids just can't get enough of!
Kids just love these things and they make super fun camping gifts too!
&
---
The Scout's Campfire Cookbook For Kids
The culinary creations only kids can make are outrageous!
They will love recipes like 'Snake on a Stick' and 'Dirty Marshmallows' from The Scout's Campfire Cookbook For Kids!
Whether the kids are camping with the family or with a Scout troop, this cookbook will keep them having fun cooking like little chefs in the wild!
&
---
Camping Food Safety Educational Opportunity
If kids are participating in meal preparation and cooking, it is a great time to turn fun camping activities into exciting learning opportunities.
Check out our Camping Food Safety Tips Including How To Pack A Cooler For Camping for keeping everyone safe from food poisoning with educational camping ideas for kids to learn about safe food handling outdoors.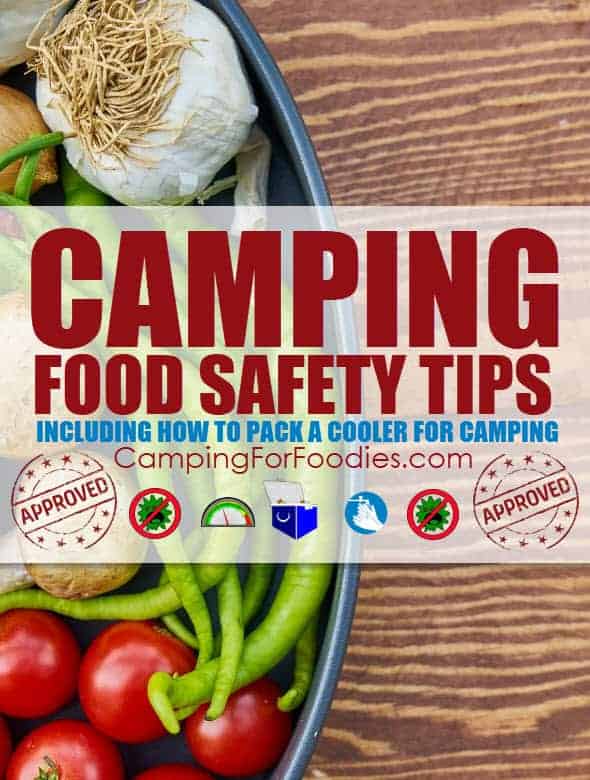 ---
Other Campfire Activities
Roasting marshmallows and cooking around the campfire are not the only camping fun ideas kids and adults appreciate.
Games are a fun way to enjoy an evening around the campfire too!
Check out our 10 Fun Activities And Campfire Games For Families With Kids post for more ideas!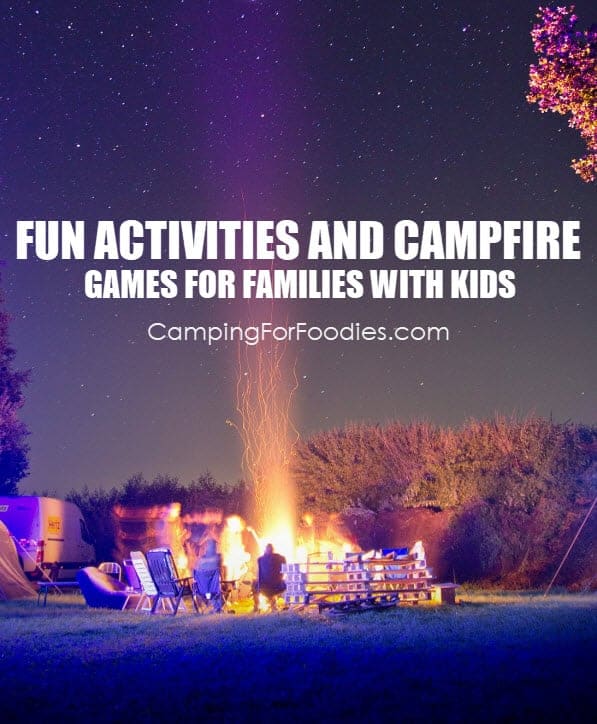 ---
Daytime vs. Nighttime: Fun Camping Activities Kids Love
---
Think about kids activities around the campsite. It's good to have daytime fun planned as well as nighttime entertainment.
Consider this: If you are camping in the middle of summer you will have shorter periods of darkness; camping during the winter-ish month's means less daylight.
Here are a few ideas for daytime and nighttime activities for the kids around camp.
---
Outside Daytime Game Fun Activities For Kids
---
Kids of all ages love to get in on a good Ring Toss Game.
Ring Toss Yard Games, Easy To Assemble, With Compact Carry Bag For Transportation And Storage
It is one of the most popular camping yard games that can be played with just kids, just adults or as an entire family. 
---
Other Campsite Games
---
For many people, camping is a family activity to be enjoyed as a group.
If your family has lots of energy, these active camp games are totally fun!
If you are looking for different types of fun camping games we have suggestions for rainy days, board games and more!
---
Fun Nighttime Glow-In-The-Dark Camping Activities
---
Some kids camping activities span from day to night … like this Learning Journey Glow-In-The-Dark Space Puzzle!
The awesome thing about camping in the great outdoors under the mind-blowing views of a nighttime sky make kids curious about the outer space creation.
Shhhhh, don't tell the kids this fun puzzle will be a learning experience!
The Learning Journey Puzzle Glows in the Dark
&
This cool puzzle is colorful in the day and glows in the dark at night!
Who knows, camping kids that play with this space-themed puzzle might become the next Neil Armstrong.
The Learning Journey Puzzle Ages 3+
100 Piece Glow in the Dark 3 x 2 feet Puzzle
&
---
When the sun creeps down below the horizon and the kiddos start getting feisty, it's time to break out the glow toy activities.
A fun Glow Sticks Set will keep the entertainment going during the evening hours before the kids need to crawl into their sleeping bags for the night.
&
A quick note of caution, clear the camping area of any tripping hazards before the kids begin to run around in the dark with these fun glow-in-the-dark activities.
---
After Dark Indoor Fun Camping Ideas
---
If the campfire and glow-in-the-dark outdoor activities are not doing the trick, move the party inside your tent or RV and play a few of the best board games for camping.
---
Safari Hunting For Butterflies, Insects And Birds
---
---
Getting up-close and personal with bugs and birds … those activities shoot to the top of the list of fun things to do while camping.
Kids love catching and investigating critters! 
Those activities can be educational too!
The Bugs A To Z book has fun facts and full-color photos of locusts, caterpillars, beetles, flies, grasshoppers, ants, praying mantis, and more!
The National Geographic Kids Bird Guide Of North America helps kids understand and identify 100 species of birds plus it includes interesting information about eating habits, birdsongs, names, wingspans and more!
Bugs A To Z
Kids Bird Guide Of North America
&
---
Get our FREE Printable Photo Camping Scavenger Hunt Game, split up into teams and go explore the wilderness to hunt for these cool objects in nature and around the campsite!
---
Kids get a real bang out of actually interacting directly with hummingbirds using Handheld Hummingbird Feeders and the whole experience is fun and very natural to them.
Others think these are really fun camping activities kids want to participate with but may be a bit frightened by the little flying critters that seem to move as fast as the speed of light.
They tend to enjoy this activity as long as it is guided by an adult … and really … how many adults do you know that wouldn't want to play with the hummingbirds too?
&
---
Adventure Kidz Outdoor Exploration Kit
Bug and bird watching gadgets make learning and investigating the critters waaaaay more fun for kids.
The Outdoor Exploration Kit has just about everything a kid could need to explore for days!
The lightweight  binoculars have a protective soft case that can attach to a belt, the simple hand crank flashlight has bright LED lights,
the pocket sized compass is great for locating positions on maps and learning about wayfinding and direction …
the 3x magnifying glass is perfect for inspecting plants and bugs, the whistle is a nice little safety device and all of that comes in a little backpack.
&
---
For help capturing and inspecting the critters, kids love using gadgets like this Kids Bug Net and this Bug Catcher Vacuum.
So far, I have been unable to understand why a kid will WANT to vacuum a bug from the ground around the campsite but WON'T vacuum dirt from the carpet around the house!
Oh well, that mystery is waiting to be solved some other day! LOL
Melissa & Doug Happy Giddy Bug Net
Bug Catcher Vacuum with Light Up Critter Habitat Case
&
---
If you have a kid that is more of an artist than a scientist and would rather capture bugs and birds through the lens of a camera, this VTech Kidizoom Camera is the answer!
This thing is a REAL CAMERA: 2.0 mega pixels camera with 4x digital zoom!!!
Beyond that, it has four built-in games, a video recorder, voice recorder, photo collage templates, plus, static and animated photo effects!!!
Seriously, kids that play with this camera are learning skills they need for future employment in the digital age.
Making technology and nature exploration fun has tons of benefits!
&
---
Wildlife Safety Educational Activity
---
Kids of all ages can get really excited about experiencing wildlife on camping trips … especially large animals like bears.
Make sure the entire family is prepared for a safe encounter and use these Safety Tips While Camping In Bear Country as an educational opportunity for kids.
&
---
Indoor Rainy Day Camping Fun Activities For Kids
---
---
Make sure you are prepared for those dreaded rain days!
It is no fun sitting inside a tent or under an awning staring at each other with raindrops falling in the background!
These rainy day camp games are a blast!
Make sure you get our FREE printable Charades Camping Game too!
---
Rainy day fun camping activities can only happen if you are not floating away! LOL
Don't let a wet camping trip get the best of you, check out our Tips For Camping In The Rain (and hacks so you don't float away) post for more info!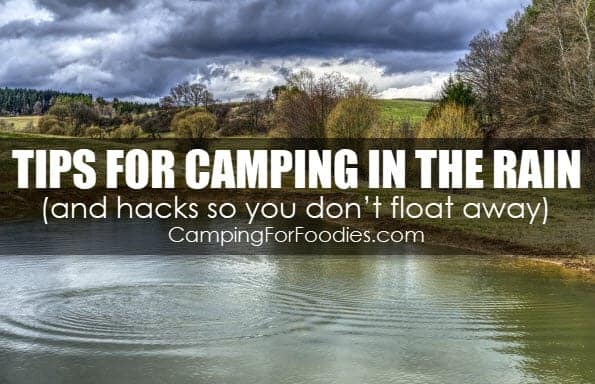 ---
Fun Fishing Activities Kids Love
---
After the rain stops falling, many campers pull out their poles!
For many adults, camping activities automatically include fishing, so why would it be any different for the kids?
It is especially fun with the right gear!
This Kids Fishing Pole with Travel Bag is designed especially for kids with a telescopic fishing rod, reel combos, fishing line, tackle and it fits neatly into the travel bag.
Kids Fishing Pole with Travel Bag, Telescopic Fishing Rod and Reel Combos with Spincast Fishing Reel Full Kits for Kids
&
---
Camping Safety Tips Educational Activities
---
If kids are enjoying fun camping activities near the water, around the campfire, on hiking trials or anywhere else while camping … they can stay safe and secure with a few tips.
Adults should use our Camping Safety Tips For Families to help guide discussions before all of the fun begins.
It is a great time to combine fun with educational opportunities and being good stewards while in the outdoors.
---
Coloring books are the "old standby" when it comes to travel entertainment but if you are looking for other ideas for your camping road trip, check out these 10 Fun Camping Road Trip Games To Play In The Car!
The entire family can interact together!
---
Fun Camping Gear Just For Toddlers
---
Some of the camping gear designed especially for toddlers will make you want to be a kid again yourself!
These are so fun … and … the kids love them too!
Child's Outdoor Chair
Kid's Camp Chair
&
---
Camping Activities Need To Include Rest
---
There is nothing worse than fun camping activities being spoiled by cranky kids that did not get enough sleep.
To keep your campers smiling you need to keep them comfy and dry.  
If you are tent camping there are lots of ways to stay comfortable; it all starts with a buffer between sleeping campers and the cold, hard and sometimes wet ground.
---
Stay Off Of The Ground When Tent Camping
There are many ways to add a barrier between your kids and the ground, some of the most popular include using Kids Play Mat Set, Kids Inflatable Airbeds and Kids Camping Bunk Beds over your tent floor.
Cots are fabulous for this task but they are bulkier to pack and more expensive than the alternatives; the benefits outweigh the challenges for many campers and cots are the first choice.
The combination of a mat below an inflatable air mattress works wonders and packs up for easier transporting; it is also a cheaper option which is always a plus.
Kids Play Mat Set
Kids Inflatable Airbed
Kids Camping Bunk Beds
&
---
Tent Or RV Camping? Let The Kids Snuggle-Up In Their Own Sleeping Bag
Even when camping in an RV, kids prefer sleeping in a sleeping bag rather than just sheets and blankets.
Sleeping bags designed especially for kids make nights more rest-filled which makes daytime happy instead of cranky and tired!
Make sure you get the right size bag for kids and let them pick a bag with their favorite colors and characters.
One of the most popular bags for little girls is the Ladybug Sleeping Bag and boys love the Moose Sleeping Bag.
For more traditional types of bags, a Mummy Sleeping Bag is great when camping in colder weather but some kids may feel a little claustrophobic in that style of bag.
As an alternative, a more traditional style bag can be a great option like this Coleman Coleman Kids Sleeping Bag.
This one happens to be rated for 50 degrees but they come in all sorts options ranging from extreme hot to extreme cold weather.
Ladybug Sleeping Bag
Moose Sleeping Bag
Ladybug Mummy Bag
Kids Sleeping Bag
&
---
Use A Camping Checklist
---
Forgetting to pack the sleeping bags (or anything else for that matter) can negatively impact your camping trip.
Organize at home and you'll be sure to arrive at your campsite fully prepared for a fabulous weekend.
My Ultimate RV and Tent Camping Checklist will keep you on track and you can download a free printable version here.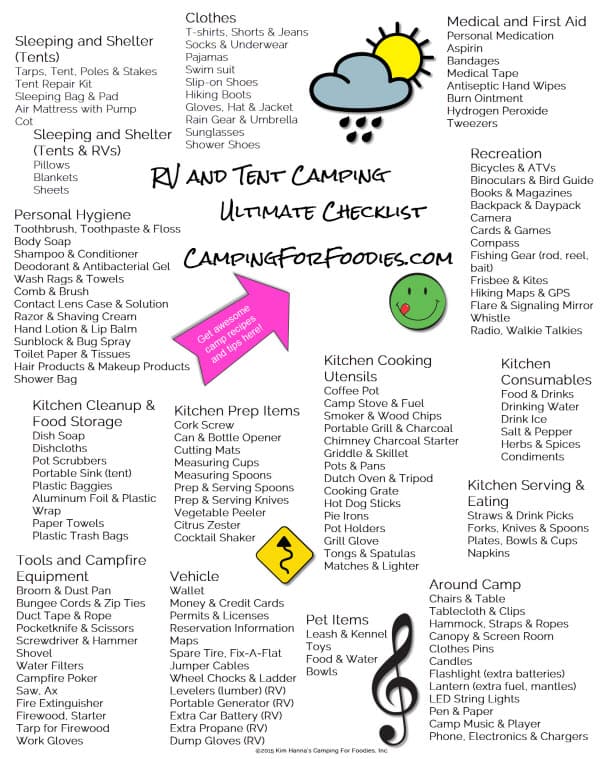 ---
Our Cool Camping Products Make Great Gifts!
Cutting Mat
Mat Set
Shaker Set
Hammock
&
---
If you need camping recipes and menu ideas, you can find them here at the Camping For Foodies Camping Recipes list.
Don't miss a thing…sign up for Camping For Foodies email updates!
Your purchase of our products will help support World Vision ® Building a better world for children.
The post Fun Camping Activities Kids Love (and adults will too!) appeared first on Camping For Foodies.