"So what's the deal with airplane food?"Jerry Seinfeld once famously asked during a skit on Saturday Night Live. It was during an era of hot meals in coach, and his question served as the quintessential clichéd example of observational humor for decades to come.
I'll narrow that question down a bit: What's the deal with airplane hamburgers?
At first, the idea of eating a burger on a plane may be enough to make you consider swearing off meat (or food altogether) for good.
Want more airline-specific news? Sign up for TPG's free new biweekly Aviation newsletter.
But believe it or not — and if you're a long-time frequent flyer, you'll know this — burgers are actually a long-time staple of the inflight meal.
If you give it some thought, it makes sense. It's a fairly easy to heat and assemble menu item. And the inevitable "well-done" preparation works better than, say, an overcooked steak in the air.
With Memorial Day weekend backyard barbeques coming up — and the ready-made tie-in of National Hamburger Day on May 28 — we decided to evaluate the current domestic mid-air burger scene.
A handful of international airlines offer burgers, and American Airlines serves one in its Flagship First cabin on flights out of London Heathrow.
But for passengers flying within the United States, there are currently two inflight burger options: one on United for purchase and one on Delta in first class.
As TPG's unofficial "beef in the sky" beat reporter, I took off to find out just close the airlines can come to pulling off this backyard grilling staple at 36,000 feet — without an open flame.
The in-flight burger scene
Delta and United both have a burger currently available on some of their flights — both with some key differences.
United offers its "Brioche BBQ Burger" for purchase as part of its "Bistro on Board" menu in the economy cabin. It's available on flights over 1,500 miles within the United States scheduled to depart between 10 a.m. and 8:59 p.m., excluding any long-haul United flights that come with free meal service in coach. This burger will set you back $10 (or 1,180 United miles, which is a sub-par redemption by TPG valuation standards).
Delta currently offers an Impossible Burger as part of its newly restored domestic first-class meal service on flights over 900 miles. It's one of a handful of plant-based options that launched in March in Delta's domestic first class.
Notably, it's only available on flights out of a little over a dozen airports, according to a Delta spokesperson, including Minneapolis, Salt Lake City, Chicago, Denver, Austin, and Ronald Reagan Washington National Airport near Washington, D.C.
Related: We tried Delta's new onboard cocktails — here's what we thought
To compare the burgers head-to-head, I booked a one-way flight on each airline for a quick trip to Denver. I left from New York City and flew United in economy from Newark to Denver. The following day, I flew Delta in first class from Denver to New York before connecting home to Boston on a separately booked flight.
United sent an automated email and push alert a few days before my flight offering the chance to pre-order food and drinks.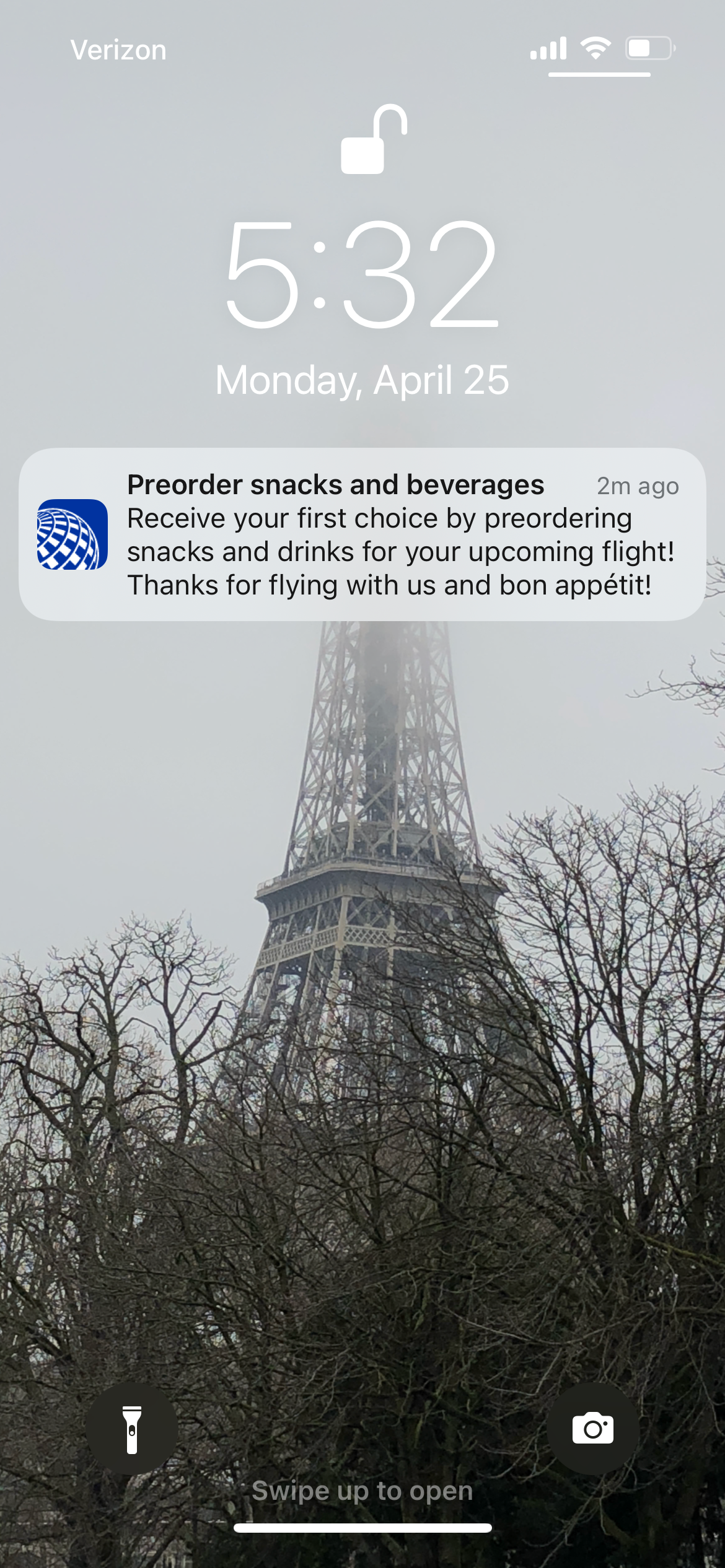 I went to buy the burger … and found it wasn't available.
All that was listed for sale were some chips, snack boxes, and candy. We usually opt to fly under the radar with our editorial assignments whenever possible, but in this case, I reached out to United to see if I'd need to change to a different flight for the burger. That was, after all, essentially the meat of the assignment.
A spokesperson confirmed that the burger isn't always available to pre-order, but said it would be available on the flight. She ended up pre-ordering it on the airline's back end to make sure that there would be one for me, although it was indeed available for anyone to purchase during the flight itself.
Although Delta often lets first class passengers pre-select their meals, the option also either wasn't available on this particular flight or I just happened to miss the prompt in Delta's app. Either way, I was able to choose the burger when flight attendants came around to take lunch orders towards the start of my flight back from Denver.
Logistics aside, the team had decided that I'd compare these burgers in the sky in three categories: presentation, fixings and taste.
Admittedly, the first category is not the fairest, given that Delta's burger is part of a first-class meal service while United's is a buy-on-board product in coach. Even so, we figured that by focusing on just the burger itself, and not any side dishes, we could make a decent comparison.
Spoiler: I actually enjoyed both burgers. Still, there were some differences, and in our burger-to-burger competition, each performed better than the other in certain areas.
Burger presentation
United
United's presentation was about as bad as it could get — even considering that it was a buy-on-board burger in economy.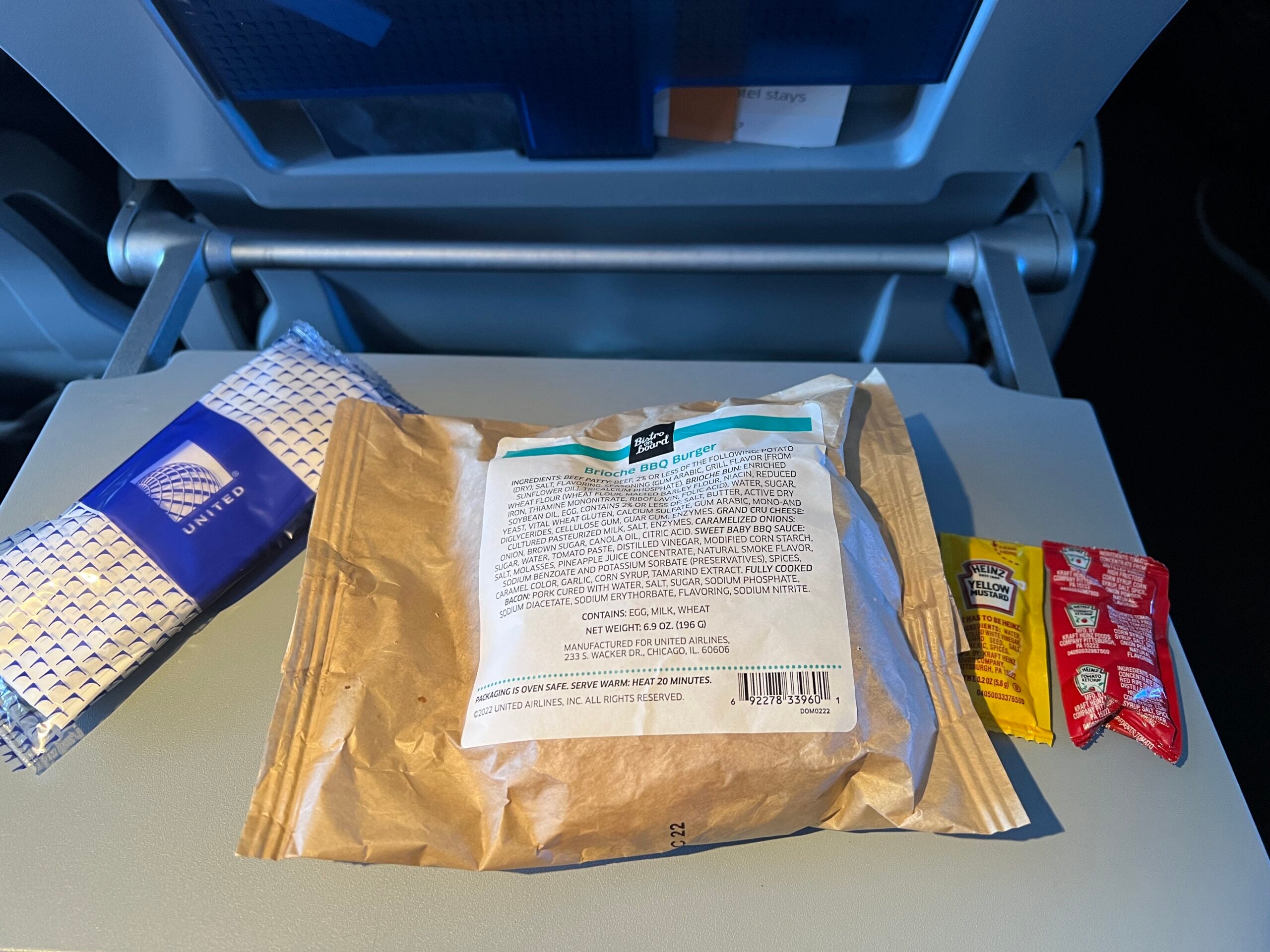 Despite the picture in the inflight magazine (and on United's website) showing a big juicy hamburger served on a plate the burger actually comes wrapped, much like a microwavable breakfast sandwich you'd find at a gas station convenience store.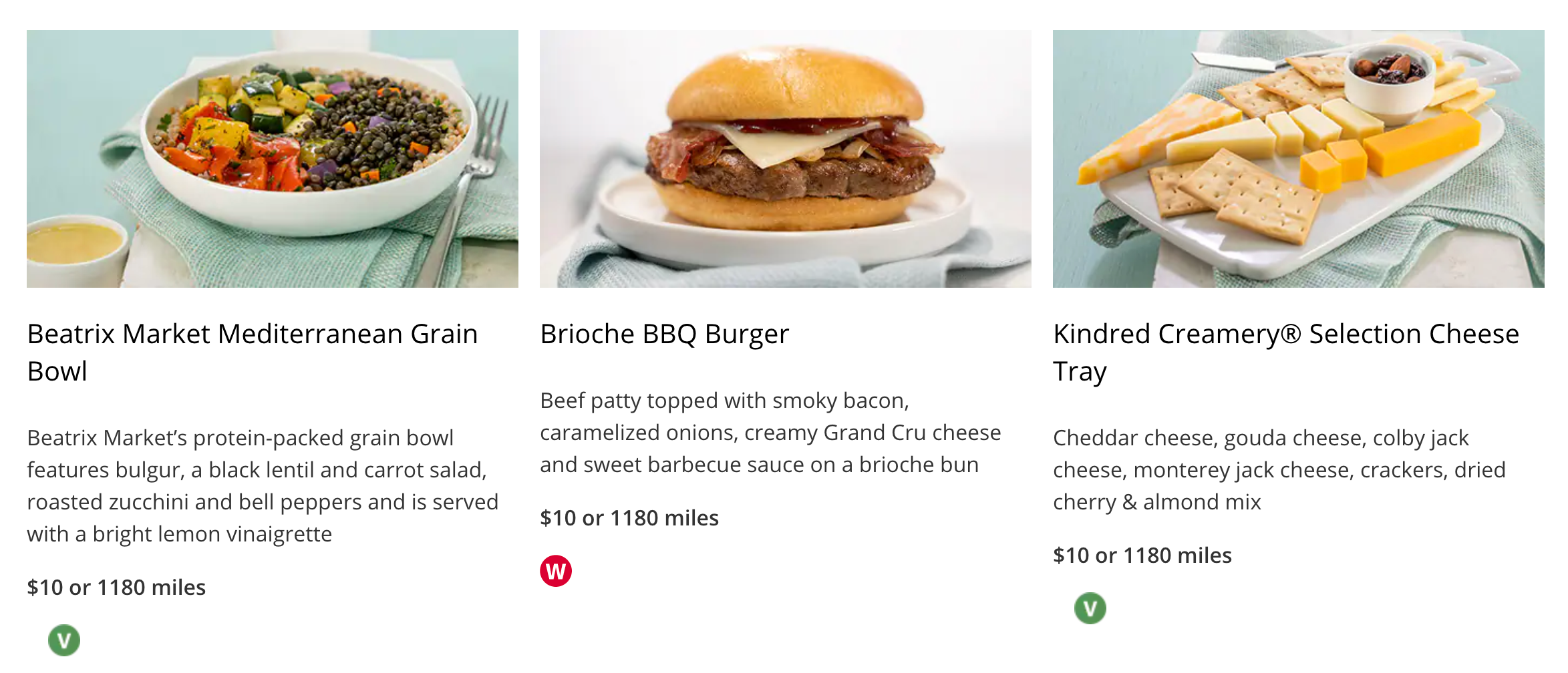 I suppose this makes sense, in a way, since in a way that's mostly what this meal option is. The wrapping is oven-safe, so the flight attendants need only to pop the whole thing into the oven in the galley and pop it out after 20 minutes, before handing it over to the passenger.
The wrapping, which is basically a pouch, can sort of be unfolded to lie flat like a napkin/plate on the tray table. The next time I think I'd just open it from one side, pull the burger halfway out, and use it as a holder.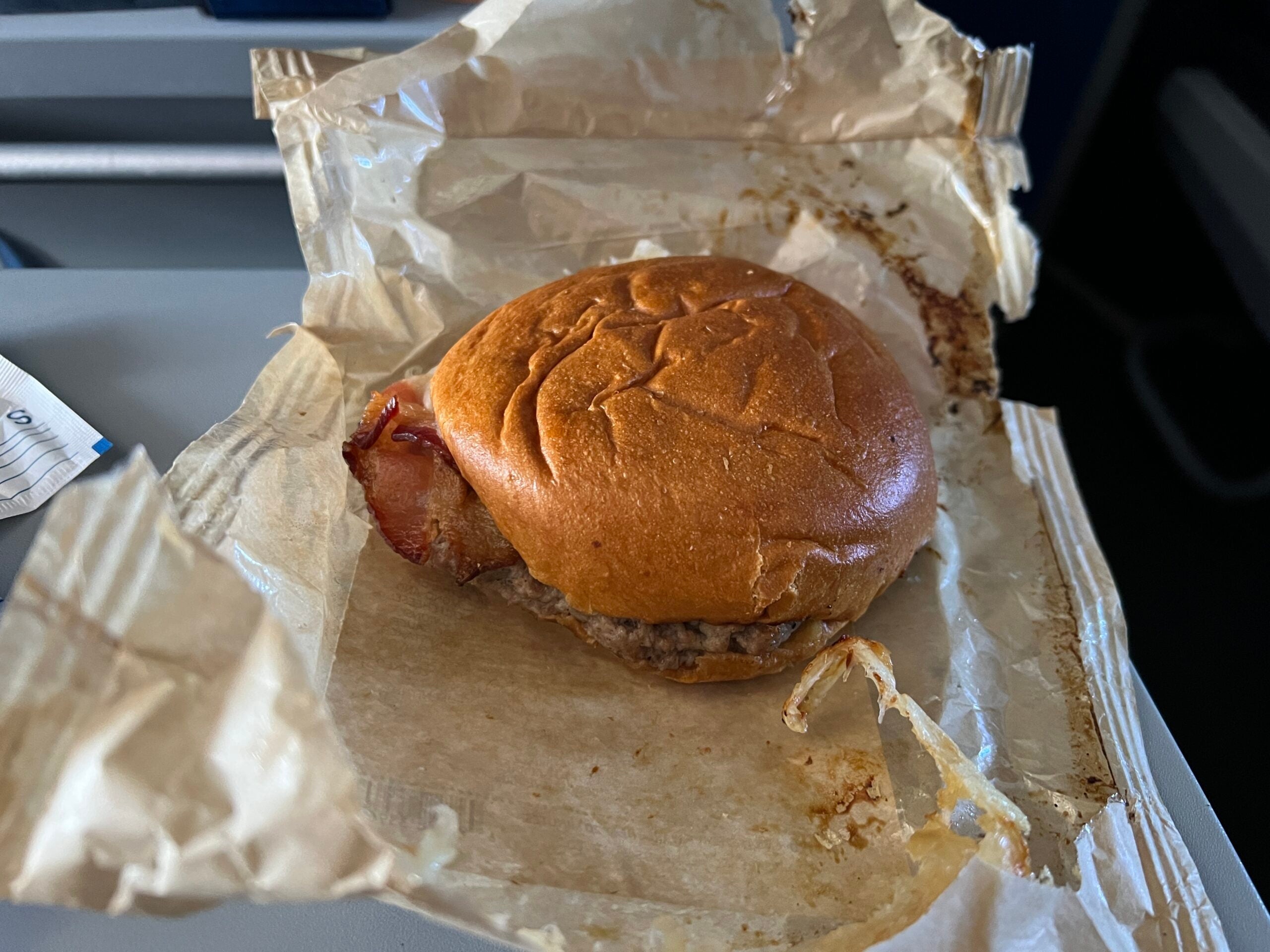 Speaking of a napkin, the burger was served with the standard disposable cutlery packet, which includes a napkin, as well as packets of ketchup and mustard.
With the package open, the burger looked fine, albeit still a little sad. Still, the bun was relatively fluffy, and bits of patty and bacon were peeking out in a decently attractive way.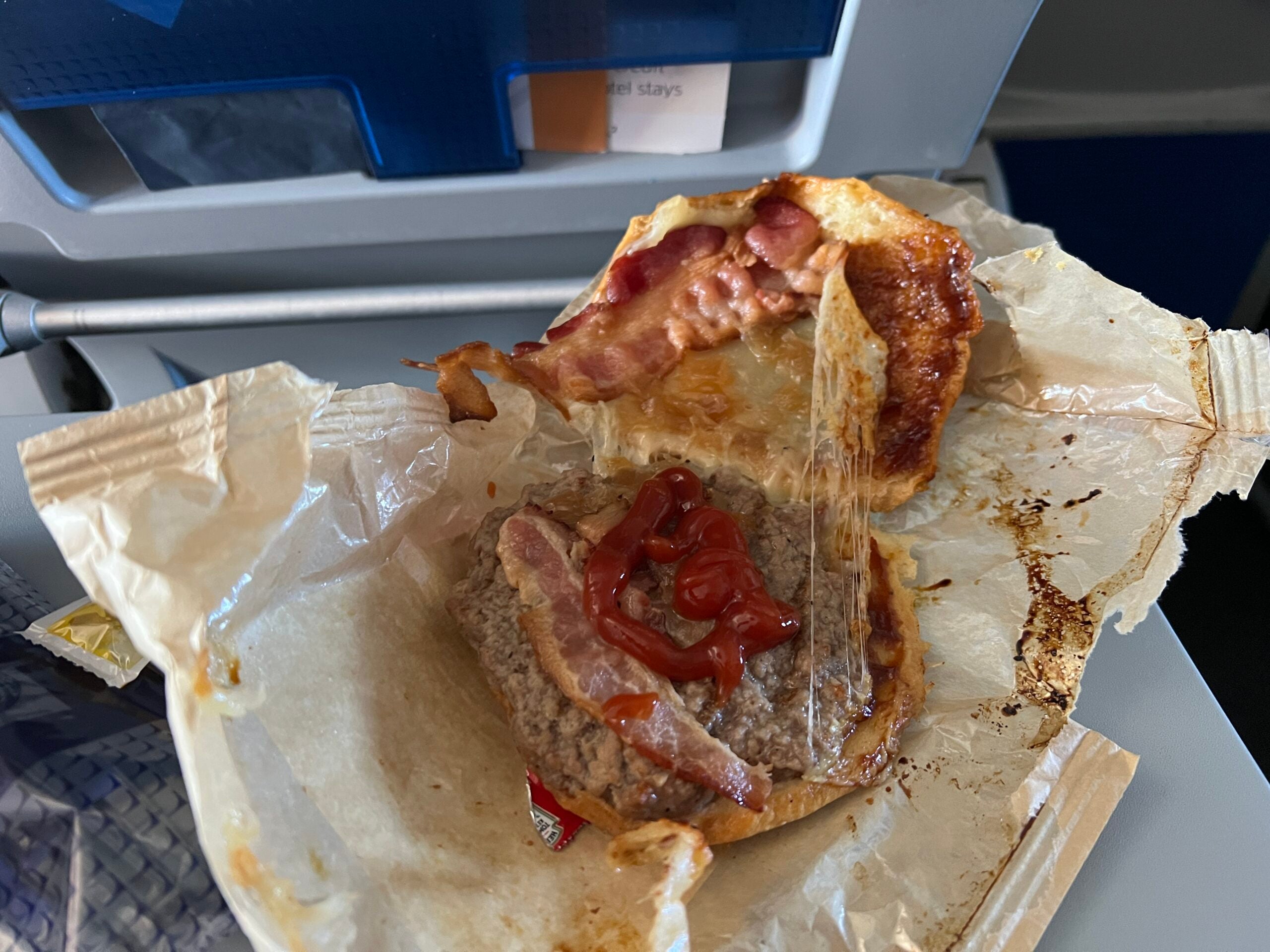 I get the logistics of on-demand service in coach, but if someone had simply removed the burger from the pouch and set it on a small paper plate or something, the presentation here would have been dramatically elevated.
Delta
Delta's burger had an overall better presentation, but that was largely a function of it being part of a plated first class service more than the burger itself.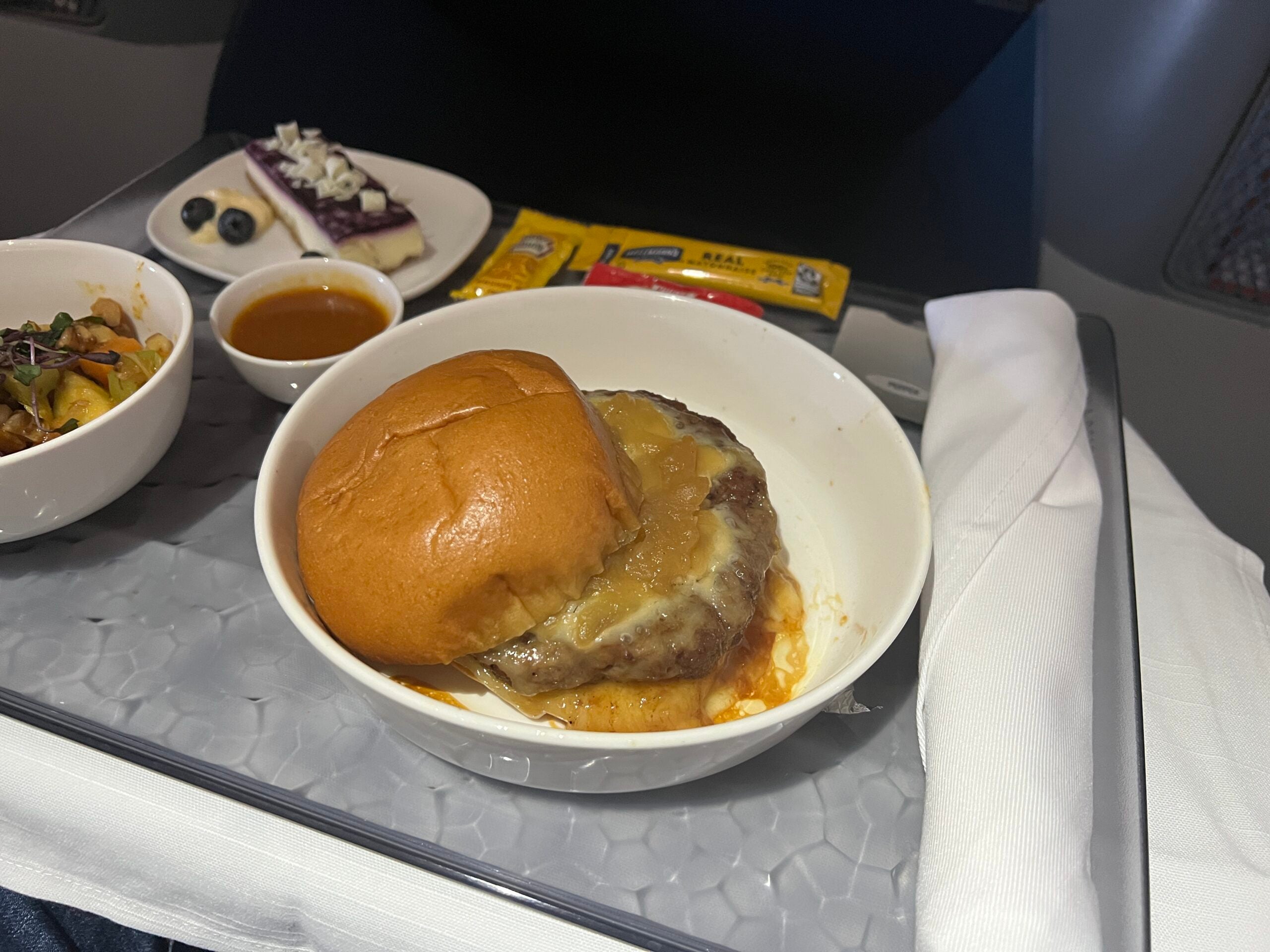 The actual burger looked a little less appealing.
It was served in a ceramic bowl, which came on a tray as part of the full meal. The flatware was definitely an improvement over a wrapper, but a plate might have been a better choice than the bowl.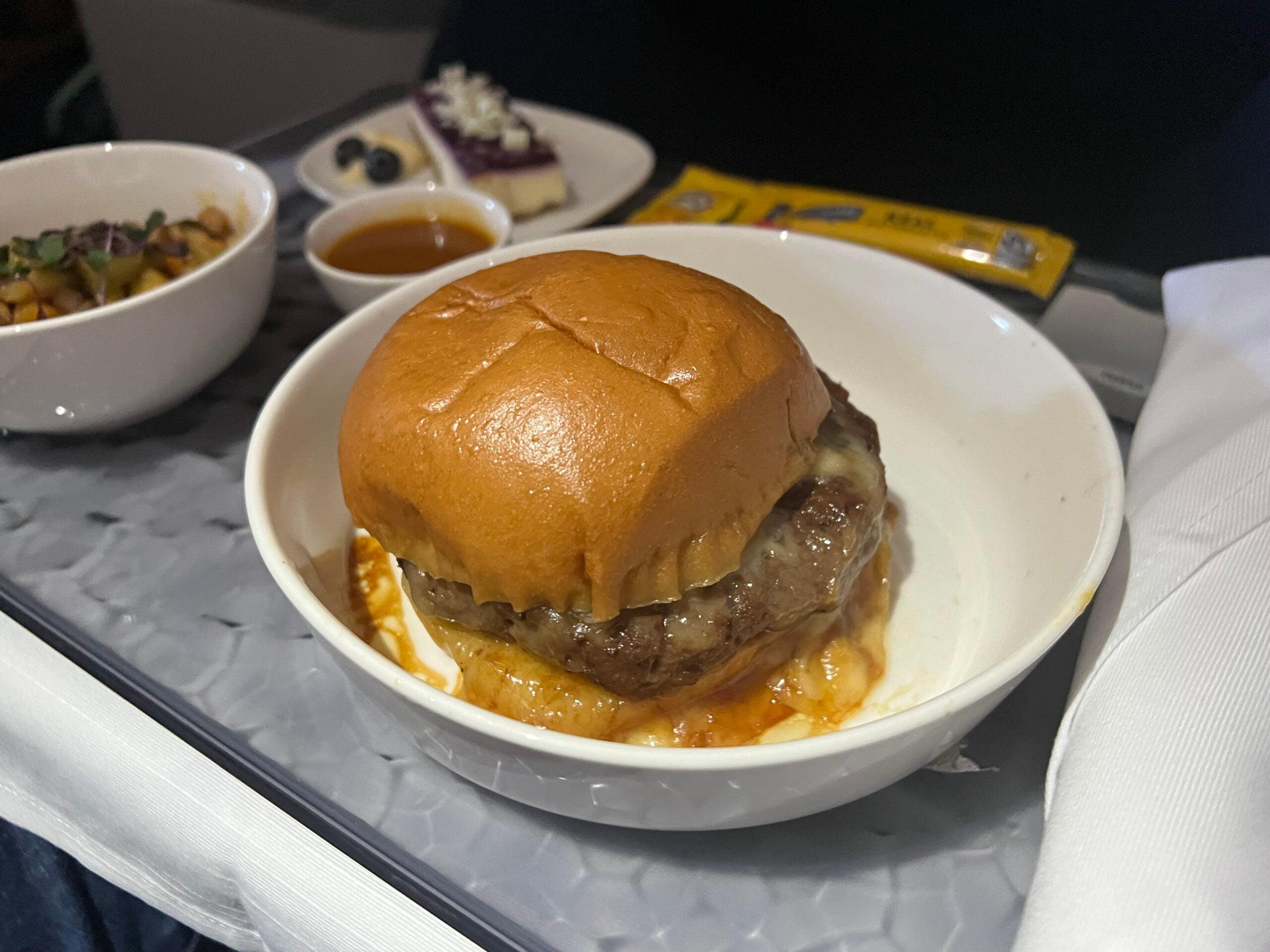 The actual burger looked kind of gloppy, with toppings and liquid spilling off over the side into the bowl. Still, overall, it was a decent-looking plate.
Winner: Delta
Fixings comparison
United
For me, United already has the edge here because it's serving a regular beef hamburger, not a plant-based alternative. That means it can put bacon on the burger without defeating the whole purpose.
And so it does.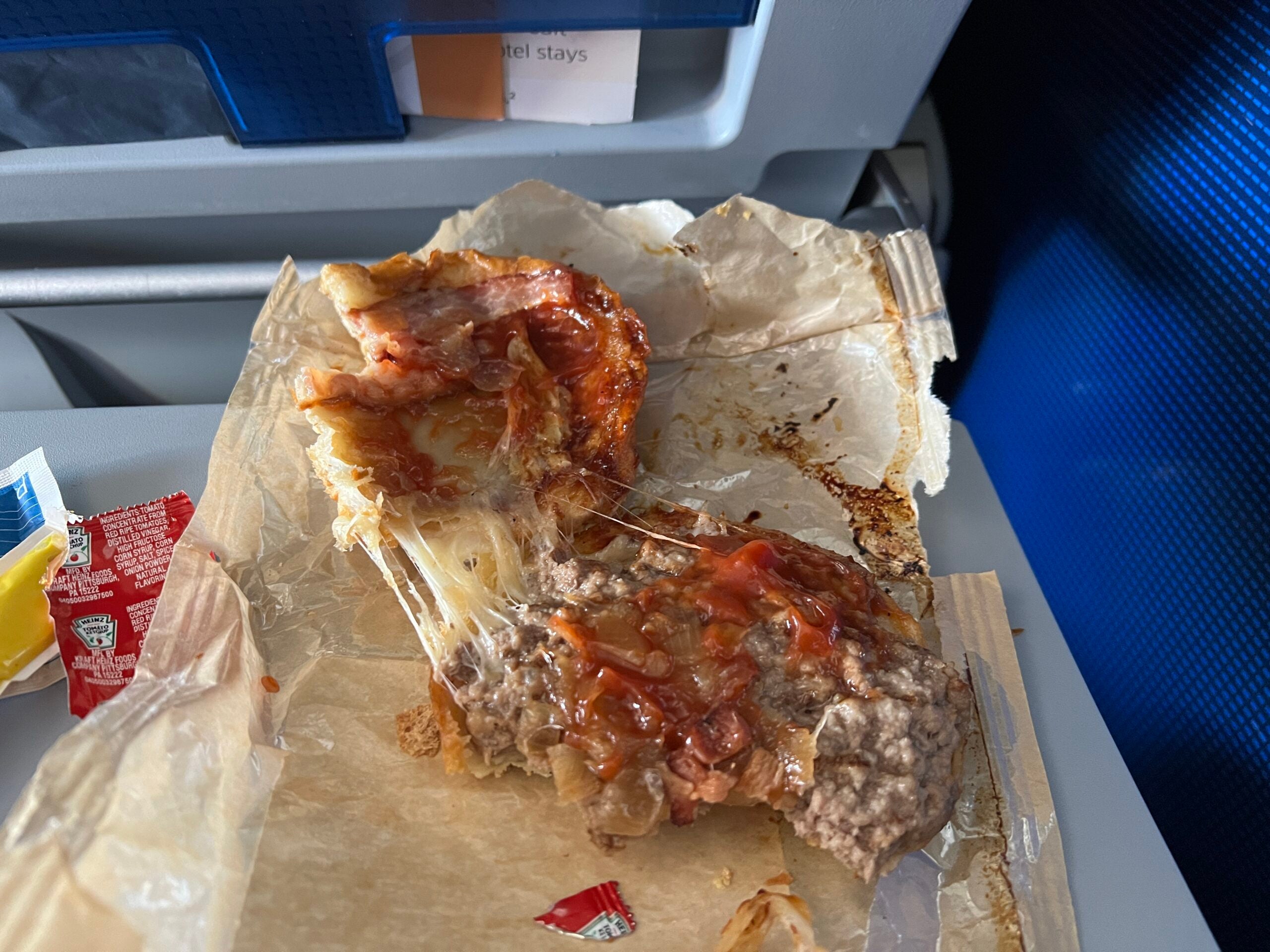 The burger came with two strips of bacon, along with a gooey slice of melted cheese, carmelized onions and a dab of barbecue sauce.
Aside from the onions, there were no vegetables or anything else on the sandwich.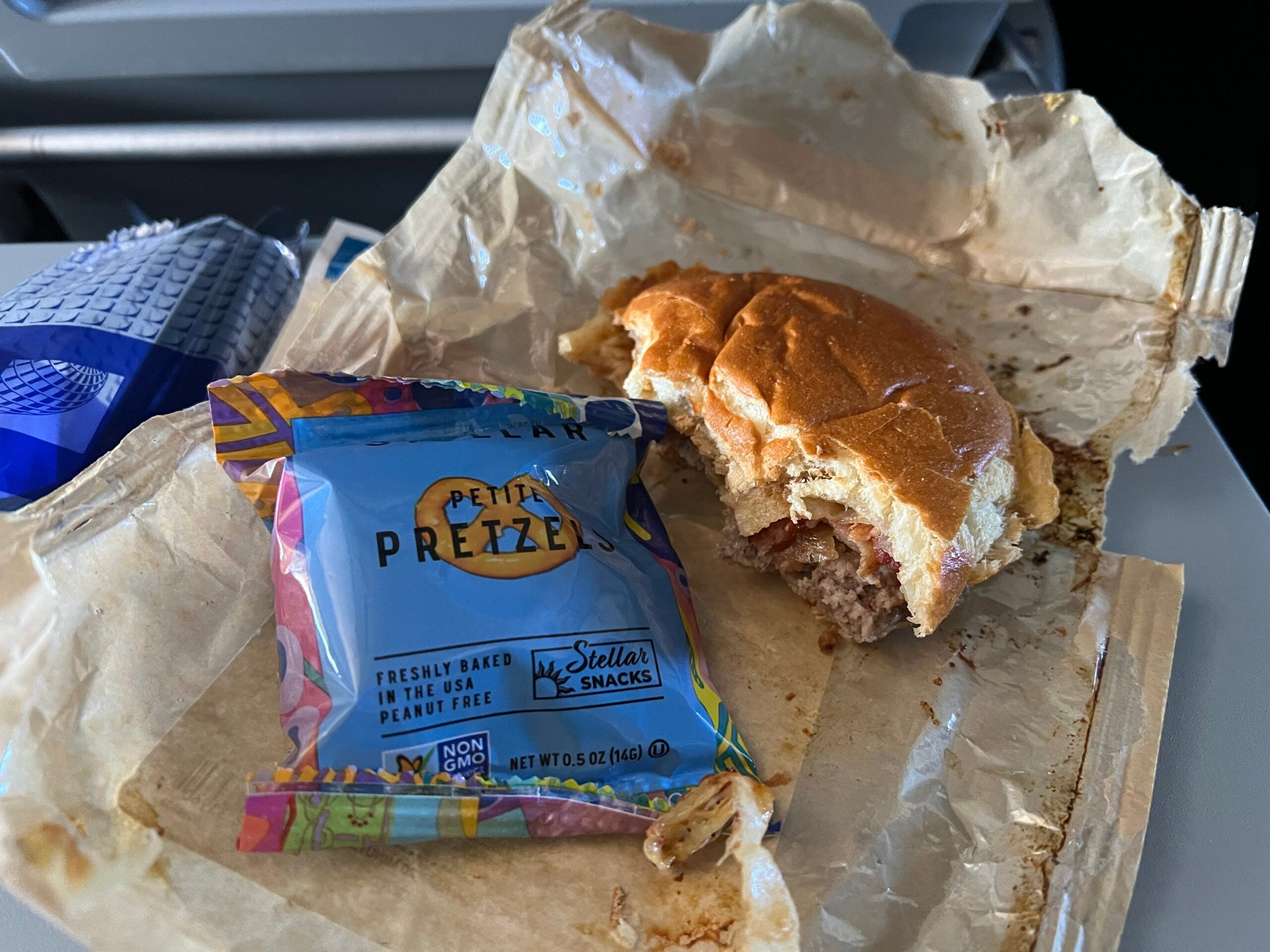 I also got the usual economy service, including a small bag of pretzels, making for a quite decent overall inflight economy meal.
Delta
While Delta's Impossible Burger isn't served with bacon, the toppings are still fairly solid.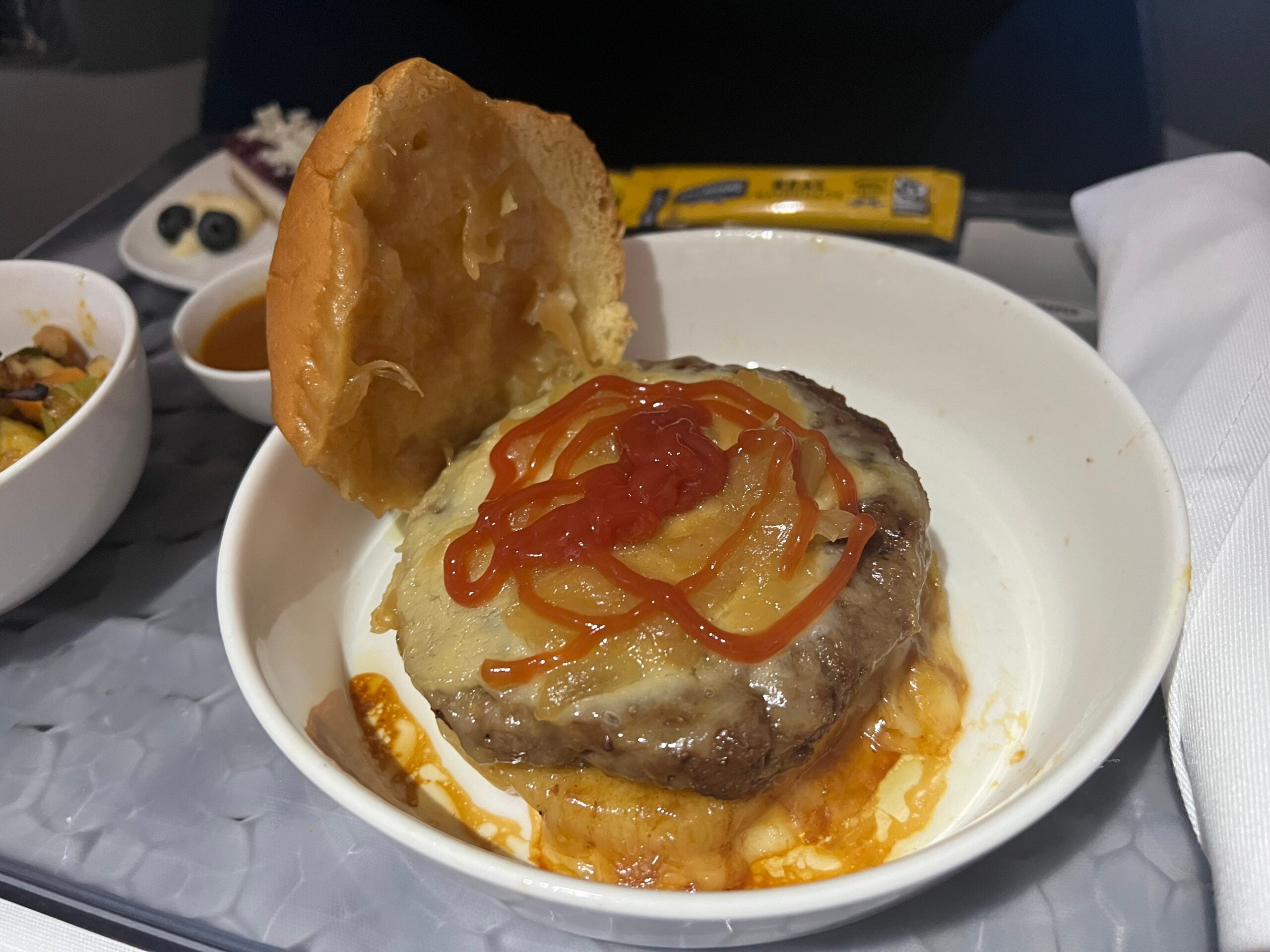 The burger itself is rubbed with a green chili spice mix then topped with a carmelized onion chutney and what seemed to be two slices of cheese — one on top of the patty, and one underneath.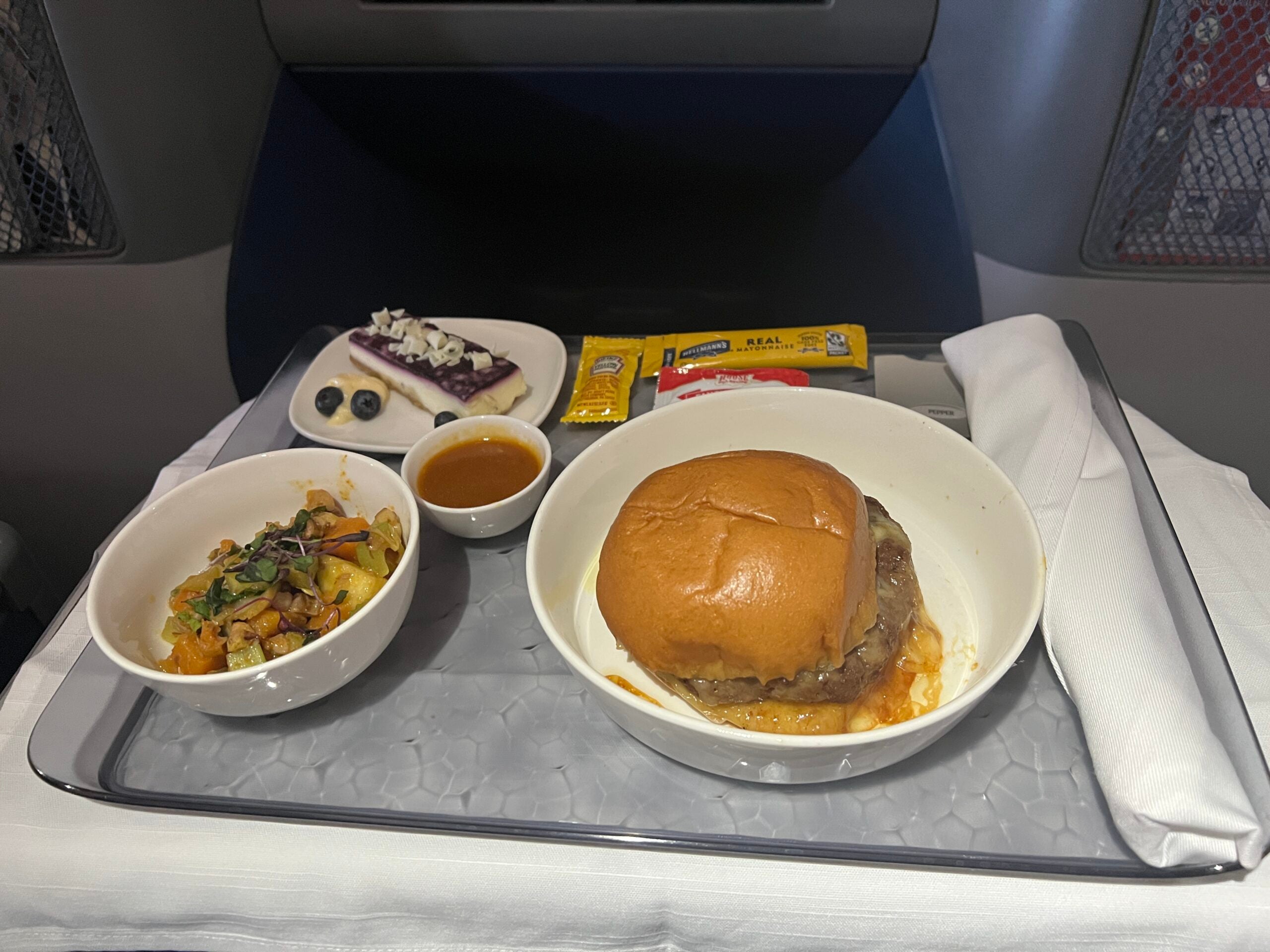 It could definitely have used some lettuce and tomato — and since it was a first class meal, it seems like it would be possible to have that added as a final touch after the burger was heated but before it was served.
In my mind, United has an edge here because of the bacon, an option unavailable to Delta given how admittedly bizarre it would be to put that on a plant-based burger. Still, bacon or not, it's a draw here.
Winner: Draw
Taste test
United
United's burger may not have been very pretty, but it scored where it really counts: taste. In fact, it was delicious — almost shockingly so.
A few different flavors competed to be the most dominant, with the smoky, meaty bacon slightly overpowering the burger patty itself, which subtly came through with that quintessential char-broiled taste.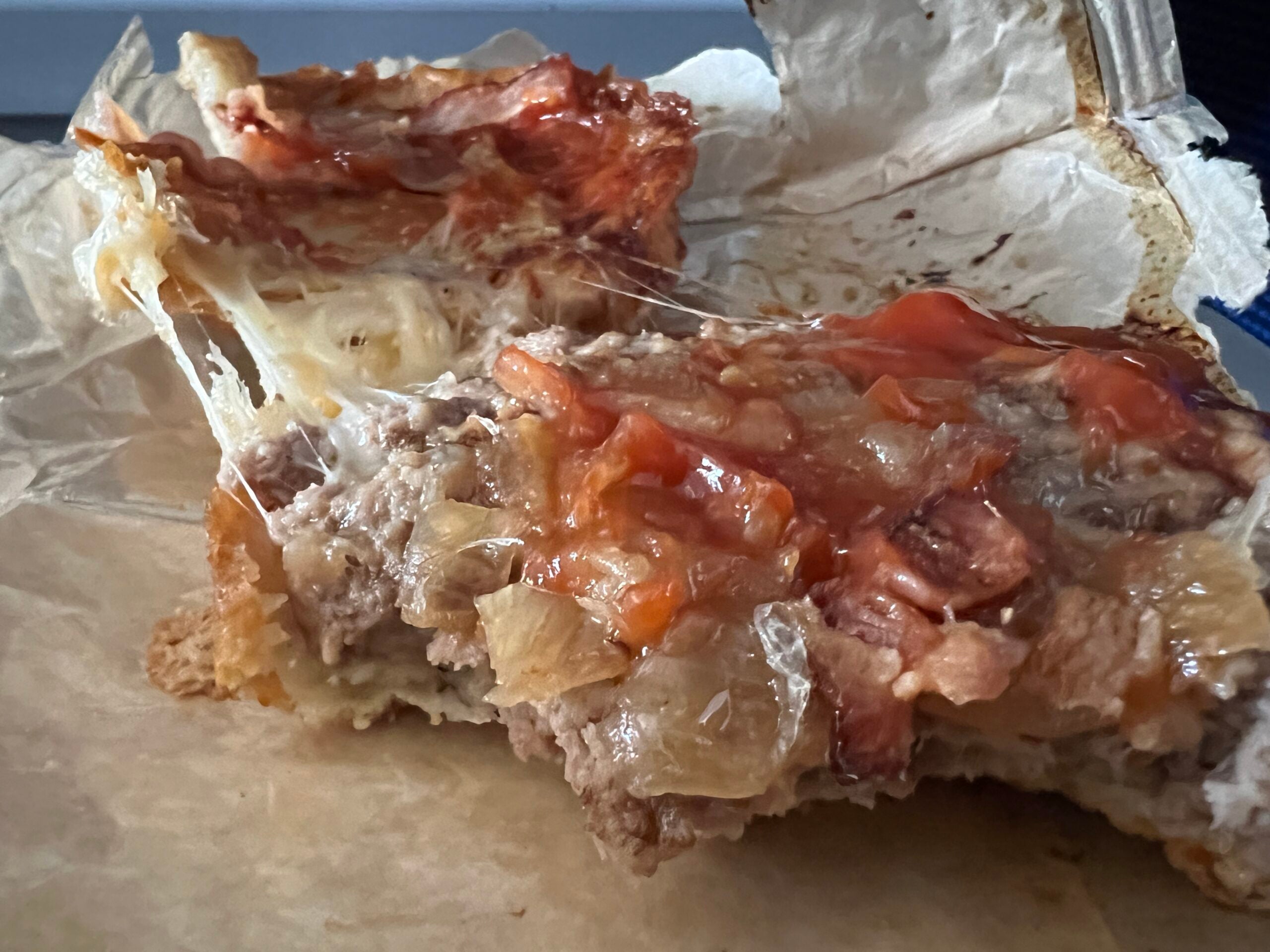 The cheese helped mellow everything out and add a nice melted texture, while the onions tasted surprisingly strong. The sweet and tangy barbecue sauce cut sharply — but pleasantly — through everything.
Impressively, the bun was fresh and not soggy like I had expected, considering that the burger had been heated within the pouch as a single, contained unit.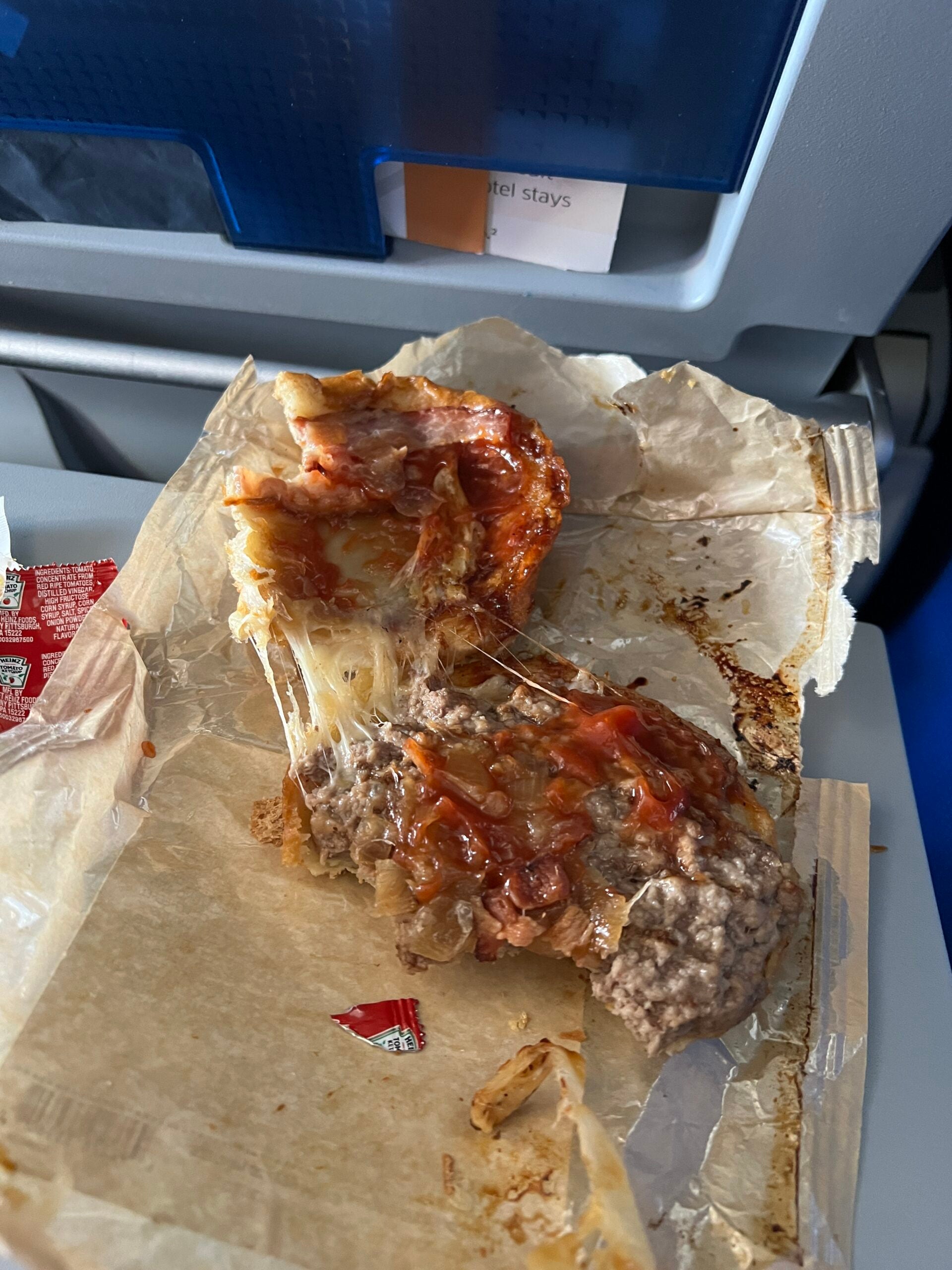 Even if it may not have been the most attractive-looking burger, it was delicious. It might not have been as good as a top-tier restaurant, steakhouse burger or backyard cook-out, but I'd say it was on par with something you'd find at an airport restaurant — and maybe even a slice better than your standard fast-food joint.
Delta
The Impossible Burger on Delta also is a strong contender.
The first time I had ever tried a plant-based burger was actually in a Delta Sky Club, when there were sliders available one day in the lounge at John F. Kennedy International Airport's Terminal 2.
If you've never tried one, you might be surprised. The flavor and texture are remarkably similar to the real thing, to the point where it could be hard for many people to tell the difference in a taste test.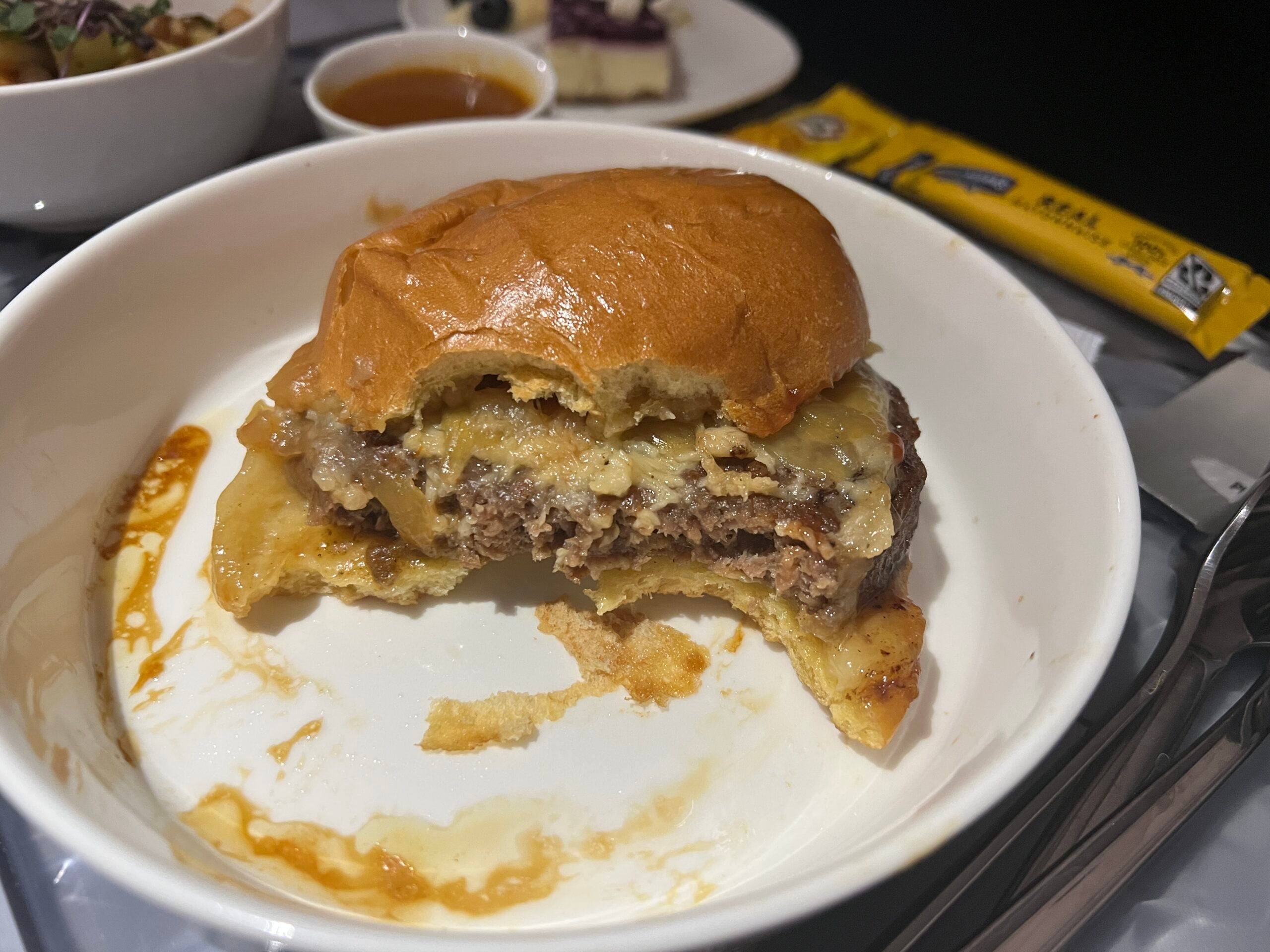 This one was good, but the "meaty" flavor was a bit milder than United's true-beef option. I found it to be somewhat overpowered by a tangy, slightly spicy taste, which I assume came from the green chili rub combined with the onion chutney. That spice mix was a little stronger-tasting than I might have preferred, but it was definitely not bad — I enjoyed it.
The dish may have been vegetarian, but it definitely wasn't vegan. The cheese was plentiful, melty, and its taste came through sharply, all in a very good way. The pleasant brioche roll was fresh and didn't get soggy during heating.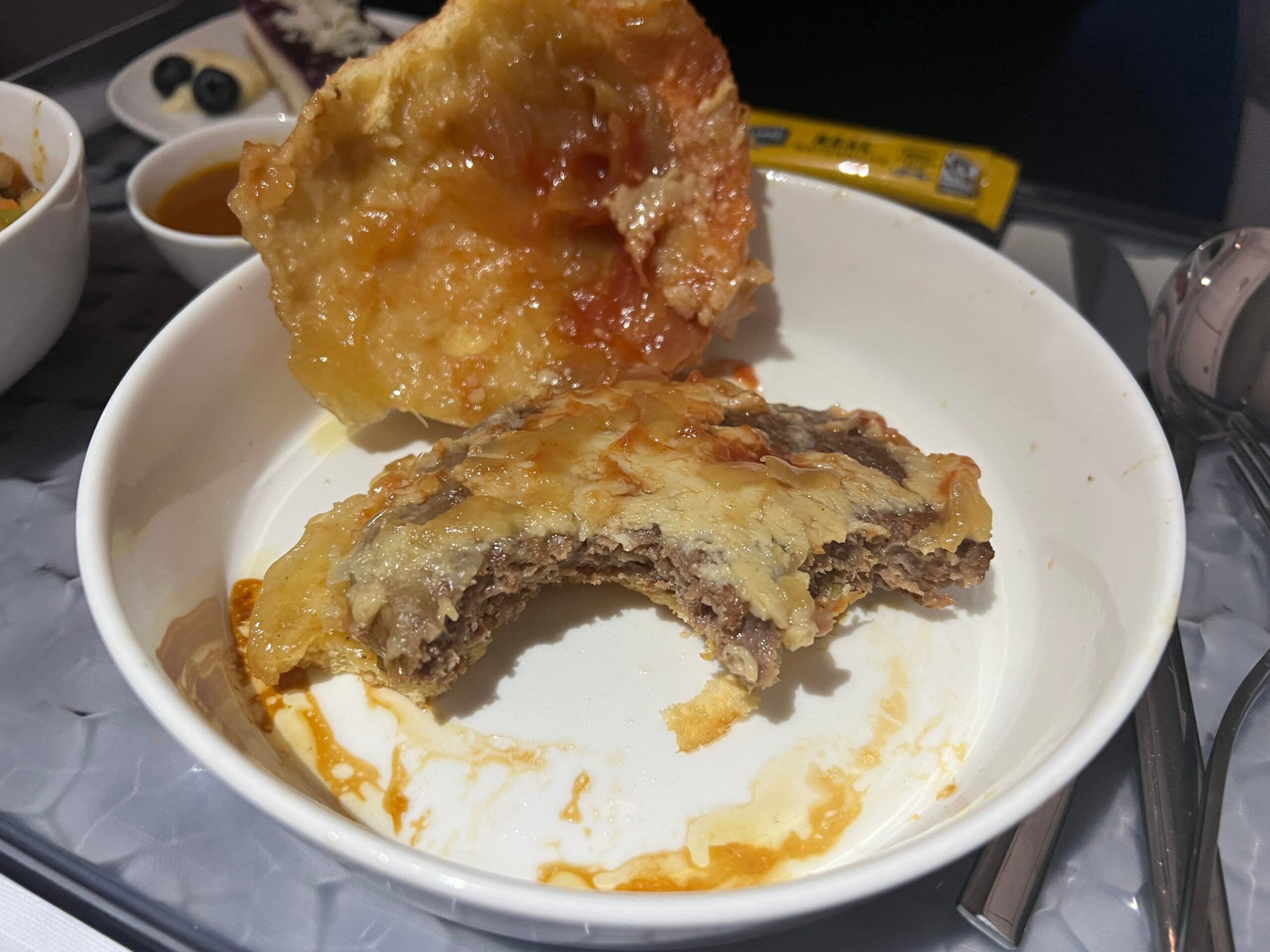 It was tasty overall, though it started falling apart somewhat as I ate, getting all over my hands. It was also a bit oily, probably from the packing and heating process, which made my hands feel extra greasy. Ultimately that's not a huge deal, but it was still a little annoying given the limitations of clean-up in an airplane seat.
When it comes to taste, these two burgers were close, but ultimately, I'm giving the edge to United. The bacon and barbecue sauce combo simply beat out the onion chutney and green chili flavor.
Winner: United
Bonus entry
While not officially a part of this taste test, about a week after my burgers in the sky trip, I had a chance to spend a few hours in United's Polaris Lounge at Dulles International Airport (IAD) ahead of its inaugural flight to Amman, Jordan.
Having missed lunch thanks to some meetings and unideal departure times, I decided to order the burger from the sit-down restaurant in the lounge.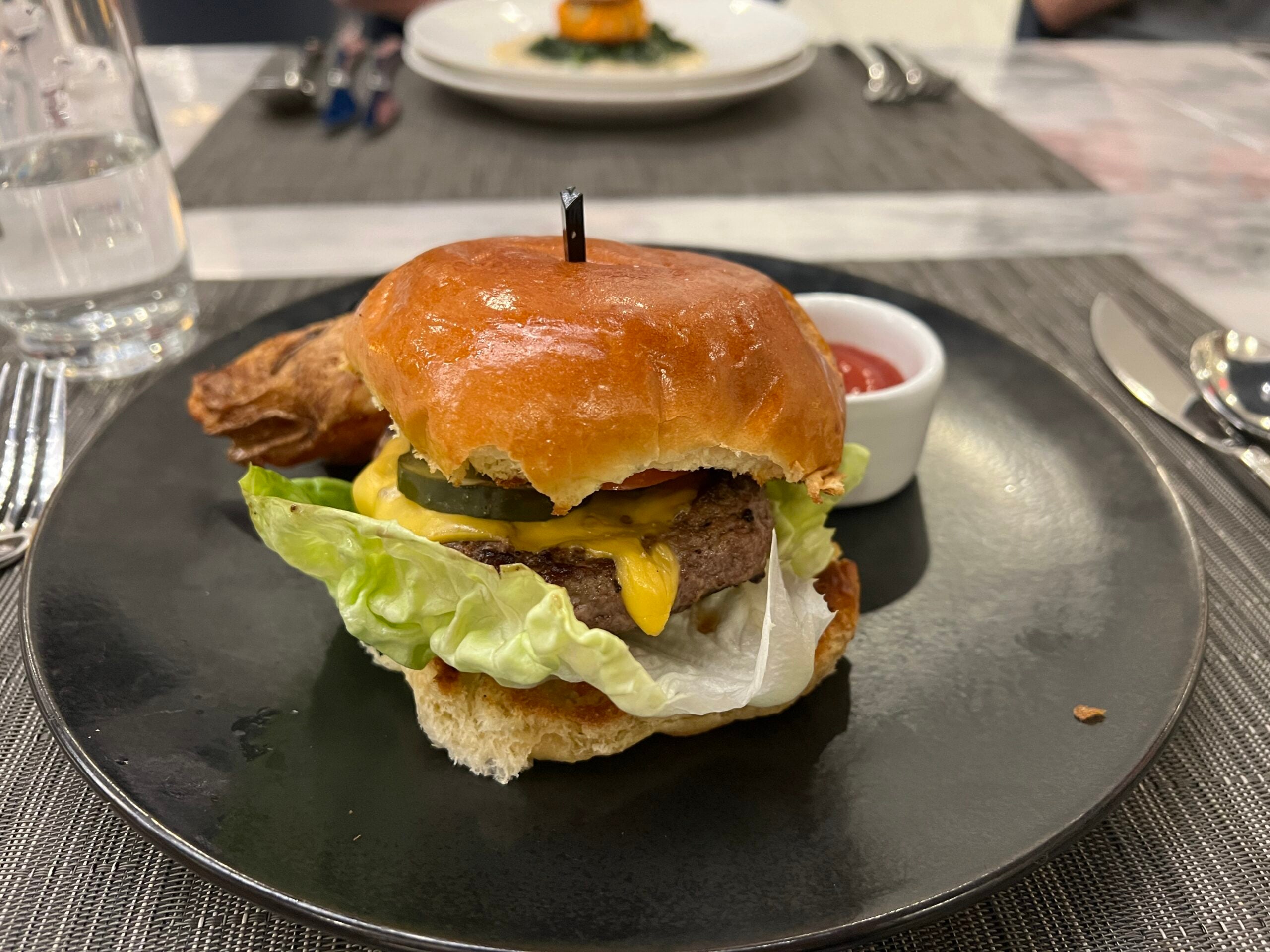 The presentation, perhaps obviously, beat either of the in-air burgers. A freshly sliced roll featured a half-inch thick, cooked-to-order hamburger patty, with a picture-worthy slice of melted cheese, lettuce, tomato and a pickle slice, served with wedge-cut potatoes.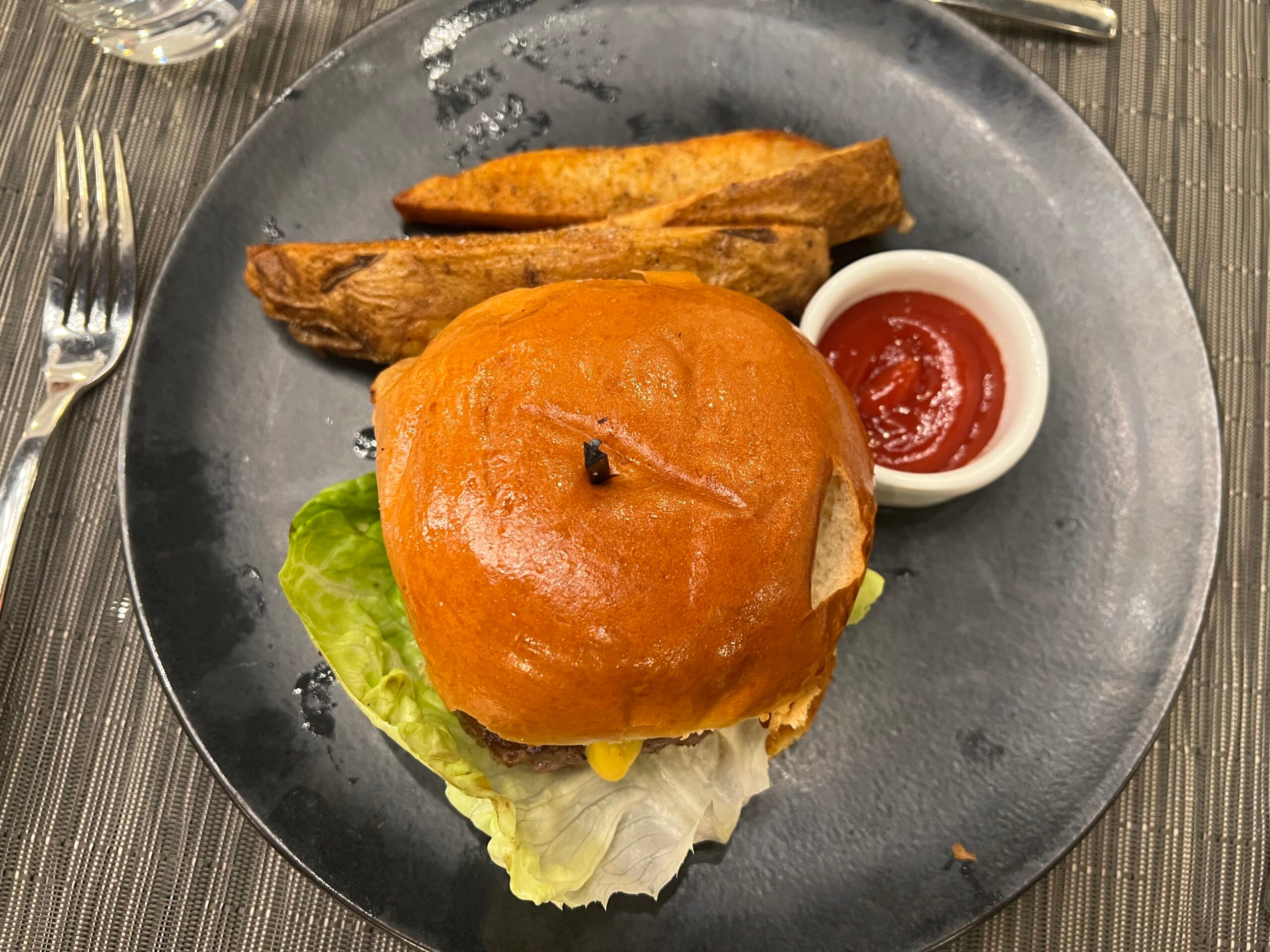 It was tasty overall, but the patty didn't taste especially meaty, the cheese wasn't very sharp, and it really could have used some onions or barbecue sauce — or something else with some zest to carry it.
While the presentation and overall texture were undoubtedly better in the lounge, I think that in terms of taste, United's in-air burger might beat what it serves on the ground.
Final bites
This go-round, our very unofficial, kick-off to summer, inflight burger champion award goes to United for its Brioche BBQ Burger, but Delta also had a worthy contender.
If you find yourself flying on either Delta or United's burger-eligible routes, consider jump-starting BBQ season with an in-air burger. As it turns out, in either case, you may actually enjoy it.
Featured image by The Points Guy.