Sustainable & Eco-Friendly Strollers
When you become a new parent, there are many things that you suddenly need to buy for your new life with your little one. A good baby stroller is one of the most essential items all parents need to be able to go outside with their baby. 
But finding the right one can be overwhelming when we look at how many there are on the market. The stroller needs to be suitable for your lifestyle and how little your baby is. 
You also need to make sure it is non-toxic and in compliance with all safety standards. And if you are environmentally conscious, you probably want your stroller to be well-made and sustainable. 
One thing is certain: finding a stroller that ticks all the boxes can be complicated! To help you find the perfect stroller for your little one, we have selected seven brands that make high-quality, sustainable baby strollers. 
WHAT MAKES A BABY STROLLER SUSTAINABLE?
A sustainable stroller is a high-quality one that lasts for years without breaking. You should be able to use it from the moment your baby is born until he no longer needs it, and potentially for other kids as well. This means that it should be able to adjust and grow with your child so that you do not need to buy another stroller later.    
It is also better to choose a stroller that suits your needs and lifestyle, one that can be used in a variety of ways, so that, again, you won't need to buy another one down the line because the previous one is not practical enough. 
Of course, an eco-friendly stroller needs to comply with safety standards, but it is also non-toxic (to your baby's health and the environment). 
It should be free of harmful chemicals, like BPA, PVC, phthalates or fire retardants, which are all very toxic to human health. A sustainable stroller should also have a PFAS-free and PFC-free water-repellent. 
The GREENGUARD Gold and the OEKO-TEX Standard 100 certifications both ensure that the products are free of hazardous substances, so try to find strollers with those certifications. 
WHAT ECO-FRIENDLY MATERIALS SHOULD YOU SEARCH FOR? 
Many sustainable strollers' fabric is made using recycled plastic, which is great because it diverts plastic from landfills. Tencel or GOTS-certified organic cotton are other green options you can find on the market. 
Frames can be made of recycled plastic as well, but aluminum is another eco-friendly alternative since it is infinitely recyclable at the end of its life. Some sustainable brands also use cork or wood in certain parts of their strollers. 
NOW, OUR TOP PICKS FOR HIGH-QUALITY, SUSTAINABLE BABY STROLLERS:
Price: $619-839
Bumbleride is an American company that has been selling eco-friendly strollers and car seats since 2004. The brand has different types of baby strollers, from classic to twin, to jogging strollers. They can be used with your newborn from day one, and they convert into infant mode with only a few snaps and no attachments. Bumbleride fabrics are made using 100% recycled water bottles: so far, the company has upcycled over one million bottles into new fabrics since 2011.
All the fabrics are OEKO-TEX certified, meaning that they are free of harmful chemicals, and they do not contain PVC, flame retardants, BPA or phthalates. 
25% of the plastic frame components are sourced from recycled fishing nets that have been recovered from the local oceans near the Bumbleride factory in Taiwan. Bumbleride's Era reversible stroller also features an adjustable, non-toxic handlebar made of cork. 
The brand uses a durable water repellent that is PFAS-free, and it dyes its black fabrics using an innovative dyeing process that helps conserve 25 to 40 gallons of water per stroller. 
If you are looking for some stroller accessories, Bumbleride has great ones all made of GOTS-certified organic cotton, which is a gentler option for sensitive skins and offers extra support and cushion for your baby. 
Bumbleride also launched reRide, where the brand resells its returned products at a discounted price. A great initiative for your wallet and the planet!
Shop Bumbleride
---
Price: $200
Bombi makes beautiful, sustainable strollers (and matching gear) that are affordable, compact and lightweight. The brand has a unique model, the Bēbee lightweight stroller, available in four different colors, & it can be used from six months up to around 50 lbs. It has one of the fastest folds on the market: the stroller folds itself in an instant, even when you have your hands full!
Soft and durable, Bombi fabrics are made from at least 56 recycled plastic bottles, while the frame is made using aircraft-grade aluminum. The brand's manufacturing partner received the Global Recycled Standard certification, and in 2021, Bombi upcycled over 20,000 plastic bottles into new fabrics!
The Bēbee stroller is designed to make your life easier: it has a quiet magnetic peek-a-boo window that allows you to check on your baby while on the go. It also comes with a large storage basket with a hidden pocket, a cup holder, and a travel bag that can be carried over the shoulder or on your back.
Bombi's stroller features a zip-out extension to provide extra shade and UV protection to protect your little one from harmful sun rays. The brand also sells a matching rain cover and mosquito net, all made from recycled plastic.
Bombi donates 1% of sales to 1% For The Planet, and it has eliminated all single-use plastics from its packaging!
Shop Bombi
---
Price: $999-1,999
Created in 1932, Stokke is a Norwegian brand that is recognized worldwide for designing baby gear and accessories, combining superior quality and functionality.
The company makes a comfortable and easy-to-use stroller, the Stokke Xplory X, that can be used from six months up to four years old or 48.5 lbs, and for newborns with a carrycot or car seat (available separately).
The Xplory was the first stroller on the market with higher, parent-facing seating.
Its unique height adjustability is designed to bring parents closer to their baby, allowing them to make eye contact and connect at all times.
With its durable materials and timeless design allowing the stroller to grow with your child, Stokke's stroller is made to be used for years. The brand is committed to craftsmanship and sustainability, and only uses the highest quality materials available. It is also a member of the Ethical Trading Initiative Norway.
Made in the Netherlands, the stroller is effortless to maneuver thanks to its swivel wheels, and it features three seat recline angles and both parent- and forward-facing positions. It also comes with a large detachable bag in which you can carry all your baby essentials.
Stokke fabrics offer UPF 50+ sun protection, and the Xplory's water repellent is made using a fluorine-free recipe (PFC-free), making it a safer material for your baby.
Shop Stokke
---
Price: $749-1,859
Bugaboo is a Dutch brand that sells a variety of strollers, car seats and play yards, as well as their matching accessories. The company produces full-size baby strollers, ideal for everyday use, but also a more compact model for traveling, and side by side double strollers for big families.
They can be used from birth up to four years old.
Committed to sourcing its materials responsibly, Bugaboo chooses the highest quality materials to make products that will stand the test of time.
Its strollers are tested for their safety well beyond industry standards.
The brand's full-size strollers have large, all-terrain wheels with advanced suspension to ensure a smooth ride, and they are designed to be highly maneuverable and ergonomic. They are lightweight and all the fabrics are soft to the touch.
Bugaboo strollers also feature seats that can be reversed to face the parent and practical peek-a-boo windows in the canopy.
You can also choose between several kinds of double strollers, from strollers for siblings of different ages to strollers that are best suitable for twins, to strollers with extra storage.
The different parts of the strollers are easily replaceable as you can find them individually on Bugaboo's website in case you need them.
The company conducts regular audits at its production facility to make sure workers are treated fairly and safely, and it received the ISO9001, ISO14001 and SA8000 certifications.
Shop Bugaboo
---
Price: $449-1,099
Joolz creates ergonomic, high-quality and stylish strollers that are very easy to maneuver and fold. It also sells a variety of stroller accessories to provide even more comfort when you're out and about.
The brand has different models of strollers, each with unique features to fit around your baby's needs. They are all made using recycled PET bottles, which are upcycled and crafted into premium quality fabrics.
A rain cover is included with all Joolz's strollers in case of unexpected rain showers. While they are all foldable, some are so compact that you can even carry them over your shoulder thanks to a strap!
The Day+ and Hub+ models feature integrated LED lights as an additional safety feature and to improve your visibility if you are out in the evening or the night. And if you already have or plan on having another baby, the Geo² is the ideal model for you: adaptable for a second child, you can add a second bassinet or seat to it.
Joolz offers a lifetime warranty and plants a tree in its Birth Forest in Colombia for every stroller sold. I also love that the strollers' packaging is reusable and can be converted into a birdhouse, a lamp, a plane or a reindeer!
Shop Joolz
---
Price: $350-1,250
Nuna is a sustainable brand creating all types of baby gear, from strollers to car seats, to cribs and high chairs.
It has multiple strollers to choose from, including double strollers, and each one features unique characteristics to make your outdoor adventures easier.
Nuna strollers are versatile and functional, and they fold very easily. Some even fold themselves in an instant!
They have large baskets, in which you can store all your baby essentials, and their canopy is UPF 50+. The seats are adaptable to all seasons, keeping your baby cool in the summer and cozy in the winter.
The brand uses eco-friendly materials to produce its strollers (and other products). For instance, its TRIV stroller is made using a Tencel blend, which makes the fabric very soft, breathable and able to adapt to temperature fluctuations. Nuna also uses organic cotton in some of its products, and those are OEKO-TEX certified.
Almost all the brand's strollers received the GREENGUARD Gold certification. It means that they have been tested for thousands of chemicals, and they comply with some of the most stringent emissions standards. So Nuna strollers are safe for your baby!
The company has also been awarded 320 awards so far, and is a partner of the United Nations Institute for Training and Research to promote child road safety education around the globe!
Shop Nuna
---
*no longer shipping to US :( but a great option if you live in Europe!
Price: $376-800
Greentom is a Dutch brand that creates the "greenest stroller on Planet Earth". It has three different models: a carrycot for newborns, a reversible stroller for babies between six months to 2.5 years, and a classic one suitable from 6 months up to four years. If you want to have the same stroller from birth to preschool, Greentom has you covered with its 3 in 1 stroller that can grow with your baby!
All Greentom frames come with a lifetime warranty, and both the frames and the fabric parts are entirely made using high-quality, non-toxic recycled plastic. By doing so, the company has already turned about 2.7 million PET bottles into new products since 2014!
For instance, the Greentom Classic stroller is made with 74 recycled plastic bottles. How cool is that?! The carrycot mattress is made of organic cotton, organic wool and organic flax.
In addition to being eco-friendly and functional, the brand's strollers received the OEKO-TEX Standard 100 certification, which means that the strollers are 100% free of harmful chemical substances. They do not contain any fire retardants, BPA, phthalate, PVC or parabens.
When folded, the strollers are very compact, lightweight and can even fit into the back of a small car. The brand has been awarded multiple prestigious international innovation and design awards!
Shop Greentom
---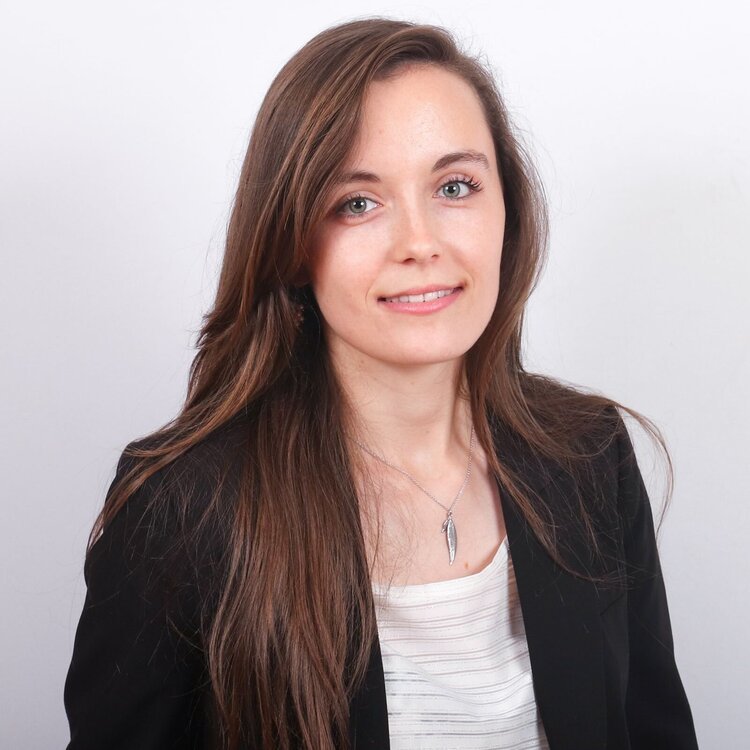 About the Author
Eva Astoul is a French freelance writer, specializing in content related to sustainability, simple living, and a growth-focused healthy lifestyle. She runs her own blog, Green With Less, to inspire people to live a more minimalist and sustainable life.
---
MAKE SURE TO PIN THE PHOTO BELOW TO SAVE THIS POST FOR LATER!
---
WANT MORE SUSTAINABLE BRANDS? VISIT OUR BRAND DIRECTORY!
Our Brand Directory is home to hundreds of sustainable brands, from makeup to cleaning supplies, from underwear to shoes. We have broken everything down by category for easy shopping, along with discount codes unique to Sustainably Chic viewers.
Shop the Sustainable Brand Directory
---
RELATED READING YOU MAY ALSO ENJOY: